Cura Leather Camera Straps
Cura have been busy in the lab, making these beautiful leather wrist straps. Check them out.

A while back I started selling Cura Camera Straps. I like the quality, and the fact that they are made in Japan suits what I am trying to promote on this site.
So it makes me happy when I hear from Cura that they have a new strap out. And it is the one that I have been waiting for, a high quality leather wrist strap.
Continuing the tradition of producing handmade high quality items, Cura have been working with Japanese leather artisans to put together these stunning straps.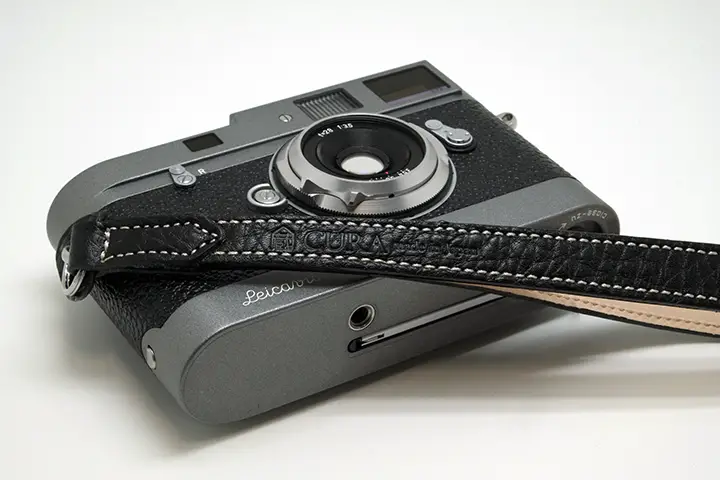 This new design is the one that everyone has been asking for, a lightweight and supply leather strap. These beautiful straps are hand made out of the highest quality materials. Each strap is cut from the leather rather than pressed, it is stitched in a sandwich with a support backing of tougher leather so that the strap doesn't lose its shape, yet because everything is hand cut the strap manages to remain extremely thin and lightweight.
The rings on the straps are specially polished for over 20 hours so that they have no rough edges at all, making them kind to the fingers, yet extremely strong.These leather straps will take on a patina over time and become unique to your wrist. Your very own strap.
The straps come in 3 different colours:
Black leather with red stitching
Black leather with white stitching
Brown leather with white stitching
The wrist strap is 20cm long and designed to fit on ring type lugs commonly found on Rangefinder cameras.Please be aware as these are hand made and hand dyed, the dye may run slightly when wet and transfer. The leather will also discolour over time taking on a more weathered colour.
These straps have become a huge success in Japan and have been featured in a number of different photography magazines. They are very popular in Japan and I hope they will be popular outside of Japan too.
You can buy them here:
https://www.japancamerahunter.com/shop/cura-leather-wrist-strap/
Japancamerahunter