So you think you know all about quartz date cameras? Johan Van Huyssteen is back on the site to school you all on which quartz camera will be ready for Tokyo 2020.
Camera Geekery: Tokyo 2020 Olympics – quartz date camera guide
So… you've watched Akira 20 times by now. You can't believe that Otomo-san predicted the upcoming Tokyo Olympics in 1988. The universe is trying to tell you something. Will the city really be consumed by a gravitational singularity as he predicted? Anything is 'more' likely now that Kim Jong-un has stopped launching big rockets across the coast of Japan. This is the story of the quartz date camera; their impending demise, and how you can beat the clock.
First thing you should know about quartz date cameras; it is a cult. It has many weird and wonderful followers. Just like any worthwhile cult, it is really, really difficult to find any useful information related to it. Before reading further. Try googling 'history of quartz date cameras' or 'first quartz date camera' to get a sense of the scarcity of information.
The history of the quartz date camera is not properly documented. After days of scouring the net for resources, I found… nothing. I started hitting the books. Ansel Adams' The Camera. Not a word. Analogue Photography… no mention. Went through my family's collection of photography books from the 80s and 90s. Drove to second-hand book stores and then the library. I called the old-timer in town that repairs everyone's film cameras. Diddly.
It was purely by chance that I thought of researching other devices that employ quartz clock time-keeping. It was so obvious. My never-say-die Casio wrist watch! I threw open the old Encyclopaedia Britannica and finally, I found therein (and other obscure sources) some interesting information regarding the subject. You can read my brief history of the quartz clock here:
https://drive.google.com/open?id=1foBC80Ei13xD9PLcW3chcqjt2XMPfZzP6tnDpkxNamE
It really is fascinating!
The quartz date camera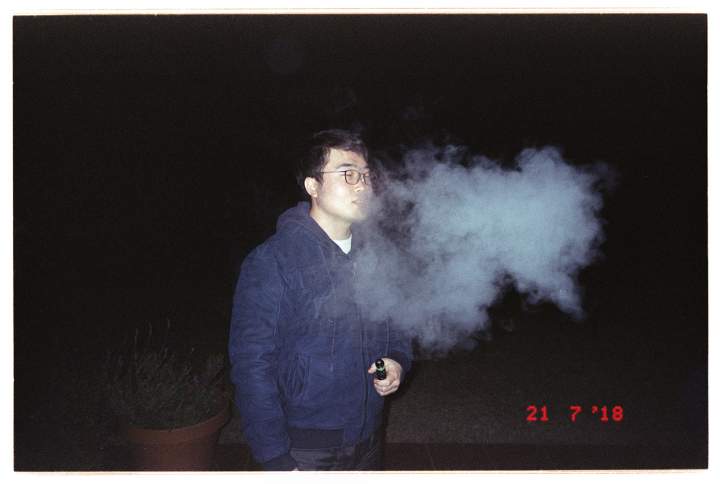 Picture of my brother-in-law. Taken with Ricoh R1 date.
Quartz date cameras started as early as 1970 with Canon's 'Canodate E' camera, which was literally a decade ahead of its time. It superimposed the date for ¼ second after exposure (immediate film advance was discouraged). One could also print alphanumerical characters on the bottom row, a feature that would be sold as an 'exclusive' feature on date cameras more than two decades later.
There were very few rangefinders with date-print functionality ever made. These cool-looking cameras are still sold today second-hand for very affordable prices.
In 1977, Nikon adopted the functionality for a professional SLR; the ultra-rare MF-10 data back for Nikon's F2 line. They used separate time-pieces from Seiko, that would optically expose the selected date onto the film. The date would be 'revealed' when the film was developed. These devices were monstrously large and only an engineer could love such a thing.
It didn't take very long for this novelty to become mass produced either. By 1983 compact cameras became all the rage and Fuji released the clamshell-designed DL 200 date (I call it 'Deus Ex Machina' because of it's dangerous looks). Importantly, the camera didn't have an optional data back like some SLRs.
The data-back became so small that cameras using them seemed indistinguishable from the non-data versions. This meant they would be sold as alternate cameras rather than add-ons. They were only fractionally more expensive than non-date versions.
Other than being a fun, family gimmick; date-printing didn't exactly take the art world by storm. It wasn't until Japanese superstar provocateur, Nobuyoshi Araki published his first print of Sentimental Journey in '91 that the artistic community took notice.
JCH has already published a review of this massively influential and (unexpected) book. Despite it's tragic nature it is one of the best uses of date printing as story-telling device, ever.
From here onwards, I shall refer to quartz date cameras only as 'printers'. No doubt ,if you've been reading up to this point, you're the type of person who's contemplating a trip to Japan for the 2019 Rugby World Cup or the 2020 Summer Olympics.
In case of the former, you're safe (mostly). For the latter, your screwed; unless you follow my guide below. Now let's make sure your sentimental memories will be etched in time, safely preserved for your children. "Oh what's that mate? You could've just checked the metadata of your RAW file in Lightroom?".
Don't be so boring! What are you going to show your mates in 2049, when 'another' EMP wipes out all of earth's hard drives? Film photography is a physical documentation of a moment in time. Those halides have formed silver deposits by means of light rays. It's etched in time, forever.
I've broken down the printers into 3 categories. I will list names, followed by maximum year number available for printing, followed by a brief description.
Akira printers
Akira printers are badass-looking 80s printers. They are not ready for the year 2020 and beyond. They are working-class soldiers and have matching price tags.
Minolta AFZ date: ('09)*
Released in 1986. Prints up to 2009. 1980s geometric design goodness. Sharp lens, noisy motor. Flash can't be turned off. *Some photographers prefer out-of-date printers. Don't ask me why, but I've seen hipster albums with this trend.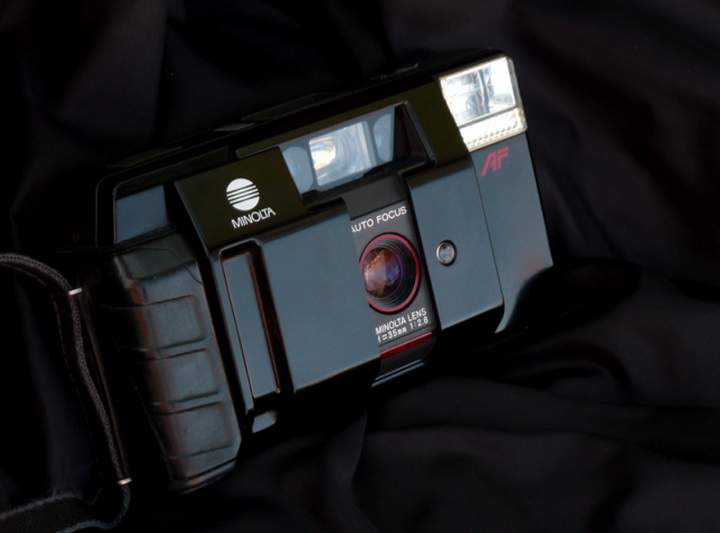 With permission, image by ' Paulo Moreira'. Flickr page: https://flic.kr/ps/2vq469
Pentax PC35AF Date: ('19)
Released in 1982. Prints up to 2019. Very badass clamshell design. Looks like the stealth bomber version of an Olympus XA. Hit-and-miss AF. Good image quality. Slightly noisy shutter. The PC35AF-M Date upgrade, looks even better. Motor-drive makes it slightly bigger though.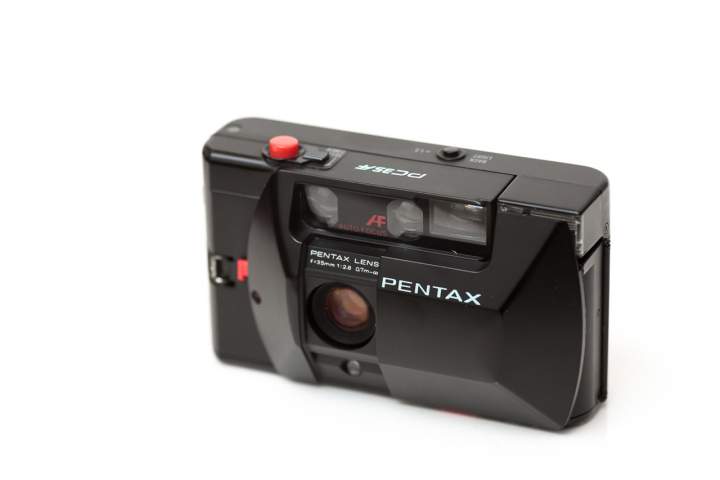 With permission, image by Alan Abrams. Flickr page: https://flic.kr/ps/uCMDt
Fuji DL 200 date: ('19)
Released in 1983. Prints up to 2019. Another great clamshell design. Had a factory-sealed, long-lasting battery. There are DIY guides online on how to replace it. It also had drop-in film loading, motor drive and exposures were shot in reverse order from 36 to 1. The DL-2 200 date upgrade had a normal battery compartment.
With permission, image by Jörg Krüger (top right). Flickr page: https://flic.kr/ps/2sB4Yn
Nikon TW2D: ('19)
Released in 1987. Prints up to 2019. Nice dark design with a touch of red. Nikon's first point and shoot camera with a 'zoom'. In reality, it had 2 focal lengths. 35mm f/3.5 and 70mm f/6.8. There are many design variations and names for the TW range also called TW zoom. To be safe, anything with the TW badge will look good and shoot well. Just confirm with seller that it is indeed the date version you're buying.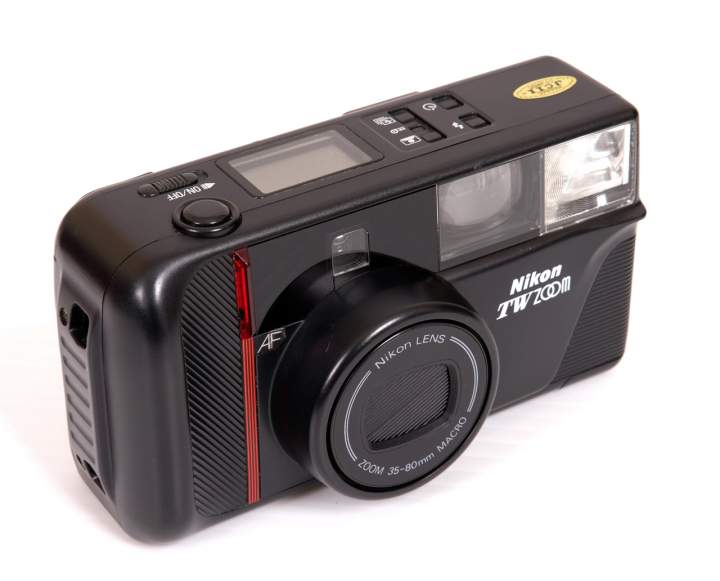 With permission, image by 'bigdark999'. Flickr page: https://flic.kr/p/Qc3waX
Razor printers
These are printers with very high image quality. Many of them are, or could be considered luxury point-and-shoot cameras. Most of them are ready for the year 2020 and beyond.
Konica Big Mini 301: ('19)
Released in 1990. Prints up to 2019.
Alluring, elegant champagne design with black accents. Game-changer for 90s point-and-shoots for its ease of use and optics. Revered 35mm f/3.5 lens. Haven't tested one myself, but by Bellamy's own account, it's as sharp as the Ricoh GR1.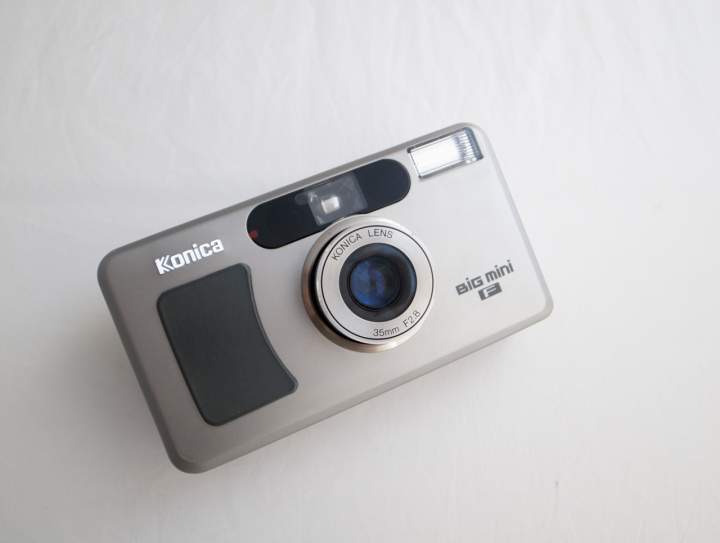 With permission, image by Bellamy Hunt, aka Japan Camera Hunter
Fujifilm Tiara: ('25)
Released in 1994. Prints up to 2025. Personally, I feel this is one of the most beautiful camera designs of all time. The zealous followers of this cult camera dubbed it the 'sardine can', referring to its unique brushed aluminium-alloy body. It's really tiny and light! It also happens to hide one of the sharpest aspherical lenses ever designed for a point-and-shoot.
Best-in class AF. No shutter lag (unique for compact cameras). Manual focus override. Intelligent exposure system alternates between wide apertures and slow shutter speeds, depending on mode. Flash is a stop less powerful than the Olympus Mju II. Drop-in film loading. Shoots in reverse order. Some photographers do complain about handling of the camera (too slippery). Also, known as DL Super Mini.
Two more flavours were released in '96. First, the upgraded Tiara II (minor facelift, strap on side not bottom) then the Tiara Zoom a.k.a. DL Super Mini Zoom. The latter weighed only a fraction more, but the lens seemed less sharp and AF less accurate.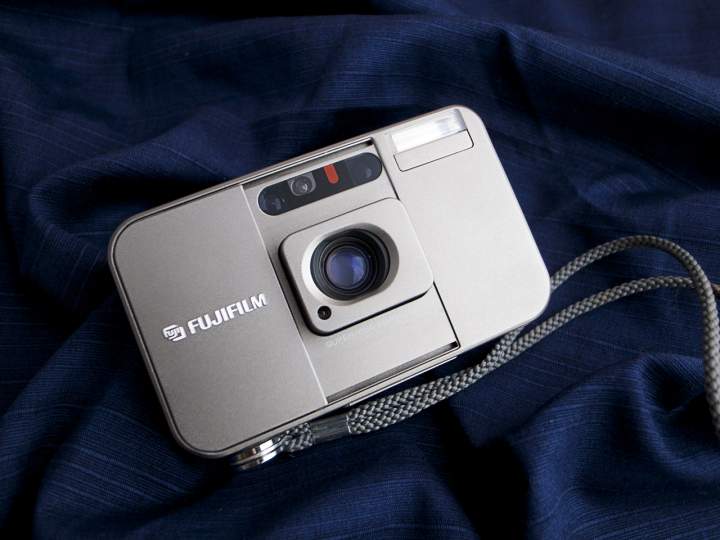 With permission, image by Bellamy Hunt, aka Japan Camera Hunter
Pentax Espio Mini Quartz Date: ('30)
Released in 1994. Prints up to 2030. It's also called the Pentax Espio UC-1 in some countries. A lesser known point-and-shoot classic. Contrasty images. 32mmm focal length (yes please!).
The exposure system is loved for favouring fast apertures rather than slow shutter speeds (unlike most point and shoots). Images are sharp, but not as sharp as the other 'razor' printers. Silver looks cool, black version looks even sexier.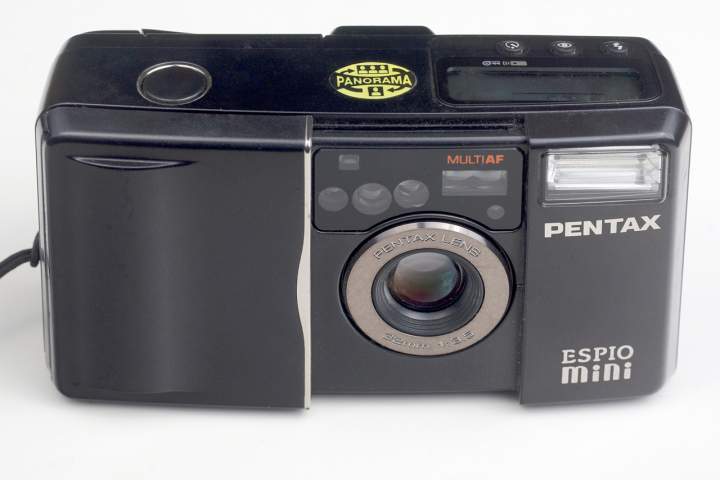 With permission, image by Jörg Krüger. Flickr page: https://flic.kr/ps/2sB4Yn
Fujifilm Zoom Date 2.8: ('30)
Released in 2003. Prints up to 2030. Japan-only black version named Fujifilm Silvi 2.8. The camera is unique for having two shutter-release buttons (for left and right-handed shooters). Images are sharper than Espio Mini, except at night, when it favours slow shutter speeds rather than fast apertures. Silvi 2.8 (black) version sells for bonkers prices in the West. Cheap to buy directly in Japan though.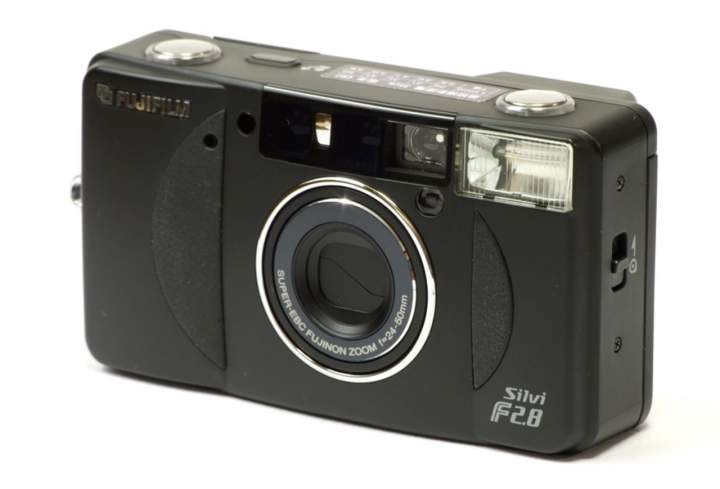 With permission, image by 'yuchan's point of view'. Flickr page: https://flic.kr/ps/P3ysL
Honourable mentions:
There are some obvious omissions from the 'razor' class. These are stellar cameras, but not as commonly seen with quartz date functionality. They are definitely worth your money though. They are: Ricoh GR-1 date, Contax T2 date, Contax T3 date, Yashica T5 date, Nikon AF600 date, Nikon 28Ti, Nikon 35Ti.
Super Mario Printers
Printers ready for Tokyo 2020 and beyond… Even though most of the Razor printers are 2020 ready, they don't qualify for the Super Mario category as they're too overpriced. Mario had humble beginnings but big dreams.
Ricoh R1 date: ('24)
Released in 1994. Prints up to 2024. This camera is loads of fun! My personal printer. Features cool-looking colours. Metallic purple, metallic dark green, charcoal, silver and black. The R1's boasts a very sharp lens (maybe as good as Tiara for resolving fine detail) and are cheap.
By pressing the 'Panorama' button, a temporarily-inserted wide-conversion lens, turns the 30mm focal into a 24mm. It is letterboxed (cropped top & bottom), but the crop shutters can easily be disabled to reveal a full 24mm FOV. This makes it very soft and vignetted in the corners though.
*Like most Ricohs the top LCD stopped working just after it left the factory. Luckily, there's a way of bypassing it and one known way, to fix it. The date LCD on the side works fine. The R1 is also sold as Rollei Prego Micron in some countries. Avoid the R1E version for looks. It's quite bland.
My personal Ricoh R1 Date. Image taken by me. Flickr page: https://www.flickr.com/gp/[email protected]/Ppi332
Fujifilm Zoom Date 90 SR/ 115 SR/ 125 SR: ('30)
Released after 2000. Prints up to 2030. The entire Fujifilm Zoom Date range had good lenses after 2000. Prior to 2000 not so much. They look respectable, but not very sexy (available in silver only). I couldn't get permission for an image, but very easy to find it online.
The numbers refer to the maximum focal length. Unlike the fragile nature of many compact cameras, these cameras are hard-plastic tanks and can be had for peanuts. Amazingly, nearly every decent-looking model I've seen for sale had perfectly working electronics. That's scarce amongst point-and-shoots! Recommended for those who don't give a toss about fashion and want results. Due to late release date, some models can still be serviced by Fuji Japan. Good luck learning Japanese before you do though!
Canon EOS 620 Quartz Date Back E: ('29)
Released in 1987. Prints up to 2029. Canon's first EF-mount camera was also one of its greatest. Actually, the 620 was released 2 months after the 650 and simply included faster autofocusing and film-advance motor. This camera looks so good coz it shoots so good. Not only does the body look hot (xxx), but that red number logo (only on the 620) looks like the devil's touch.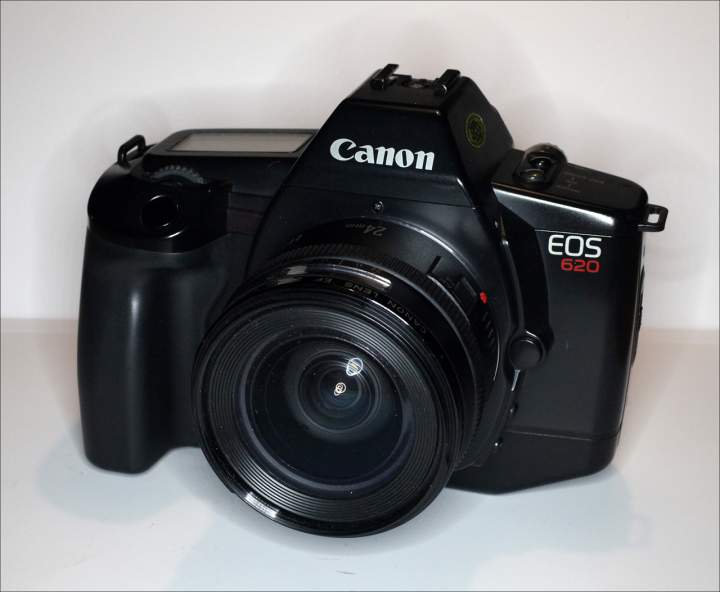 With permission, image by Pedro Ré. Flickr page: https://flic.kr/ps/2uxbiQ
It still has fast autofocus, even by today's standards and the fact that you can mount any EOS EF, L, USM and IS lens ever made, means you can potentially create better images than any camera on this list. Exposure is handled by multi-region evaluative matrix-metering.
I know you're yawning now that you've read it's an SLR, but the ergonomics of this camera are really nice and compact for that genre. Like all the other cameras in this article (except the Nikon F2 Data) it can easily be shot one-handed and has even less buttons than the compacts! Did I mention they're cheap? Very cheap. It's criminal to think that a camera this good sells for street money. Finally, its date printing is in a different league, as explained below.

The orange-coloured, seven-digit LCD quartz date imprint. This is the benchmark by which all printers are measured. Image is a scan from a frame of my copy of 'Sentimental Journey', by Nobuyoshi Araki. I added the orange tint to match that of the Canon BF-80's quartz date imprinting.
Bonus: Print Nirvana
If the typography and legibility of the date imprint is of special importance to you, I would like to single out the following cameras from the article. They employ orange-coloured, seven-segment LCD digits, rather than the more common, red dot-matrix style. The seven-digit LCD was immortalized by Nobuyoshi Araki. They are:
Canon Prima BF-80 date: ('19).
Prints up to 2019. The holy grail of date-printing. Considered the best printer, due to its typography being perfectly sharp, bright, legible and having the best placement inside the frame. 
EOS 620 Quartz Date Back E: (discussed above)
Tele Cardia Super Memory: ('19)
Rare and collectible Japan-only model. Could print date as well as a preset series of captions like "Happy New Year" or "Our First Date".
Konica Big Mini 301: (discussed above).
Typography as good as the Canon in my opinion. 
Fuji DL 200 date: (discussed above)
Happy printing boys and girls! Hopefully this genre of cameras can ignite your inner child as it did with me. I know which cameras I have ready for Tokyo 2020. Drop me a comment below if you think I missed a good one. Cheers!
Johan
* Unless noted, all images are taken by me and I am the sole copyright owner.
** Images not taken by me, are used with permission from the photographers.
Once again, thank you to Johann for this comprehensive article. As always, comments are welcome and polite discussion encouraged.
JCH