Camera Geekery: The Nikon Museum
If you're a diehard Nikon fan in love with all things Nikon, then be sure to bring extra nether garments to the Nikon Museum in Shinagawa, Tokyo because you will soil them. The Nikon Museum opened at its current location in July 2017 to commemorate Nikon's 100th anniversary. It is an overwhelming smorgasbord of damn near everything they've ever made presented in exhibits about the history, products and technologies of Nikon's various businesses. It is the stop to gain an appreciation for the aspirations that Nikon has continued to pursue since its foundation and for how Nikon has evolved. And of course you'll get your fix for pure Nikon gear p*rn.
Walk right in through the entrance and you're greeted by this 130cm long synthetic silica glass ingot, the symbol of the Nikon Museum. It is the embodiment of Nikon's optical material manufacturing technologies. It is developed for use in projection lenses for semiconductor lithography systems.
Nikon Imaging
The Nikon Museum is divided into several sections. Make a right, or three lefts if you're not an ambi-turner, and you will be greeted to the Imaging Section featuring this hugantic, ginormous case. In it you will find almost all of the roughly 500 cameras Nikon has ever made, from the Nikon Model I to latest digital SLR and mirrorless cameras. In addition, in the "Brochure Library", you can view brochures of Nikon products on a specially designed monitor.
Yes, all the writing on plaques and panels are in English which is supremely helpful. There is an audio guide service (in Japanese and English) that provides explanations about approximately 20 items via a dedicated tablet device. The audio guide fee is 300 yen, all of which is donated to charities.
Learn about the early days of Nikon with valuable items from the prewar era onwards. They have all sorts of cool historical items such as the early lens prototypes designed by the eight German engineers they pinched in the Japanese photographic equivalent of Operation Paperclip.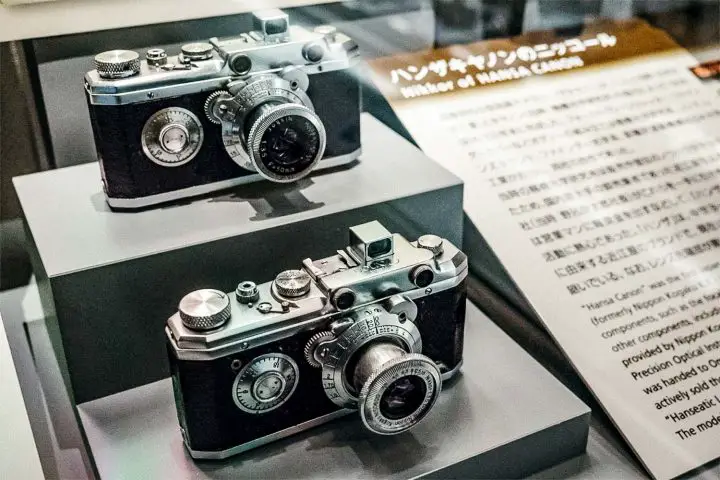 Nikkors made for Hansa Canon. Yes, these rivals actually worked together way back in the day. Seiki-Kōgaku Kenkyusho, which was to become Canon Camera Company had a close relationship with Nippon Kōgaku. Per John Baird in his book The Japanese Camera, the Japanese Imperial Navy and Mitsubishi paid for these licenses to German patents as part of their support for Nippon Kogaku in the early 1930s. Nippon Kogaku had direct access to Zeiss' designs, producing Tessar-type lenses such as the 5cm 1:3.5 Nikkor for the Hansa Canon in 1934. If you don't know, now you know.
In addition to all the Nikon history and geekery, you can also enjoy a "Hands-on Corner", where you can handle SLR film cameras from various generations. Go down the line in chronological order and feel/hear the different generations of shutters and winders consecutively. What a treat for us otaku ;)
Some interesting items
Nikon F2 750
The MF-2 750 exposure magazine back for Nikon F2MD. When used with 100 feet film, this magazine back enabled the photographer to take approximately 750 photographs. At the time, it was a made-to-order product.
Nikon S Black Life Magazine
This model was painted black at the request of Life magazine, in order to prevent it being identified in battlefields. The height of the film advance knob was increased and the film rewind knob made easier to extract and rotate so that the camera was easy to use even when wearing gloves. Who knows what kind of stuff this guy has seen.
Fisheye-Nikkor Auto 6mm f/2.8
With a 220 degree field of vision and weight of 5.5kg this is truly a super wide boi. Be careful not to get your toes in the shot!
In this case are various prototypes that never made it to production and some items can only be seen here.
Nikkor Lenses Selection
For the Nikkor lens geeks out there these panels showcase a truly dizzying amount of glass that'll make your mouth drool. Approximately 400 F-mount Nikkor lenses are here, ranging from everything to fisheyes to uber-teles.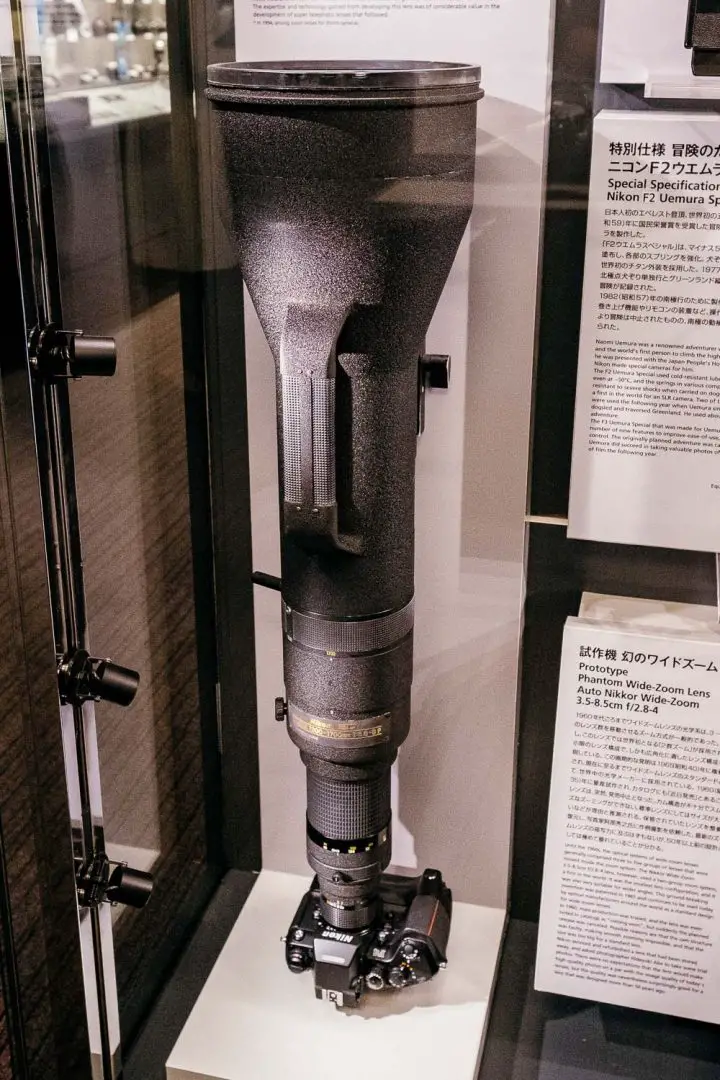 Zoom-Nikkor 1200-1700mm f/5.6-8P IF-ED
Nicknamed "The Tuna," the Zoom-Nikkor 1200-1700mm f/5.6-8P IF-ED from the early 90's held the record for the longest ever 35mm zoom for some time. Weighing in at 16kg/35lbs, and 888mm/35 in. long, it was an overcompensating behemoth. It had an asking price of around $60,000-$75,000 when it was released in 1990 and required a unique, two-section lens barrel!
Nikon Industry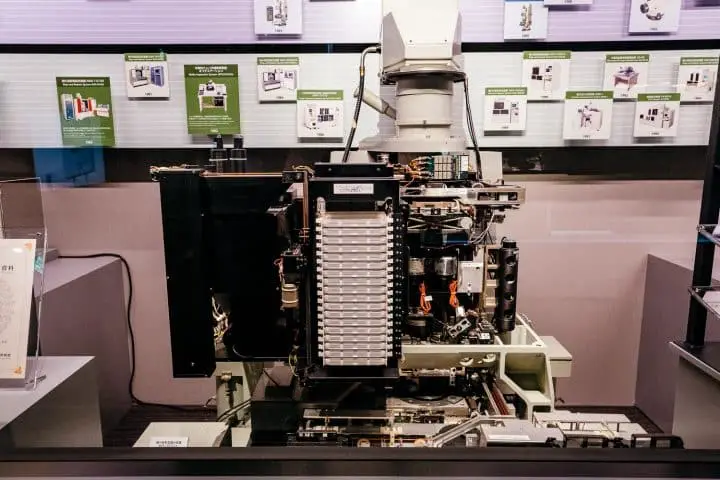 This area features Nikon Industry products and technologies that contribute to various industries, such as Semiconductor Lithography Systems, FPD Lithography Systems, measurement and inspection instruments, and encoders. Many consider the Nikon Semiconductor lithography systems among the most precise equipment in history.
The NSR-1505G2A, an early model of the Nikon semiconductor lithography system is shown here, and is registered as Essential Historical Material for Science and Technology at the National Museum of Nature and Science, Tokyo. In this exhibition, you can watch the machine as it creates circuits.
Nikon Bioscience and Medical
This exhibit introduces Nikon's activities in the healthcare and medical fields. Through videos and displays of actual equipment, you can learn about the advances in Nikon microscopes, various products used in the latest developments in the medical field, and Nikon's challenges in even newer areas of medical technology.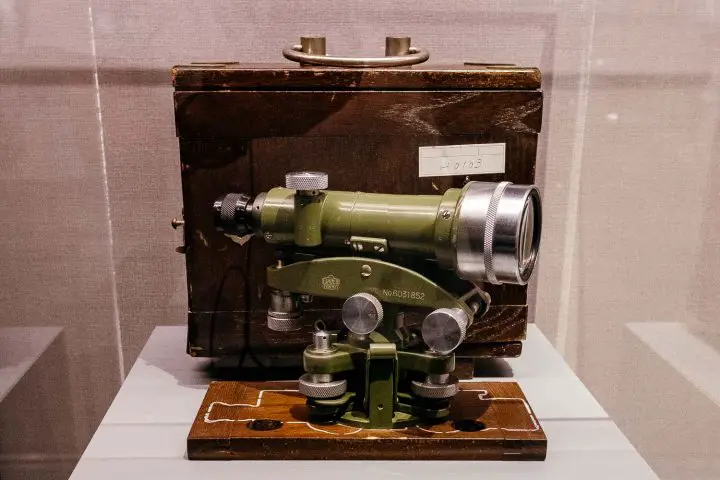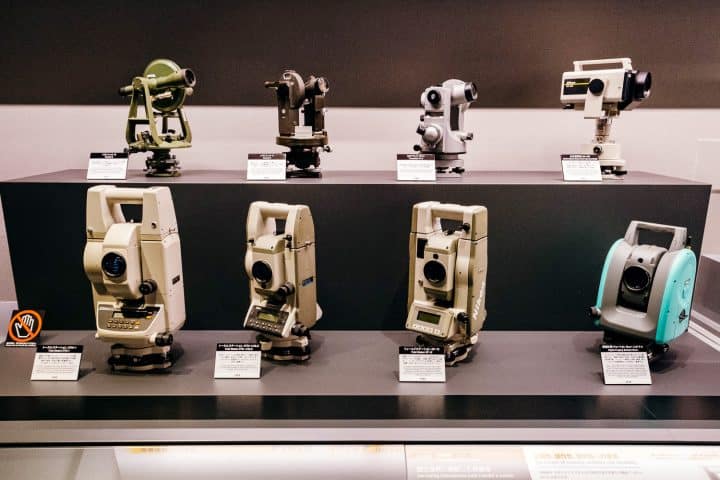 Nikon Space
Here you can trace Nikon's involvement in Japan's space observation development from astronomical telescopes to optical probes mounted on satellites. There is also a model of the AKARI infrared astronomy satellite.
So there you have it. Hopefully that gave you a nice glimpse of the church of Nikon. If you have time to kill in Shinagawa and want to acquaint yourself with 100 years of Nikon history, you won't be disappointed. A true fanboy's haven and educational to boot. If you're averse to reality or simply can't make the trip, a virtual sightseeing trip around the Nikon Museum is being offered by Google Street View.
MN