Camera Geekery: Plaubel Makina (Mamiya) W67
The Plaubel Makina 67 needs no intro, it's in the hall of fame. Yet not much info can be found about its Mamiya-made younger sibling the Plaubel Makina W67. Announced at the 1981 PMA, the Makina W67 rocks a specially designed Nikkor 55/4.5 wide angle lens and some changes to the original design including a ribbed body, rubber ring on the focusing dial, smaller front face and a rectangular rangefinder window instead of round. The Makina W67 was released in December 1981 at a price of ¥198,000 and is quite the rarity with only approximately 3500 units made.
Wait, what? It's made by Mamiya?
Production of the original Makina 67 bodies were made by Konica/Copal in Japan. For a more detailed history of the original Makina 67 check out our review here. It was said many individual adjustments were necessary for each camera at the assembly stage due to the German made bellows, a critical part of the camera. Pinholes in the bellows caused light leakage and meant the whole production line had to stop and urgent re-orders were made to the bellows manufacturer. Furthermore the re-delivered bellows did not match specifications when folded, causing the production line to stop.
Mamiya head honcho at the time Naoyo Ishida had previously suggested to Kimio Doi that production of medium format cameras should be aggregated and not made separately. Due to the bellows problem, Doi decided to move production to Mamiya. Production, including design drawings, moved from Copal in Koshigaya City, Saitama Prefecture to Mamiya in Urawa City in June 1981. At Mamiya a new production line was made with parts from the previous factory and production was streamlined and strengthened.[1]
Tech Specs
The Plaubel Makina W67 debuted in 1981 and is essentially the same design as the original Makina 67, albeit with a Nikkor 55mm f4.5 lens equivalent to 28mm in 35mm. With the lens collapsed, the Makina W67 is very svelte for a medium format camera at only 56.5mm deep. The 28mm equivalent lens is versatile for landscapes and multiple subject compositions and the rangefinder focusing is fast and accurate. Throw that in with what many consider to be the sharpest medium format lens ever made and you can see how its cult status was achieved.
Shutter : Copal #0 mechanical leaf shutter, B,1-1/500 seconds, x-sync at all speeds
Lens : Nikkor 55mm f4.5,  f4.5-22, 4 groups/6 elements, multilayer coating, angle of view 77 degrees, filter diameter φ 62mm
Film type: 120 film, 6 x 7 format, 10 shots
Minimum focus distance : 0.8m
Focusing : coupled rangefinder, baseline length: 65mm (effective baseline length : 42mm)
Finder : bright line, auto parallax correction, 0.52x magnification
Light meter : GPD cell, capable range : EV4 ~ 18 (ASA 100), ASA sensitivity scale 25 ~ 1600 (1/3 step)
Battery : two SR44 type cells
Size : height 115mm x width 162mm x depth 56.5mm (60.5mm with lens hood) folded, 113mm w/lens out
Weight : 1290g (with lens hood, strap and film loaded)
Lever winding angle 185 °
Makina W67 & Mamiya 6 side by side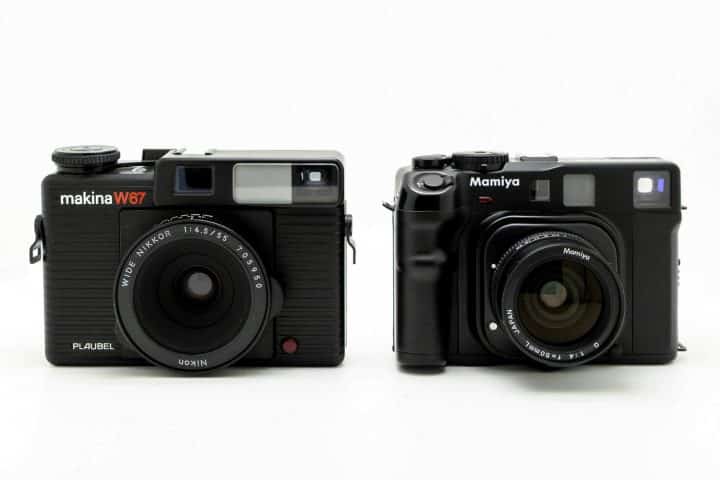 Here we have the Makina W67 juxtaposed to a Mamiya 6 with a 50mm lens for a size comparison. Yeah I know one is 6×7 and one is a 6×6 camera so it's not totally a direct comparison but unfortunately I don't have a Mamiya 7 accessible at the moment. The Mamiya 6 and 7 are very similar in size anyways, with the 6 being about 3mm thinner and shorter.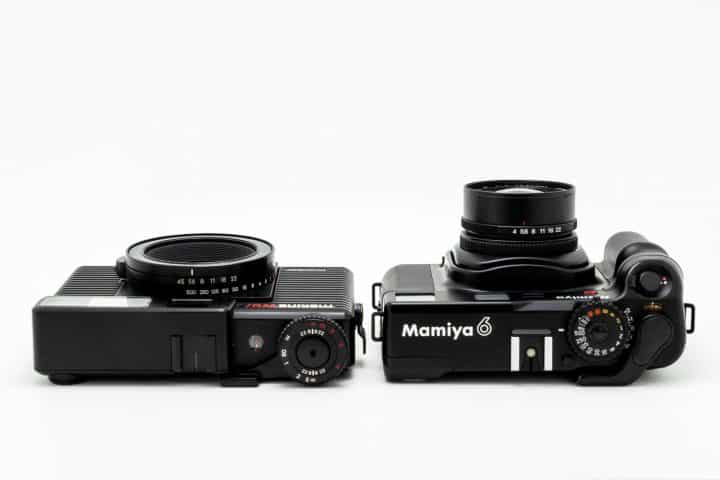 Weight-wise the Makina W67 is only 30 grams lighter than the Mamiya 6, weighing in at 1.24kg and 1.27kg respectively. The Makina W67 is slightly wider than the Mamiya 6 at 162mm vs 152mm, but much shallower in depth at 56.5mm vs. 90mm with the lens folded.
With the lens extended the Makina W67 is 90mm deep with the Mamiya 6 clocking in at 120mm.
Functionality & Ergonomics
Loading film into the Makina W67 is a cinch just like its older sibling. Well thought out design features with great craftsmanship abound, particularly the back door and the red film spool latches. They are solid and precise and inspire confidence the film is properly aligned and tight.
The Makina W67 too has a finder that is a thing of beauty; big, clear, and uncluttered. The Makina W67 does have a built in meter however it doesn't show in the finder unless you hold the meter button on the back side just under and to the right of the winder. I love this design aspect as it keeps the finder simple and without distractions until necessary. The spot meter is quite accurate too. Uchida made sure the 20 degree angle of the sensor to be the most accurate for use with positive film.
The rangefinder patch is bright and quite large but for me has relatively blurry and muddled edges. This might not be an issue for most people, but for those used to a solid edged patch like on a Leica or the Mamiya 6/7 it will leave much to be desired, especially focusing up close. Personally, the orangey tint and soft edges of the Makina patch can get lost in bright daylight sometimes.
Like its older sibling, aperture and shutter speed are controlled by adjacent rings on the lens. Yeah, it's a mind f**k in the beginning and takes some getting used to. The tab on the left from this view adjusts the aperture while the the tab on the right adjusts the shutter speed. It's not very intuitive so you'll need to rewire this into your brain.
ISO/ASA is set by a thin ring on the opposite side/ bottom of the lens. Because of this, it does succumb to movement when adjusting aperture and shutter speeds every now and then so you'll need to keep that in mind.
Focusing is controlled by a dial combined with the film advance lever and shutter release button. The initial impression is insanity but when you are able to focus, shoot and advance with just one hand, it's a sublime realization. The rubberized material around the focus dial on the W67 and 670 is a welcome addition as it helps with precise focusing. The focus scale on the dial is small and a little vague with depth marking for only f/8 and f/22 but that's a minor gripe and didn't bother me too much.
The sound of the leaf shutter leaves something to be desired. It's like someone is smacking their lips and tutting at you but at least it's relatively quiet and gets drowned out well in city streets.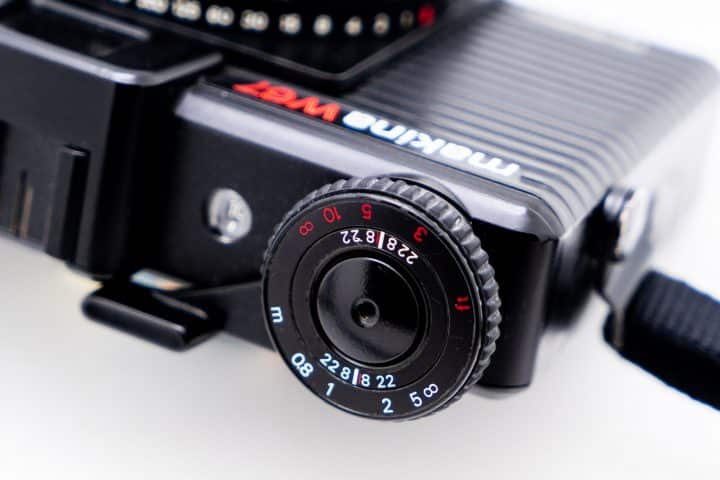 An interesting design detail oft overlooked is the film reminder slot on the right side of the lens. Here you will find a slot you can slide in the tab from your film box so you don't forget what film you decided to load. It's a clever idea and works great even with the lens collapsed and folded!
Sample Pics (Color)
The following is a few color examples from the Makina W67 shot on Kodak Portra 400
Sample Pics (B&W)
The following are some black and white examples taken on JCH Streetpan 400 and developed with Cinestill Df96 in an Ars-Imago Lab Box.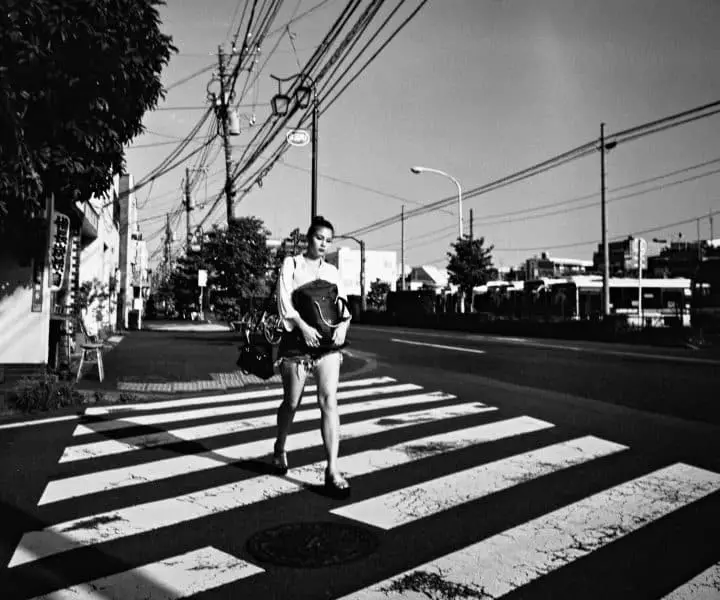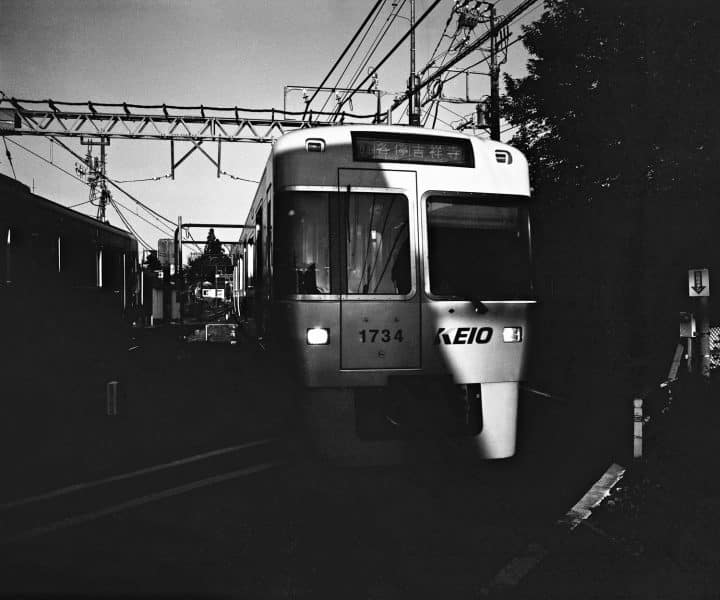 Conclusion
Like its older sibling, the Makina W67 is a joy to use, of course though with some caveats. The build quality, portability, and cool factor boxes are all ticked. Like a wise little old green alien once said "You must unlearn what you have learned"; if you takes those words to heart when it comes to the ergonomics of the camera, you'll enjoy the versatility the Plaubel Makina W67 has to offer. The portability really is a boon. Coming from having a Pentax 67, carrying the Makina W67 around all day was a piece of cake.
I find the Makina W67 to be the medium format equivalent of a Ricoh GR. Though the Makina W67 is manual focus, both are super portable with 28mm wide angle lenses and a 1/500th sec. max shutter speed that have carved a niche for landscape, travel and street photography alike. For more inspiration check out what Martin Parr, Wim Wenders, Carl De Keyzer, and Araki have done with this fine machine. Due to its age and fragile design elements such as the bellows, finding one in good condition that has been serviced recently cannot be overstated. It ain't cheap, but its value has held very well and is a great addition to any collection or as a user. You'll be in fine company.
MN