Camera geekery: "Hammcamm" Box Camera
Living in Japan, I'm quite used to a unique balance of old-school tradition and cutting-edge technology. Which is why when Robert Hamm told me about his 3D printed box camera, it struck an interesting yet familiar chord. It's an ambitious and intriguing concept; modern innovation meets old world inspiration.
Codenamed HammCamm (the real name will be released shortly) it's a fully modular box camera that shoots 120 film with a 6×6 aspect ratio. The camera takes the best parts of century-old designs and is a modern innovation inspired by the Kodak no. 1, Agfa B2-Cadet, and other cameras of the era. It is made up of five different interchangeable modules (including a cartridge to hold the film, a 1/100 sec. shutter mechanism, and a single-element glass meniscus lens with maximum aperture of F/5.6) that can be swapped to change both the outward appearance of the camera as well as its internal specifications.
The base "trim," informally called the Black Box Edition, will be 3D printed out of durable PLA plastic, with the highest trims featuring brass internals and an exterior made out of wood by master luthier (guitar body maker) Stephen Boone. This ain't your grandfather's Brownie. The HammCamm will be launching on Kickstarter in the third week of October, and are seeking the support of members of the film photography community to share the excitement for their modular box camera with the world.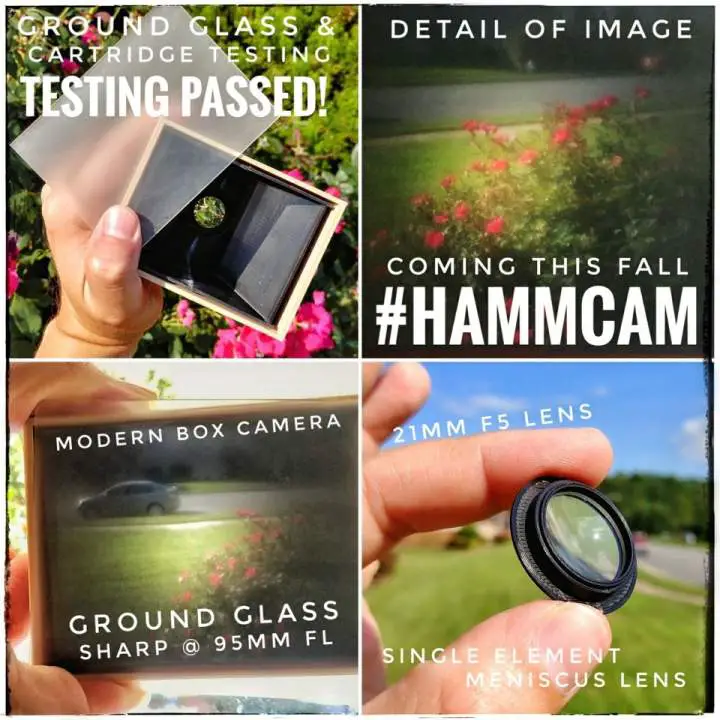 Robert, the founder of the company and lead designer, has been working on this project for years and tells me that the manufacturing process has smoothened out and testing is going along well. For more information, check out their Facebook and Instagram. The process is also documented on their Youtube page.
It's nice seeing folks trying to create new new twists on classic designs, the revamping trend continues. Here's hoping they can avoid the production problems befalling Wanderlust.
What are your thoughts? Comments are welcome.