Camera Geekery: Contax G2
It can be said that film rangefinder technology culminated in 1996 with the release of the engineering marvel that is the Contax G2. The Contax G2 raised the standard for rangefinder cameras with a 4 FPS integrated motor drive, top shutter speeds of up to 1/6000, X sync at 1/200 second and an extended baseline autofocus system. The supposed Leica killer listed for US$2,250 with the 45 mm Planar lens when it debuted (almost $3,500 in 2018 dough) and became the rich-man/woman's travel and vacation camera. The Porsche-designed titanium beauty has since developed a cult following despite the love/hate relationship documented by many a user. Curious to find out what the fuss is about? Let's take a closer gander.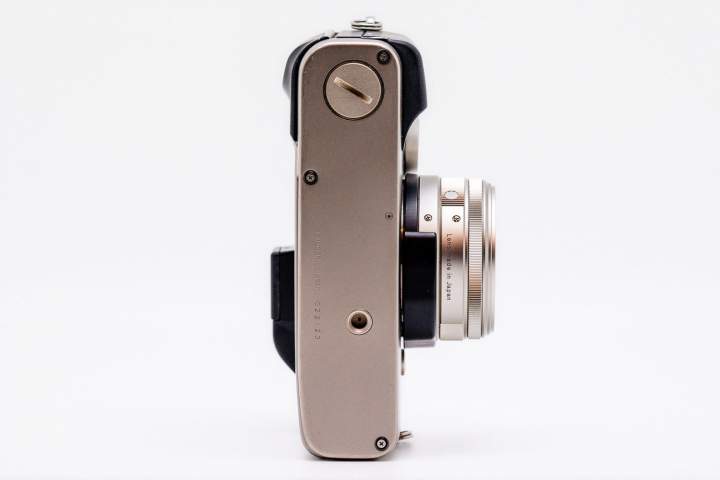 Tech Specs
Type
35mm AF Rangefinder with interchangeable lenses
Lens Mount
Contax G
Focus Modes
Single shot AF, Continuous AF & Manual
Focus Type
Dual passive & active AF with assistance beam
Focusing Sensitivity Range
EV 3-19 @ ISO 100 with all lenses
Exposure Modes
Aperture priority & Manual
Exposure Metering
TTL Center-weighted averaged(also possible to meter from outside of the lens)
Metering Range
EV 1-19 @ ISO 100 with f/2 lens
Shutter Speed
1/6000th to 16 Seconds + Bulb with flash sync at 1/200th second
Exposure Compensation
±2 EV in 1/3rd EV increments
Exposure Bracketing
+/- 0.5 or 1.0 EV in three-frame sequences
ISO Range
25-5000 (DX)
6-6400 in Manual setting
Built-in Flash
No
Film Wind
Auto single mode & Continuous at 4 frames per second
Focusing Screen
NA
Diopter Correction
Yes (-2 to +0.3)
Self Timer
10-Second delay
Remote Control
Optional cable release switch F
PC Terminal
Yes
Depth-of-Field Preview
NA
Mirror Lock-Up
NA
Multiple Exposure
Yes
Viewfinder Info
Image area frame(parallax corrected), Focus frame, Focus display, Shutter speed, Exposure mark, Exposure compensation & Flash readiness
LCD Information
Shooting distance, ISO Speed, Drive mode, Custom functions & Battery power
Color
Champagne / Black
Power Source
Two CR2 3V lithium batteries
Dimensions
5.5 x 3.2 x 1.8″ (140 x 81 x 46mm) WxHxD
Weight
1.24 lb (561 g)
Design Aspects
The Contax G2 is touted for its ergonomics and well thought-out layout. Indeed, the AE Lock, shutter speed, EV compensation and even focusing modes all have their own dedicated single-purpose dials. In addition, the controls are arranged in a clever way with secondary adjusters positioned near or within other adjusters.
An example of this would be the the large exposure compensation dial located right next to the shutter release. While its location is quite handy and intuitive, underneath it you will find the handy little built-in Automatic Bracketing Control (A.B.C.) function (automatic exposure compensation on three consecutive frames) which allows you to do an exposure sequence consisting of one frame standard, one over and one under exposed. Bracketing works in both auto and manual modes!
The focusing mode dial which toggles focusing between single, continuous, and manual focus is well-positioned under the shooter's thumb.
To the left of the top plate is a dedicated shooting mode dial that will let you choose between single shot, 2 FPS (CL), 4 FPS (CH), double exposure, and 10 sec. timer. While it's a nice conception that is appreciated, in my sample I found the dial to move rather easily in a bag and would change accidentally during transport or removing from the bag.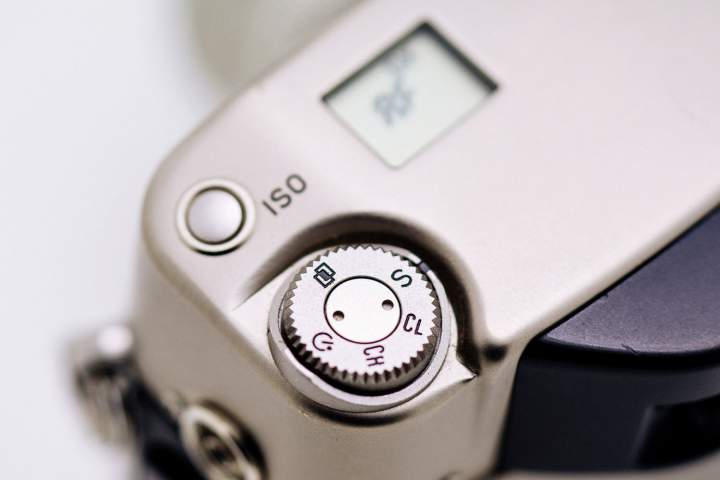 The viewfinder of the Contax G2 is indeed unlike anything else you'll see in a rangefinder. Many users have dubbed it the best viewfinder ever in a rangefinder; while that statement is up for debate I can agree that it is the most advanced. The viewfinder not only automatically compensates for parallax error for close focusing and features a diopter adjustment but zooms as you change lenses and corrects for different magnifications at different distances. Below you will find the magnification with different lenses.
Lens

Finder
Magnification

90mm

114%

45mm

57%

35mm

44%

28mm

35%
There's a backlit LCD display in the bottom of the frame that shows the shutter speed (but no aperture). It also serves as a light reading in manual mode with suggested adjustment arrows, exposure compensation status, a digital focus indicator when using auto-focus and an analog-style focusing scale when using manual focus, and the whole LCD display flashes to show when a photo's been shot.
The AF system uses an active infrared beam to instantly get approximate focus and an instant later, a second precise passive rangefinder system fine tunes for exact focus. The speed and no-light performance of the active IR-beam AF can see up to 3m (10 ft) in the dark and the precision of passive AF can see through glass. Not much reassuring indication that things are in focus other than the bottom LCD, you'll have to trust that it's got it.
Sample Pics
The below color shots were taken on Agfa Vista 200 and black & white shots were taken on JCH Streetpan 400.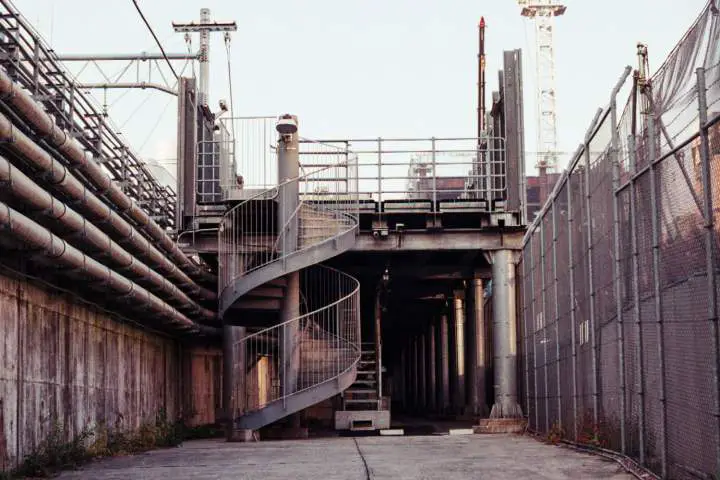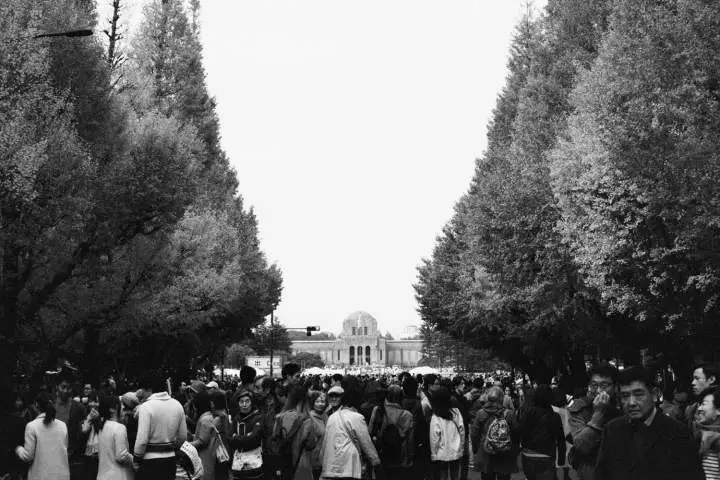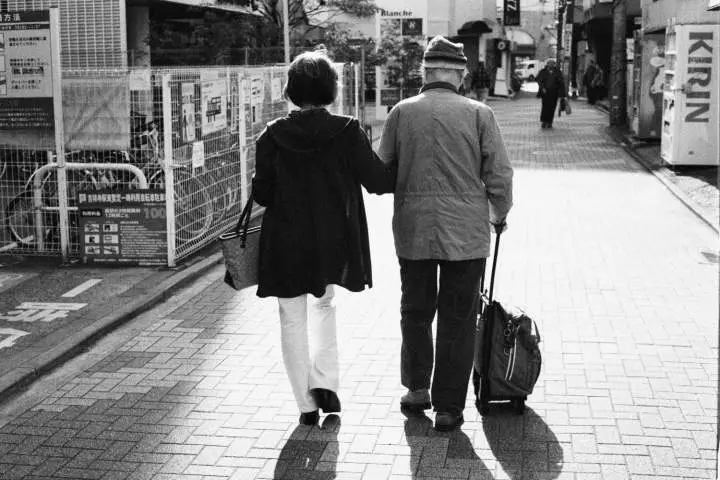 Conclusion
For me the Contax G2 could earn the moniker of "World's Best Point and Shoot".
Though designed as a technological revolution for rangefinder systems, I belong to the group of people who don't love the finder. While I marvel at the tech behind the adaptive viewfinder, I do find myself missing two important aspects of shooting a rangefinder altogether: seeing outside the frame lines to anticipate a subject's movement and accuracy of manually focusing. Manual focusing on the Contax G2 is so poor that it might as well not be an option.
In addition to the smaller and darker than other finders, I found the LCD display under it to be distracting in both brightness and size. Compounded with the uneasy feeling you get without confident feedback that things are in focus, it makes for an unoptimal user experience. That being said, the negs you get back are brilliant. Like the Contax T2, when it's on it's ON. It's an unnerving experience (T2/T3 users must know the feeling) not knowing for sure if focus is correct but thankfully the AF is light years ahead and rarely misses. The body is beautifully manufactured and paired with an arsenal of top notch lens to work with, there's no excuses not to get great images.
If you're a rangefinder purist looking for a Leica replacement, that it is not. To me it shouldn't even be a comparison, the experiences of both are too different. Manual purists stay away, but if you wanna enjoy the pinnacle of the 35mm film look and reliably leave all the decision making to your camera, the Contax G2 is hard to beat.
MN