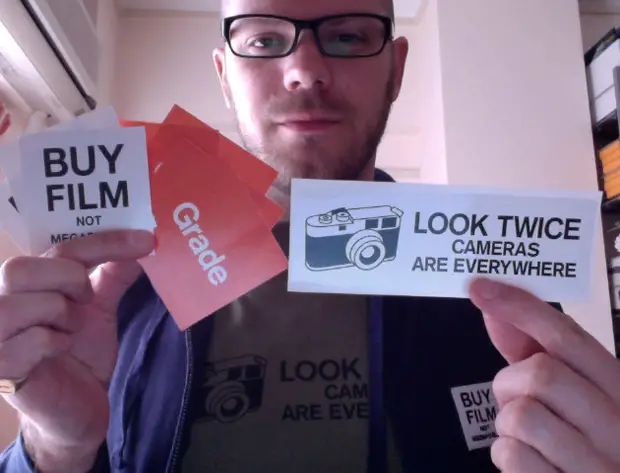 Buy film not megapixels
Now I don't normally do this, but I thought I would write a little post about the awesomeness that is the 'buy film not megapixels' range from Gradeselect.

I was very happy yesterday when I arrived home to find a nice little package waiting for me. Inside were the latest new items from Gradeselect, including an couple of great t-shirts, a really comfy hoody and some great stickers.
In case you don't know, Gradeselect are behind the 'buy film not megapixels' stickers and shirts that I have been rocking for the last few months. I get a lot of people asking me to sell them the stickers that they have seen on my film cases, but I don't sell them. You need to go direct to the Gradeselect shop and you can get your hands on all their lovely goods there.


What I like most about the new gear is the new slogan 'Look twice, cameras are everywhere'. This is so damned true and I love the camera on the sticker, it looks like an M6. I really hope that this one is as popular as the last one.
I love gradeselect good and I want you to love them too. Show your support and get your hands on some of their cool gear. Lets see if we can show the world our support for film.
Links:
Gradeselect shop
Facebook page
Twitter
Keep on checking them out and look for the latest designs. And show us your stickers. I really love it when I see stickers on bags and film cases, it is great to see such strong support for the community.
And remember, keep on shooting.
Thanks
Bellamy