In your bag No: 1553 – Andreas Moser
Andreas packs his multi-purpose bags seasonally, but there's always some film goodies along for the ride.
Film photography accompanied me now for more than twenty years. It was always more a hobby than a passion and served to document travels, adventures or capture moments at home in Zurich.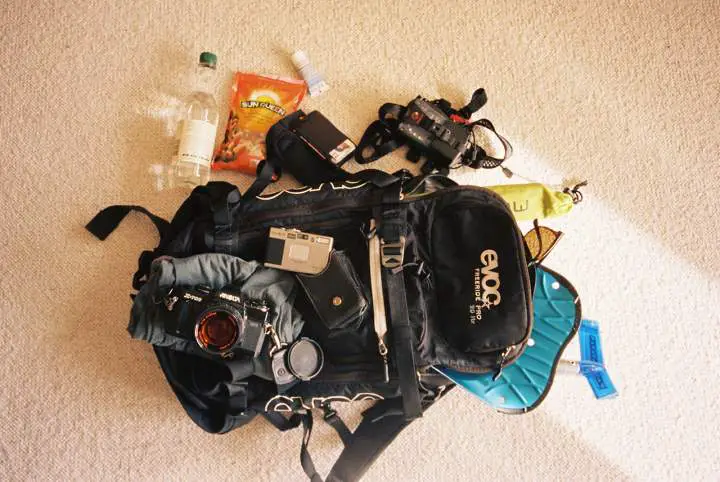 It started with my first point and shoot camera (Olympus AF-10 Mini) that I got at the age of 10, probably because my father got tired of me playing with his SLR equipment. In return he could admire my bad holiday pictures that he had to pay for developing. During my late teenager and the era when digital photography took over, I discovered a wonderful Kodak Retina IIIc at my grandfathers place. Amazed by the settings to choose, the mechanics, the look and the results, the Retina kept me with film photography together with some analog SLR cameras.
Sometimes a single film could last several years rolling slowly through that camera but I never gave up completely. During my twenties I also possessed a digital camera which was a good companion on travels and to experiment with photography. But when it was time for a replacement I came to realize that I could not resist the endless possibilities of taking shots from a subject from slightly different angels or other camera settings. The sheer amount of pictures ended up unprocessed and unseen on a hard-drive.
Instead of a digital replacement I found the option to use a well equipped darkroom and I delved deeper into film photography. Over the years the Kodak Retina was accompanied by Minolta SLRs, that do a great job for sports photography or some portraits. But the bulky, heavy cameras were not found regularly in my daily bags. Only due to some point and shoot cameras and a compact rangefinder I ended up spending more free time in the lab.
Since I rarely go out for the reason of taking pictures, my bags also serve a different purpose than photography, but they will always fit a camera or two:
The summer bag is a Freitag messenger bag. Waterproof except at the worn off corners and adjustable in size, it is perfect to ride to the lake and shop some beer on the way. That day I carried the Konica S3, a spare film Neopan 400, some swimming accessories, a small notebook, sunglasses and sunscreen. The bicycle repair stuff belongs to the standard content of this bag. The picture was taken with an Olympus mju-ii that probably ended up in the bag as well.
The winter backpack of Evoc carries all necessities for a light snowboard excursion to the backcountry. The safety equipment shovel, probe and transceiver (which did definitely not end up in the backpack but under my jacket), some water, nuts, sunglasses and wallet. The cameras of that day were the Minolta X700 with a ROKKOR 50mm and the Minolta TC-1. The shot was taken with a Ricoh GR-21, a wonderful camera and definitely not to blame for the mediocre picture quality.
A selection of photos can be found on: http://ammphoto.tumblr.com/
Cheers
Andreas
Thanks for sending your bag shots Andreas. You can never go wrong with these bang-for-your-buck compacts.
Keep them coming folks, we need more submissions, so get your bag on Japancamerahunter.com
Send me a high resolution image of the bag. Optimum size is 1500px across. Please ensure there is a bag in the shot, unless you don't use one. The more you can write about yourself the better, make it appealing and tell us a story. Snapshots of your gear with a camera phone and no words will not be featured.
Oh and don't forget your contact details (twitter, flickr, tumbler et al). Send the bag shots here. Please understand that there is a long wait now as there is a backlog of submissions. Not all make the cut, so make sure yours is funny/interesting/quirky. And please make sure the shot is of good quality, as the ones that are not do not go up.
Cheers
Japancamerahunter