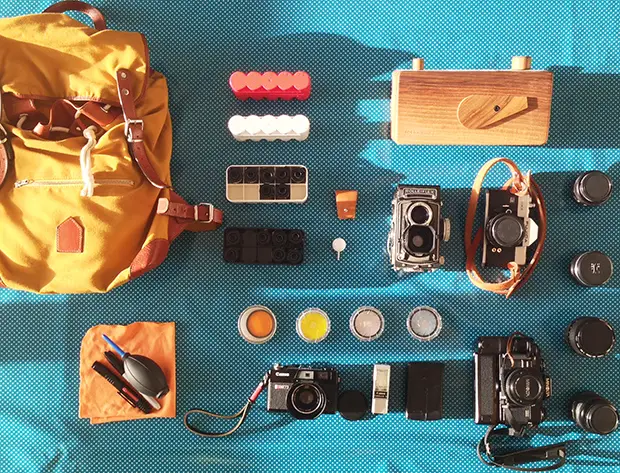 In your bag 1157, Baptiste
Baptiste shares with us an eclectic mix of cool gear, in this lovely bright bag. Check it out.

My name is Baptiste
I'm a 26 year old french boy. I've finished my studies last year in architecture and social anthropology.
So I'm working now like an architect, and I try to find fellowship to continue my studies with a PhD. I would like to work on the relation between landscape and national identity.
The last year, I started to take pictures, and after few developments it was become something very important for me, in my everyday life.
I haven't develop a specific aspect concerning my practice but I like take my bag and go outside to take pictures from my environment (portraits, landscapes, …)
In general I take two cameras in my bag (Rolleiflex / Canonet QL17 or Fujica ST801 / Minolta X700 or just the Noon ;) )
I love them and I like to take different cameras, one loaded with colors film, an other one with B&W.
That's why « my bag » (could) contains all this stuff:
Cameras:
– Noon Pinhole 612
– Fujica ST801
– Minolta X700 (Gift from my father !)
– Canonet QL17 GIII
– Rolleiflex T1 grey
Lenses:
– Minolta MD: 50mm f/1.4 – 35-70mm f/3.5 – 135mm f3.5
– Fujinon EBC: 50mm f/1.8 – 35mm f2.8
– Helios 44 M42 58mm f/2
Others:
– JCH films cases (135 & 120)
– Filters (UV – Orange – Yellow – Light blue) for my Canonet QL17
– Canon Canolite D Flash
– Lumu Lightmeter
– Straps (Gordy and Tap and Dye)
Films:
– Ilford Pan 100
– Kodak 400TX
– Shangai GP120
– Kodak Ektar 100
– Fuji Superia 200 or 400
Thank you Bellamy for your website ! It's always for me a great moment to go here and see your new posts !
My works can be found at:
baptisteledebt.tumblr.com
or
https://www.flickr.com/photos/baptisteledebt/
Thanks for sharing your bag with us, Baptiste. I am loving that Pinhole camera.
Check out the links and make sure you come and comment.
Keep them coming folks, we need more submissions, so get your bag on Japancamerahunter.com. Send me a hi resolution image of the bag. Optimum size is 620×473. Please ensure there is a bag in the shot, unless you don't use one. The more you can write about yourself the better, make it appealing and tell us a story. Oh and don't forget your contact details (twitter, flickr, tumbler et al). Send the bag shots here. Please understand that there is a long wait now as there is a backlog of submissions. Not all make the cut, so make sure yours is funny/interesting/quirky. And please make sure the shot is of good quality, as the ones that are not do not go up.
Cheers
Japancamerahunter