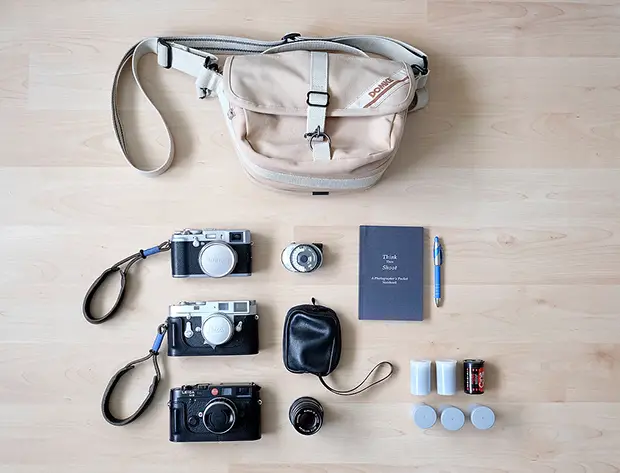 In your bag 1155, Peter Kasbergen
Peter shares with us a delightfully well put together bag shot. Just the essentials. If your essentials includes 3 cameras that is.

Hi all and greetings from the Netherlands!
I am a long-time follower of the In Your Bag series and I must confess it has been one of the factors that got me interested in film photography a couple of years back. I am a mainly self-taught professional photographer, trying to make a living from portrait photography in its broadest sense. For my professional jobs, I usually use my Canon 5DmkII kit and recently have been exploring the Fuji X-T1 as an alternative. I have also been trying to commercialize film photography in my business, though I must admit that's in its trial stages as well up to now. In my spare time, I like to take out a couple of small cameras and either spend time on outings with my wonderful family or hit the streets on my own to do some street photography.
On to the bag, which is a Domke F-10 JD that I got of a Dutch Craigslist equivalent (Marktplaats) for quite cheap. Usually it is loaded with either one or two of my Leicas together with the brilliant Fuji X100. I normally try to keep one of the Leicas loaded with C-41 color film and the other with black & white film.
The cameras (top to bottom):
Fuji X100
This is just a great little camera. It has its quirks, but if you can live with them, you will have a lot of fun with this gem. The images are super sharp and the 35mm equivalent lens gives me my favorite field of view for general photography. I got the camera secondhand without even a scratch on it, but  it is beginning to show definite signs of heavy use: the bottom plate is scratched and the LCD screen too. I even dropped it on the pavement once, bumping the exposure compensation dial, but she just continued working like nothing had happened. The little X100 eats batteries, so I normally keep a couple of extra ones ready. They are all being charged at the moment though, so not shown in the picture. ;)
Leica M2 chrome
This is actually the second Leica I got, after buying the M6 earlier. After comparing the M3 and M2 online, I decided to go with the M2 because of its 35mm frame lines. Initially, I only wanted a second body to be able to have both color and b&w film handy, but when the previous owner showed it to me with a mint and matching chrome Leica Summaron 35/2.8 attached, I just could not separate the pair. I think they will remain married forever. The camera feels, sounds and works wonderfully and I am utterly in love with it.
Leica M6 Classic 0.72 black
My First Leica. Ah, how does one describe a camera that has been at the top of my list ever since I first learned about the Leica M system. It was actually JCH's article "What is the best Leica M for you?" (link: https://www.japancamerahunter.com/2012/11/what-is-the-best-leica-m-for-you/) that made me decide I wanted this particular model. I got it in mint condition from an eBay seller in Germany. It only has some scratch marks under the film advance lever; an issue that was corrected when the previous (and first) owner sent it back to the Leica factory after discovering this production fault. In the photo, the M6 is wearing a Carl Zeiss Biogon C 35/2.8 ZM lens that I got new off eBay. Next to the M6 in the picture is a Leitz Elmar-C 90/4 and its pouch that I got secondhand for portraiture. I must admit I have not used this lens much yet and am planning to get a Zeiss Planar 50/2 ZM next month. I have so far hated the 50mm focal distance, but people keep insisting I should use it and the Zeiss seems like a good deal.
Both Leicas are protected by  Gariz black leather half cases that I got via eBay from Korea and 2 of the 3 cameras are normally attached to a custom Gordy wrist strap with extra wrist pad and blue stitching to match my logo color. :)
The little light meter in the shot is a Sekonic L-208 Twinmate that I recently got as a pocketable alternative to my Sekonic L-308S and Gossen Lunasix F meters. It works fast and accurately and can be mounted on the flash shoe of any camera when not kept in my pocket or the bag.
At the top right is a little booklet that I found online somewhere, called "Think Then shoot – A Photographer's Notebook" which allows me to note down any camera settings for the rolls of film I shoot. If only I had the discipline to do this a little more often. :P
For choice of film I usually carry around a mix of color and b&w films in both consumer and pro variants. In the photo you can see a roll of Cinestill 800, two rolls of color Agfa 400 consumer film and 3 rolls of Kodak T-max 400 b&w in their respective canisters.
Well, that concludes my submission. If you want to see more of my work (film and digital), check out any of the following links:
Website: http://www.peterkasbergen.nl/
Facebook: https://www.facebook.com/peterkasbergenfotograaf
500px: https://500px.com/peterkasbergen
Twitter: https://twitter.com/peterkasbergen
Happy shooting everyone!
Peter Kasbergen
Thanks for sharing your bag with us, Peter. I do rather like that notebook.
Check out the links and make sure you come and comment.
Keep them coming folks, we need more submissions, so get your bag on Japancamerahunter.com. Send me a hi resolution image of the bag. Optimum size is 620×473. Please ensure there is a bag in the shot, unless you don't use one. The more you can write about yourself the better, make it appealing and tell us a story. Oh and don't forget your contact details (twitter, flickr, tumbler et al). Send the bag shots here. Please understand that there is a long wait now as there is a backlog of submissions. Not all make the cut, so make sure yours is funny/interesting/quirky. And please make sure the shot is of good quality, as the ones that are not do not go up.
Cheers
Japancamerahunter