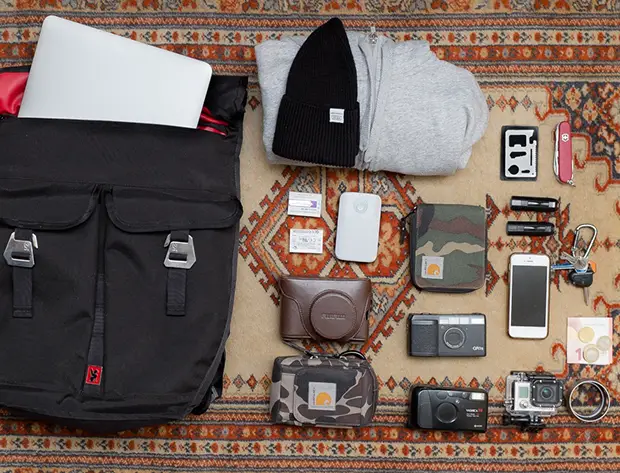 In your bag 1154, Raphaël Ott
Check out todays bag. A compact camera filled bag. Neat and tidy, just how we like it. Check it out.

Hi Guys, Hi Bellamy !
I'm Raphaël, I'm a "1990 born French Graphic designer DJ" who comes out of school the last year.
I like hard shadow, back portrait, silhouettes, nature, texture, fog, grain and mistake…
To be honest i'm not a photographer with a lot of technics, that why I use mostly compact fixed lens film camera, and also because I like it raw, dirty and personal, like a diary !
Back in time when i shot mostly live show I used to walk around with a Mark II after my classic Rebel XTI but i was bored by the impersonal side of DSLR camera… So I sold everything and bought few analogs cameras, a scanner… and a small and cool X100S !
Generaly I take the ricoh GR1S loaded with b&w roll, this one blew my mind but i'm also afraid to lose the lcd screen…I take as well a Yashica T4 with some color film and my X100S who is my only digital camera. Then i take all the time a backup sweater and beanie (or cap) to be comfy all day, some usb sticks, tools, backup batterys and a funny gopro… and voilà !
My big regret is all the time the same… I don't take enough pictures !! I was in berlin and i only shot one roll during one week ! hit me !
And there is few others guys at home :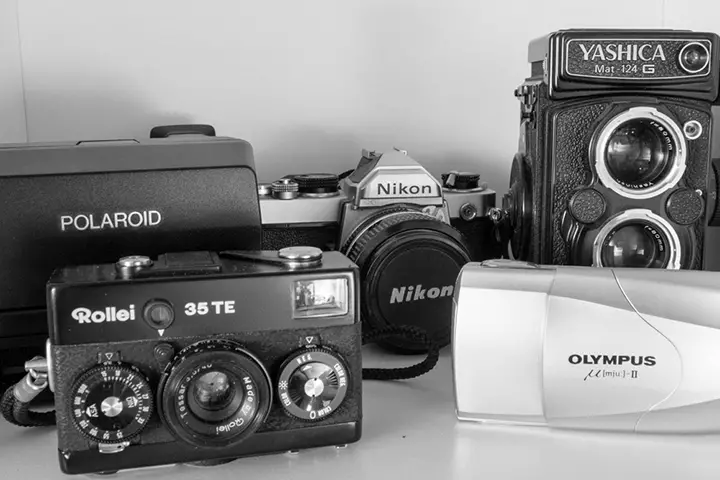 You guys can check my tumblr at : http://shotofnothing.tumblr.com/
and my flickr (same content) : https://www.flickr.com/photos/r_aph
Also my graphic design website on cargo : http://cargocollective.com/raphaelott/
Feel free to ask my anything or share stuff with my, love from France !
Raphaël.
Thanks for sharing your bag, Raphaël. Nice little collection you have there.
Check out the links and make sure you come and comment.
Keep them coming folks, we need more submissions, so get your bag on Japancamerahunter.com. Send me a hi resolution image of the bag. Optimum size is 620×473. Please ensure there is a bag in the shot, unless you don't use one. The more you can write about yourself the better, make it appealing and tell us a story. Oh and don't forget your contact details (twitter, flickr, tumbler et al). Send the bag shots here. Please understand that there is a long wait now as there is a backlog of submissions. Not all make the cut, so make sure yours is funny/interesting/quirky. And please make sure the shot is of good quality, as the ones that are not do not go up.
Cheers
Japancamerahunter