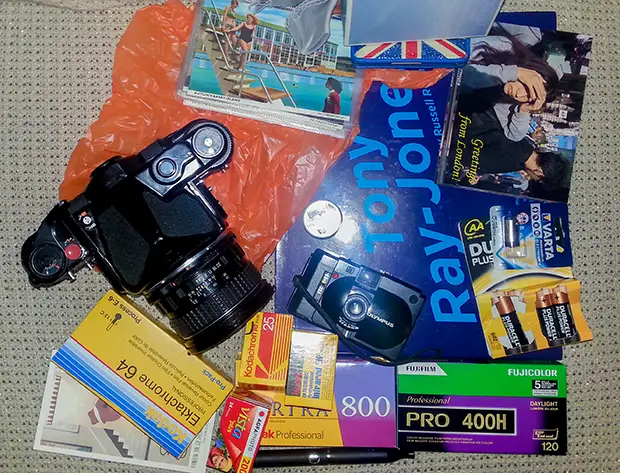 In your bag 1152, Marc Fairhurst
Marc is a returnee, and although he claims that not too much has changed since his last submission, I can see a world of difference. Check it out.

Thought I'd try another submission since my last one (No.677), which I've just read, cringed at, and come to realise that not too much has changed … and that may actually be a good thing.
It's been 17 months since that bag, and everything in it has pretty much gone, apart from the Olympus XA, which I left on a train and have had two since, the one I now own being the third. I have another Yashica Electro 35, but it's since died. I can still use it without the battery though, with the Sunny 16 rule. It's fine.
So what's in my bag:
The Metal and Plastic Bits:
I'd being eyeing up medium format for a while, always in love with the 6×7 ratio when I flicked through books, however, I was never really able to afford the Mamiya 7. So I started with some 6×6, opting for a Lubitel 2 that I picked up for £25. I ran a roll through it and it was quite lovely and all was splendid, but I don't like looking down and I missed having the viewfinder at eye level, so then I got myself the Kiev-60. That camera was a little bit of a tank and at the time, thought it was heavy and loud, but nothing compares to my latest, the Pentax 6×7.
My girlfriend calls it the AK-47, such is the sound and noise of the shutter. I've had it for about a week and ran a test roll of Portra 400 through, which all came out under exposed save one; my own fault for not trusting the meter. I don't have a strap for it as of yet so I know how it is to carry the thing around London all day – how that is on the wrist, but I don't mind. I love it. Of course, for weight and other reasons, my heart is aiming for the Mamiya 7, always has, but for now, Mr Pentax 6×7 and I are getting to know one another and I feel it may be the start of a cosy relationship. I'll be heading to Poland in early March to carry on with a project there that I started a couple of years ago, so the camera will be put to work. Fingers crossed.
Olympus XA – This is my number one when out on the streets. I adore how it feels, how it handles; the perfect weight and size – if it had lips, I'd kiss the little fella. But it doesn't. So I won't. It goes everywhere with me and if I happen to head out and forget it, I feel so naked and restless. It … completes … me.
Film:
Whatever I can get my hands on really, that's cheap, although if I'm starting a project I'll stock up on fresh film but will always try to get a deal. Apart from the Fuji 400, I look out for really old and expired rolls. I've got some Kodachrome 25 for a little thing I want to do in Summer; some Ektachrome for the 6×7 – I kinda binge on film sometimes – then I get the come-down like, 'What the f**k, Marc! How much did you just spend!?' I usually carry around too much film with me, which I know I will not use but paranoid of being stuck without a roll.
The Rest of The Bag:
Some batteries, a Vapor as I no longer smoke, some lip-balm, some John Hinde postcards, oh and some of my own postcards – I drop the odd one of mine in those touristy postcard racks you find all over London wondering if anyone will pick it up; some CK Summer, as I like to smell fresh on the hot stinking overground home; Oyster Card and always, always, my Tony Ray-Jones book goes with me. He's my favourite photographer, my biggest inspiration and when I slip that book into my bag before I hit the streets of London, I say, 'Let's do it Tony!'
It's quite pathetic.
Links:
Website
Twitter
Flickr I
Flickr II
Thanks for coming back and sharing your gear again, Marc. No sign of a bag there though, unless you count that shopping bag.
Check out the links and make sure you come and comment.
Keep them coming folks, we need more submissions, so get your bag on Japancamerahunter.com. Send me a hi resolution image of the bag. Optimum size is 620×473. Please ensure there is a bag in the shot, unless you don't use one. The more you can write about yourself the better, make it appealing and tell us a story. Oh and don't forget your contact details (twitter, flickr, tumbler et al). Send the bag shots here. Please understand that there is a long wait now as there is a backlog of submissions. Not all make the cut, so make sure yours is funny/interesting/quirky. And please make sure the shot is of good quality, as the ones that are not do not go up.
Cheers
Japancamerahunter