In your bag 1128, Tim Lukian
Tim is a graphic designer, and a thoughtful one too, as he has labelled all of his gear to make things easy for us. Check it out.

I've been thinking about sending in a bag shot for some time now, but what spurred me to finally get around to it was starting the process of finding a new bag, and wanting to document my present bag before its days are up.
I'm a graphic & user-experience designer by trade, and initially got into photography back around 1999, when a friend of mine who worked in a camera store in Toronto gave me a Pentax spotmatic and a few m42 lenses. That was followed by the purchase of a Nikon coolpix 990, which I shot literally to the point of self-destruction over the course of three years. The coolpix was replaced by an Olympus XA which I purchased while travelling in Australia, which in turn was supplmented shortly thereafter with a Nikon FM2n and a few lenses, which were purchased in Bangkok.
These cameras collectively kept me shooting primarily on film until 2010, when I picked up a Pentax K7, and got back into the digital world in earnest. I still shoot film—albeit at a reduced rate—with both an Olympus XA and a Konica AutoS3, though the latter needs a rangefinder adjustment, as it's back-focusing considerably.  These days my primary cameras are a pair of Fuji x-trans bodies (an x-pro1 and an x-t1) with a handful of lenses, and I'm really enjoying how they complement shooting alongside film without forcing me to shift to a different interface and overall handling paradigm.
I tend to oscillate through periods of shooting a ton, and not shooting much at all, but since my son showed up 14 months ago, I've been making a point of packing a bit of gear wherever I go, both to keep in the photographic headspace in order to not miss the fleeting moments that have been coming fast and furious over the past year, and also to give myself a consistent outlet for a bit of personal creativity in the rare bits of spare time that I find myself with these days!
I'm interested in a pretty broad spectrum of photographic styles, but I'm primarily interested in street photography, portraiture, and occasionally landscape — but overall I'm an opportunist, and I'll shoot whatever's in front of me, as I'm equally switched on by light, texture, allegorical meaning… whatever. I'm certainly no purist.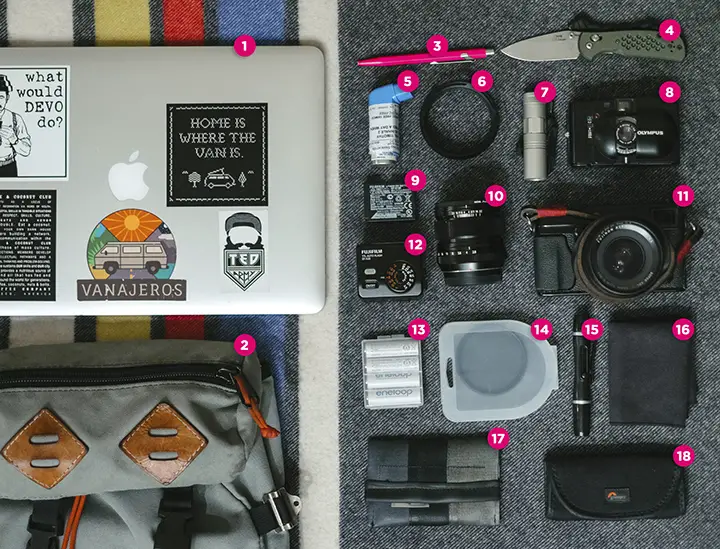 Anyway — without further preamble, here's the inventory of what's in my bag : )
1. 2013 Retina Macbook Pro (my workhorse and livelihood)
2. Topo Designs Klettersack (love the bag, but I'm finding that I need more compartmentalization than it gives)
3. Pink Caran D'Ache ballpoint pen (my trusty note taker—originally bought a pink one so no-one would steal it, but it became kind-of a signature to the extent that my business' primary brand color is roughly the same hue)
4. Benchmade Doug Ritter model Griptilian, w. s30v blade and custom Wilkins g10 handle scales (the most useful tool I own)
5. Ventolin
6. Cheap vented 62mm lens hood for the Fujinon XF23 lens
7. Fenix P2D cree LED flashlight (let there be light)
8. Olympus XA (nothing beats a little rangefinder in your pocket—or bag), presently loaded with "lomography" color film that I found somewhere. The irony of ironies being that I bought my first XA to avoid going anywhere near a Lomo…
9. Spare Fuji battery
10. Fujinon XF14 lens (either this or the XF35, depending on the day)
11. Fuji X-Pro1 w. leather Gordy's strap & Abrahamsson soft release (either this or the XT-1, depending on the day)
12. Fuji EF-X20 ttl flash (again, let there be light…)
13. Eneloops
14. Cheapo Variable ND filter
15. Lenspen
16. Lens wrapping cloth
17. Wallet made from old seatbelts
18. Old lowepro neoprene memory card wallet
Not shown:
padded bag insert and/or domke wrap
iPhone 5
Large moleskine notebook
1991 Volkswagen Westfalia keys / house keys / office keyfob
Anyway — time to get some rest in order to take the wife and the wee lad out to the forest tomorrow for a little bit of hiking and a lot of sticking my cameras in their faces ; )
-Tim Lukian, Vancouver BC, Canada
p.s. here's where you can find a brief profile about me, and links to my flickr feed, design company, (outdated) fabrication blog, recent travel blog, and a pile of other stuff: http://rubbersuit.com/
Ta for now!
Thanks for sharing your gear with us, Tim. I am loving that little XA, it is just so convenient.
Check it out and make sure you come and comment.
Keep them coming folks, we need more submissions, so get your bag on Japancamerahunter.com. Send me a hi resolution image of the bag. Optimum size is 620×473. Please ensure there is a bag in the shot, unless you don't use one. The more you can write about yourself the better, make it appealing and tell us a story. Oh and don't forget your contact details (twitter, flickr, tumbler et al). Send the bag shots here. Please understand that there is a long wait now as there is a backlog of submissions. Not all make the cut, so make sure yours is funny/interesting/quirky. And please make sure the shot is of good quality, as the ones that are not do not go up.
Cheers
Japancamerahunter