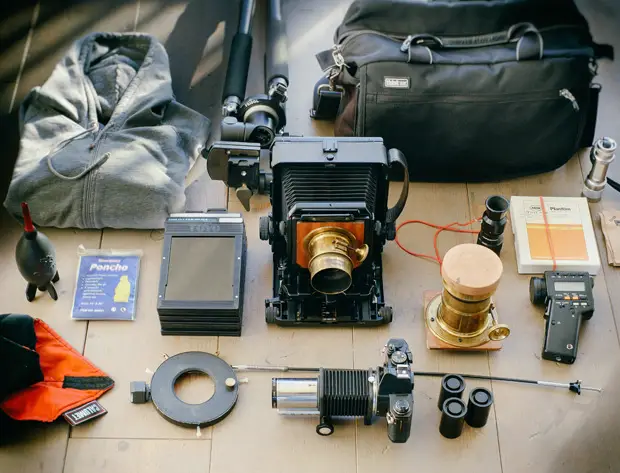 In your bag 1122, Maurits Bollen
Maurits has a very cool bag for us all today. It is not often you see a bag with 18th century lenses inside. Check it out.

My name is Maurits Bollen and I am from Amsterdam, The Netherlands. I am in my mid-fourties. Instead of buying a motorcycle to remedy an upcoming mid-life crisis, I got accepted to the Amsterdam Photo Academy. Graduated there last year. I am currently working on a book combining landscapes and portraits. In 2 to 3 years time I hope to have it published. Almost all my images are made on film, mostly Adox CHS Art.
This is my large format photography bag, a ThinkTank Urban Disguise 60. It all fits easily on my bicycle, together with a set of portable studio flashes, stands and umbrella's. I also have a medium format bag, a 35mm bag and a hyper portable bag. Which one I take all depends on my mood and the assignment.
In front of the ThinkTank is my Toyo-Field 45AII 4×5 inch view camera with two French portrait lenses from the late 1800's. The bigger one is a Hermagis 240mm Petzval and the one on the camera is 150mm Hermagis Petzval lens. No new Lomo lenses for me.
I use an MGM -front-of-the-lens shutter that only has bulb, flash sync and 1/25th second settings. The Minolta spotmeter is superfluous, really. I make a point of never bringer more than 6 film holders with me. These are also from Toyo and loaded with Adox film. The focusing loupe is made by Horseman. The tripod is extremely light carbon and made by Feisol with a Manfrotto geared head.
My trusted American Apparel hoodie doubles as a dark cloth. The 35mm Pentax MX I use for taking quick analog images in the same style as the 4×5's. On it is a Hermagis 105mm Petzval lens taken off a projector and attached to Pentax m42 bellows. The canisters contain Foma 200 35mm film.
This is my website: http://www.mauritsbollen.com
Keep up the good work!
Cheers,
Maurits
Thanks for sharing your bag with us, Maurits. That is really cool.
Check it out and make sure you come and comment.
Keep them coming folks, we need more submissions, so get your bag on Japancamerahunter.com. Send me a hi resolution image of the bag. Optimum size is 620×473. Please ensure there is a bag in the shot, unless you don't use one. The more you can write about yourself the better, make it appealing and tell us a story. Oh and don't forget your contact details (twitter, flickr, tumbler et al). Send the bag shots here. Please understand that there is a long wait now as there is a backlog of submissions. Not all make the cut, so make sure yours is funny/interesting/quirky. And please make sure the shot is of good quality, as the ones that are not do not go up.
Cheers
Japancamerahunter