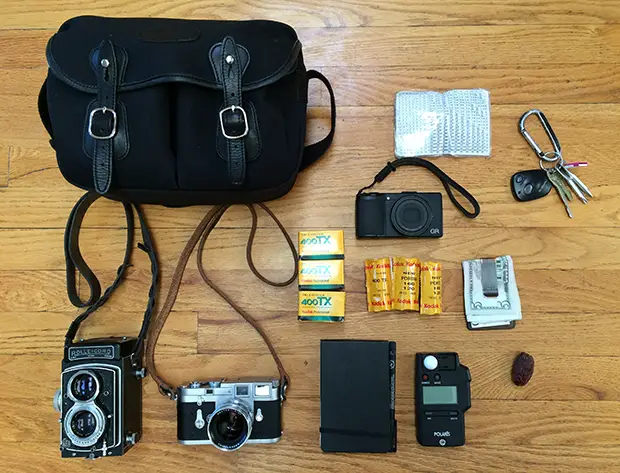 In your bag 1119, Lucas Marchal
It may be a Sunday, but there is nothing lazy about this bag. Lucas shares with us his simple, yet very strong kit. Check it out.

I've been a longtime reader of your website (via the old fashioned RSS) and I particularly enjoy the In your Bag feature.
I'm 25 frenchman and currently live in Rochester, NY.
Here is my bag and its content :
The bag itself first :
It's a Billingham Hadley small which I quite like; the good thing is, you can fit an incredible amount of things in this (when I take a plane I use it as my carry on baggage with a book, a magazine, and ipad on top of what's in the picture); the bad thing is, it's pure hell for your shoulder when loaded like that. And as nice as it is for some situations it's just impractical; so when I go skate I usually pack one of the cameras in the insert and put it in a small eastpack bagpack witch is way more convenient.
The Cameras :
A Rolleicord IV from 1954 (I think) which I've bought off ebay before I left for China for two weeks. The package literally arrived and hour before I had to leave and I was delighted but anxious at the same time because obviously I couldn't have it checked. It ended up working perfectly and I took most of my Chinese pictures with it. It has since been through a CLA and still works like a charm. The strap is a cheap Chinese leather strap I bought in Shanghai.
The M3 I got earlier this year in September. It's the first thing I've bought when I arrived to the US and it's a joy to use. It's been my « dream camera » for a while and I couldn't be more happy to finally have one. The new Nokton 50mm f/1.5 is permanently on it. I haven't used my Bessa R2M at all since I got the M3 but it might come in handy some day, especially with the Color Skopar 35mm f/2.5 which is a really nice lens. The strap is a not cheap Tap and Dye Black strap.
I used to have a Nikon DSLR which was my first « serious » camera but I hadn't used it in years so I decided to sell it and buy a good compact digital camera instead. After lots of hours spent reading tests and reviews I settled on the Ricoh GR and I love it. I don't use it as much as I should these days but it was always in a pocket somewhere or in my hand during the summer. I love to have a wide angle lens. The strap is a Gordy strap and it's perfect. Cheap and excellent quality.
The rest :
– Some film : I might not carry three rolls of Tri-X with me everyday so I plead guilty for adding two to the photograph here, but I usually carry at least two more rolls of whatever is already inside of the Rolleicord. Usually Delta 400 but since my stack of Ilford film is finally finished and that I know live in Kodak city I have switched to Kodak. I've been doing quite a lot of color recently too so it would be a tie between Portra 160 and Ektar.
– Keys : It's unfortunately hard to go anywhere in Rochester without a car, especially in this dreadful winter weather.
– Some money
– « The ultimate exposure computer »
– A polaris light meter for those low-light situations when the sheet of paper is not enough.
– A moleskine + pen because I have the worst memory for names.
– Some dates because it's the best snack.
Here's a link to my website :
http://www.lucas-marchal.com/
And my Flickr :
https://www.flickr.com/photos/[email protected]/
Cheers !
Lucas Marchal
Thanks for sharing your bag with us, Lucas. I love the Rollei/M3 combo.
Check it out and make sure you come and comment.
Keep them coming folks, we need more submissions, so get your bag on Japancamerahunter.com. Send me a hi resolution image of the bag. Optimum size is 620×473. Please ensure there is a bag in the shot, unless you don't use one. The more you can write about yourself the better, make it appealing and tell us a story. Oh and don't forget your contact details (twitter, flickr, tumbler et al). Send the bag shots here. Please understand that there is a long wait now as there is a backlog of submissions. Not all make the cut, so make sure yours is funny/interesting/quirky. And please make sure the shot is of good quality, as the ones that are not do not go up.
Cheers
Japancamerahunter