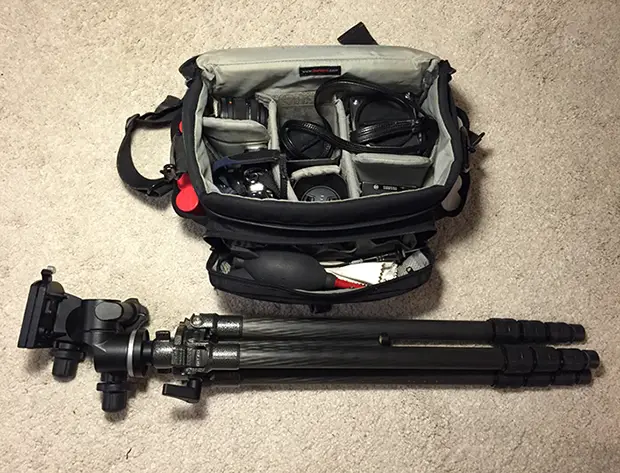 In your bag 1117, Po Bunyapamai
Today we have a dual bag. Po and his girlfriend share their gear from a recent road trip with us. Check it out.

Hello there Bellamy, my name is Po Bunyapamai. I am a freelancer specializing in product design and photography based in San Francisco. What you see here is the gear we're bringing on a spontaneous road trip to Portland. My girlfriend and I had a few days off for New Year's so we decided the best thing to do is to drive to Oregon. Based on the fact that the only direction we haven't road tripped is North.
Let's get down to business. First up is my bag:
Olympus E-P5 with Panaleica 25mm f/1.4 lens attached
Olympus 17mm f/1.8 lens
Olympus 45mm f/1.8 lens
Olympus 14-42 f/3.5-5.6 II R lens
Hasselblad 503CX with 80mm f/2.8 lens attached
extra Hasselblad A12 back
Sekonic L-308S light meter
Gebr. Schreck cable release (IMHO the best cable release money can buy)
Gitzo tripod with Manfrotto 410 geared head
extra tripod quick release plate
46mm Polarizer
37mm to 46mm filter step up ring
charger for E-P5
Giottos Rocket Air Blaster
lens cloth
10 rolls of 120 film: 4 rolls Fuji Acros, 4 rolls Kodak Portra 400, 1 roll Ilford Delta 100, and 1 roll Ilford FP4. All in JCH film cases of course
All of the above fits into my trusty Lowe Pro Nova 5 bag, circa 2001, the year I got started with photography. Back then it was way too big for just one camera, but as you can see below, a lot can fit into this bag!
Photos above were taken with the camera I always have with me: iPhone 6
Here's Mandy's set up. She doesn't have a bag because she likes to keep it simple with just a camera and lens hung over her shoulder.
Black Olympus OM-2N with Zuiko 24mm f/2
3x Ilford HP5, 1x Fuji Velvia 100, and 1x Kodak Elitechrome Extra Color in a white JCH day case
I used to shoot with a DSLR and at the end of 2013 I sold my Nikon D300 along with all of my Nikon lenses (save for two primes) to buy the Olympus E-P5. Nikon DX has always felt like an orphan child lacking good primes. The Olympus Pen system, on the other hand, has all my prime needs covered. Best decision I've ever made for my photography, although some clients do question my credibility when I show up with a small camera. I guess you can't have it all.
With money left over, I converted my closet into a home darkroom which can be seen here: https://cole-bunyapamai-khv5.squarespace.com/darkroom/
Although my name is Po, it says 'Cole' on my websites because that's my 'American' name
Tumblr http://bunyapamai.tumblr.com
Photo Website https://cole-bunyapamai.squarespace.com/
Design Website https://cole-bunyapamai-khv5.squarespace.com/
Thanks for the feature Bellamy!
Happy New Year and take care,
Po
Thanks for sharing your gear with us, Po. It is cool to see my cases being put to good use.
Check it out and make sure you come and comment.
Keep them coming folks, we need more submissions, so get your bag on Japancamerahunter.com. Send me a hi resolution image of the bag. Optimum size is 620×473. Please ensure there is a bag in the shot, unless you don't use one. The more you can write about yourself the better, make it appealing and tell us a story. Oh and don't forget your contact details (twitter, flickr, tumbler et al). Send the bag shots here. Please understand that there is a long wait now as there is a backlog of submissions. Not all make the cut, so make sure yours is funny/interesting/quirky. And please make sure the shot is of good quality, as the ones that are not do not go up.
Cheers
Japancamerahunter