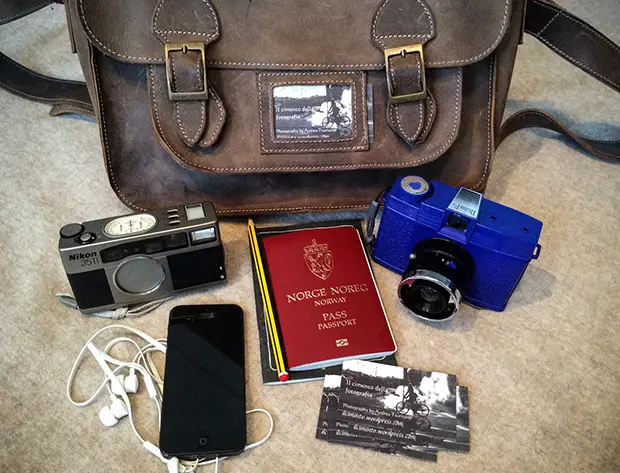 In your bag 1102, Andrea Taurisano
Andrea is not a first time visitor. The bag may be similar, but the contents are very different from last time. Check it out.

I had the pleasure of sharing a bag of mine a while ago (nr.806) but thought that times is now in for sharing my current bag too, and I'm trying with a slightly unusual picture.
As you see, my taste for handmade leather products is unchanged, this bag being made in Italy and a lot easier to open than the one I shared with you last time.
My philosophy when it comes to photography hasn't changed either: less is more, and light makes it even better.
Inside this bag we find the two cameras that I'm now using 90% of the time (the other 10% using a Polaroid SX-70): A Nikon 35Ti and a Diana F, often set in «pinhole mode». This Nikon is the best compact camera I've ever had, even though I've been playing with both Hexar AF and Ricoh GR1v.. But this is more my cup of tea, and in fact the best compromise between the two aforementioned: not too bulky and it's got my favorite focal length (35mm), a fast enough AF which unlike the Hexar's is easy to override when needed, a large and bright viewfinder.. And the Diana F is the ideal tool for super cheap medium format and pinhole experiments. What else could I possibly wish for my style and subjects?
My gritty work is still displayed on http://ilcimento.wordpress.com
Andrea Taurisano
Thanks for coming back to us, Andrea. Very interesting how your focus has shifted.
Check out the links and make sure you come and comment.
Keep them coming folks, we need more submissions, so get your bag on Japancamerahunter.com. Send me a hi resolution image of the bag. Optimum size is 620×473. Please ensure there is a bag in the shot, unless you don't use one. The more you can write about yourself the better, make it appealing and tell us a story. Oh and don't forget your contact details (twitter, flickr, tumbler et al). Send the bag shots here. Please understand that there is a long wait now as there is a backlog of submissions. Not all make the cut, so make sure yours is funny/interesting/quirky. And please make sure the shot is of good quality, as the ones that are not do not go up.
Cheers
Japancamerahunter