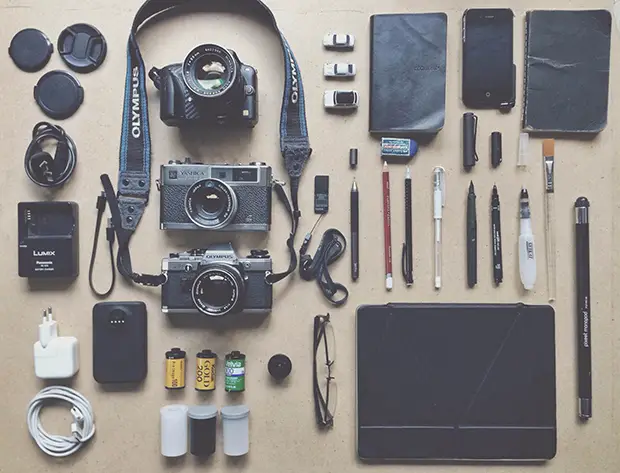 In your bag 1089, Satha Suksawasdi Na Ayuthya
Satha Suksawasdi Na Ayuthya not only has a very long name, but also all the pens in the whole world in his bag. Check it out.

My name is Satha Suksawasdi Na Ayuthya. I am 38 year old from Bangkok, Thailand. I am a creative, a graphic designer and a columnist. I also love sketching, that's why I carry pens and sketchbooks. I used to take a course of film photography in the university 15 years ago.
These are what in my bag everyday:
– Panasonic Lumix G3 with Minolta Auto Rokkor PF lens and it's charger (for my day job as a columnist)
– Yashica Electro 35 GL rangefinder or Olympus OM-10 (one in my bag alternatively)
– Some 35mm films
– Tiny model cars – a Mini and two of vintage Nissan Skyline
– Anodit Jot Pro stylus for my iPad sketching (use it once in a while)
– A white pencil
– A mechanic-pencil
– A white pen
– A Lamy fountain pen
– A fine liner pen
– A tank brush
– A flat watercolor brush
– Two soft cover sketchbooks
– iPhone 4
– iPad
– A power bank
– Pixeet 360 panorama kit for my iPhone – one fisheye lens and a monopod
– A USB flash drive
– My eye glasses
You can find me on
Instagram:
http://instagram.com/thapixie
Blog:
https://cafemera.wordpress.com/
Thank you,
Satha Suksawasdi Na Ayuthya
Thanks for sharing your bag with us, Satha. I love the drawings, really nice work.
Check out the links and make sure you come and comment.
Keep them coming folks, we need more submissions, so get your bag on Japancamerahunter.com. Send me a hi resolution image of the bag (please make sure it is horizontal) and its contents, with some details about yourself and what you shoot. Oh and don't forget your contact details (twitter, flickr, tumbler et al). Send the bag shots here. Please understand that there is a long wait now as there is a backlog of submissions. Not all make the cut, so make sure yours is funny/interesting/quirky. And please make sure the shot is of good quality, as the ones that are not do not go up.
Cheers
Japancamerahunter