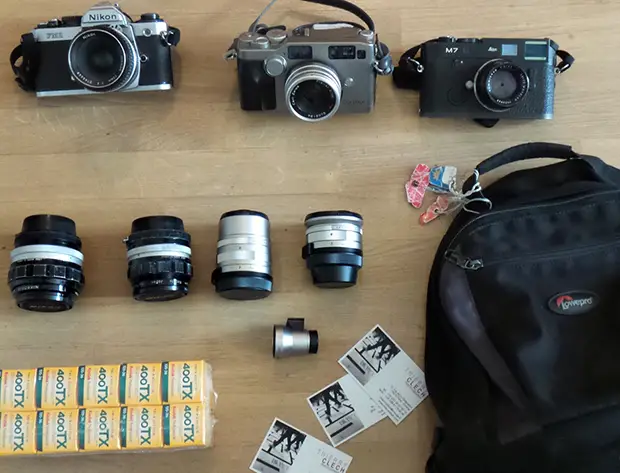 In your bag 995, Thierry Clech
A brick of Tri-X and a bunch of cameras. Does it get any better than this?

I take advantage of my next trip to Romania to take a picture of my picture tools. And send it to this very interesting website.
Here are the contents of my bag:
A Nikon FM2 (my first camera, bought used – I do not know exactly how old he is … and I'm not really trying to find out, I'm too afraid I will become greyer…). I do not use anymore, but I always take with me in case of failure of my two other cameras.
With three Nikon lenses : a 35mm, a 50mm and a 85mm.
A Contax G2 with three lenses: a 21mm (which I used very rarely, and only for landscapes); a 35 mm and a 90 mm .
And my favorite, a Leica M7 with a Summicron 50 mm.
All this is quite heavy (this is the disadvantage of having three brands!).
I work exclusively in black and white film. For three weeks in Romania I'll take 70 Tri X (it takes a lot of space in my small bag !).
I also take some business cards if ever somebody asks me what I do.
Best wishes,
Thierry
www.thierryclech.com
Thanks for sharing your simple bag, Thierry. I hope you had a good trip.
Check out the links and make sure you come and comment.
Keep them coming folks, we need more submissions, so get your bag on Japancamerahunter.com. Send me a hi resolution image of the bag (please make sure it is horizontal) and its contents, with some details about yourself and what you shoot. Oh and don't forget your contact details (twitter, flickr, tumbler et al). Send the bag shots here. Please understand that there is a long wait now as there is a backlog of submissions. Not all make the cut, so make sure yours is funny/interesting/quirky. And please make sure the shot is of good quality, as the ones that are not do not go up.
Cheers
Japancamerahunter