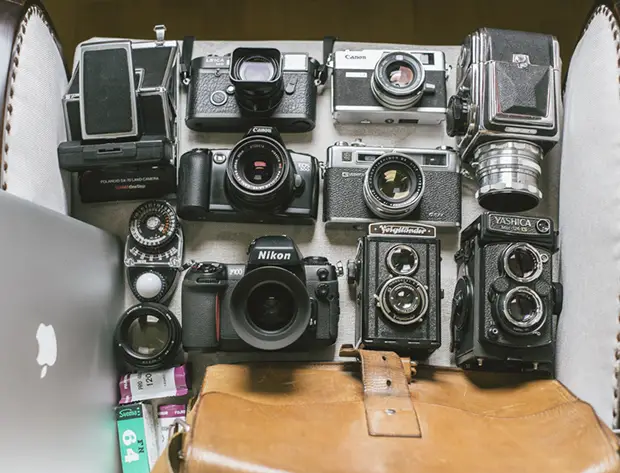 In your bag 992, Imre Tamasi
Imre has a whopping bag. In fact, I am not sure I believe that he carries all of these. Still, maybe he does? Check it out.

My name is Imre, I live in Hungary / Europe. About 2 years ago I sold the whole canon digital equipment to return to the roots, where I started photography – shooting film.
Just now I have only one digital camera – the fuji xpro1. – with this camera took photo of my gear.
The analog photography really changed me and this is probably the best thing that happened with me.
"Amateurs worry about equipment, professionals worry about money, masters worry about light… I just make pictures."
I like the In Your Bag feature it is always interesting to see what other photographers carry.
So here is my bag for the world to see.
Canon Canonet QL17 GIII – Canon 1:1,8/40
Leica M6 – Leica Summicron-M 1:2/35
Yashica Electro35 GSN – Yashinon DX 1:1,7/45
Canon eos 500 – Zeiss MC Pancolar 1:1,8/50
Nikon F100 – Nikkor 1:1,4/35 AIS
Voightländer Brillant – Voightländer 1:4,5/75
Yashica MAT 124G – Yashinon 1:3,5/80
Kiev 88 – Industar 29 1:2,8/80
Polaroid SX-70 Landcamera
Sekonic L-398M Lightmeter
Some rolls of Kodak Portra 400, Fuji 400H, Kodak Trix 400
Macbook Pro
Daily use an old leather bag.
You can see some of my captures here:
imretamasi.tumblr.com
imretamasi.com (beware, has music)
Cheers,
Imre
Thanks for bag shot, Imre. I hope for the sake of you back that you don't carry all of those cameras.
Check out the links and make sure you come and comment.
Keep them coming folks, we need more submissions, so get your bag on Japancamerahunter.com. Send me a hi resolution image of the bag (please make sure it is horizontal) and its contents, with some details about yourself and what you shoot. Oh and don't forget your contact details (twitter, flickr, tumbler et al). Send the bag shots here. Please understand that there is a long wait now as there is a backlog of submissions. Not all make the cut, so make sure yours is funny/interesting/quirky. And please make sure the shot is of good quality, as the ones that are not do not go up.
Cheers
Japancamerahunter