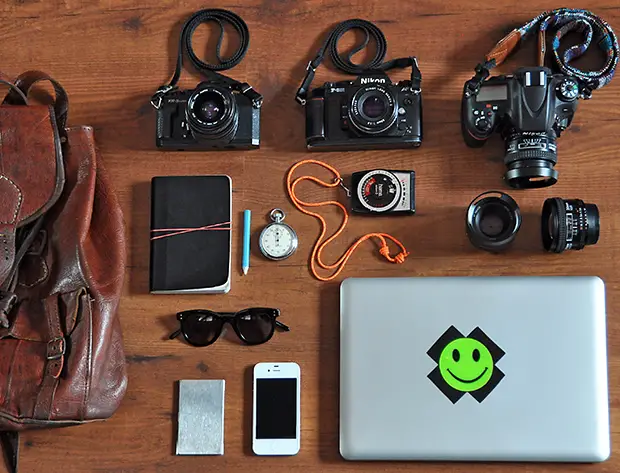 In your bag 989, Víctor Seguí
It is not often we get a bag containing the first camera the photographer ever owned, but we have one this time. Victor still carries around the camera he liberated from his parents. Check it out.

My name is Víctor Seguí, I'm 31 years old guy from Les Cases d'Alcanar, a small seaside town on the South of Tarragona, Catalunya, Spain.
Photography came into my life first time somewhere about 15 years ago when I borrowed my parents Ricoh camera for a high school project. After that first weird difficult impression for someone who never used a reflex before I felt something special between the camera and me. On the early ages, had been a hard job trying to shoot on film for a teenager with almost no time for anything else but sports, being cycling major part of my daylife. After all I did manage to combine both hobbies.
Also, grewing up in a family of artists and sports enthusiasts had led me from the begging a love and seeking for cretive and dynamic style which I still try to do everyday catching action and art together in the same image. Watching my website you would visit apart from other works, that I had the opportunity to work for Central China TV at La Vuelta '12 and Giro d'Italia '13 cycling grand tours covering great results of Team Argos-Shimano, now Giant Shimano.
This is a list of my bag what a mostly use from early ages until now.
1- Ricoh KR-5 Super II with basic f/3.5-4.5 35-70mm Sigma lens.
This camera was my discovering 'tool' way to get into photography which I still use sometimes.
Was about 8 years ago after those busy years when I jumped to digital, having a second hand Nikon D70 my first camera. After that I got Nikon D90 and D300 with few great lenses which made me discover wider ways to approach a more personal photography.
The second camera I would like to introduce is what it was almost a dying and forgotten one in Marrakesh, covered by dust in a nook of a tiny antique shop which after been cleaned up and bit restored by myself I made it work nearly as first day. That's why I use two more items with her. A photometer and a CCCP Soviet vintage chrono because those functions won't work properly anymore.
2- Nikon F-501 with Nikon f/1.8 50mm Series E
3- Hama Selen-3 photometer
4- Azam Soviet CCCP chrono
For personal use and daily job equipment I use Nikon digital cameras like mentioned before:
5- Nikon D610 with f/2.8 20mm, f/2 35mm, f/1.8 50mm.
Also not here but in my bigger bag: f/2.8 10,5mm fisheye, the famous 'all in one' f/3.5-5.6 18-200mm VR and astonishing f/2.8 70-200mm VR. Nikon D90 and Nikon D300.
6- All fits a Moroccan camel leather bag
7- Notepad with pencil, a very usefull tools at digital age.
8- Phone
8- Sunglasses (life would be impossible for me without them)
9- Cardholder
10- Laptop (not always). For a quick editing or personal use.
Hoping you enjoyed my bag. Please, feel free to visit my action photography and visual arts official sites:
http://www.victorsegui.com
https://www.facebook.com/Victor.Segui.Photography
Thanks for watching, cheers!
Víctor Seguí
Thanks for sharing your bag with us Victor. There are so many cool things here I don't know where to start.
Check out the links and make sure you come and comment.
Keep them coming folks, we need more submissions, so get your bag on Japancamerahunter.com. Send me a hi resolution image of the bag (please make sure it is horizontal) and its contents, with some details about yourself and what you shoot. Oh and don't forget your contact details (twitter, flickr, tumbler et al). Send the bag shots here. Please understand that there is a long wait now as there is a backlog of submissions. Not all make the cut, so make sure yours is funny/interesting/quirky. And please make sure the shot is of good quality, as the ones that are not do not go up.
Cheers
Japancamerahunter