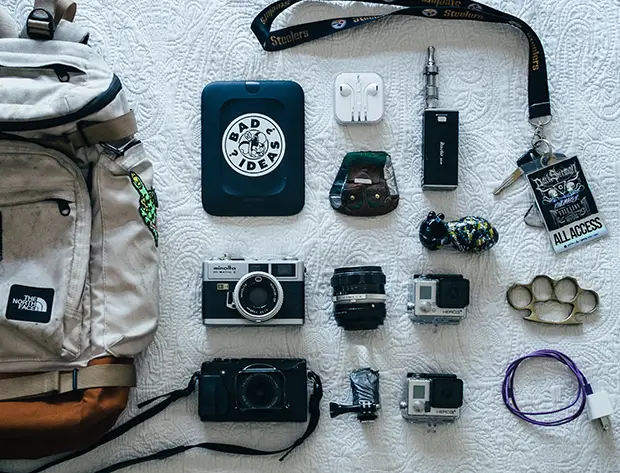 In your bag 987, Andy Eclov
This is like a super multimedia bag. All access passes, a knuckleduster and a vape. Rock and Roll.

I've learned a lot of what I know about film photography and rangefinders from this website, so I figured I should contribute.
I am a 21 year old photographer from Chicago, USA. I tour the country with hardcore, punk, and metal bands and document the 'nomadic' lifestyle of the underground musician community. I maintain a daily blog outlining our travels, and I am about to finish up my first photo book, Fly By Night, based off of portraits and other photos from my tour blog.
I love camera bags, and backpacks in general, but I've found that carrying an extra piece of luggage for camera gear is just out of the question for my work. My backpack contains items I need daily, as I live out of it for weeks, or months at a time.
-The bag is from North Face, can't remember the model though. It's a huge rectangle so I'm able to fit lots of clothes along side my gear.
-Fuji X-E1 with the Fujinon 18mm. Fantastic camera that I use every day. I parted with my Canon 1DII set up for this little rig and it has done marvelous things. It gets me excited about photography.
-Minolta  58mm 1.4 with Fuji X Adapter.
-Minolta Hi Matic E. Awesome little 35mm rangefinder, as I'm sure everyone here knows.
-Apple Headphones
-"Medicine Bag" – this idea was introduced to me by a drunken friend who explained a badly distorted version of the Native American practice. Over time it turned into a collection of little charms and keepsakes from different adventures. Mine was found in an abandoned building.
-Bumble Bee
-Two GoPro 3+ Black Edition cameras. I have a jerry-rigged hot shoe mount for my X-E1 that I keep one GoPro on. The other one gets used for various live videos and hotel shenanigans.
-iTatse MVP giant eCig. Provided to me through an endorsement, got me off cigs for about 3 weeks and now I smoke cigs again. Oh well.
-Steelers Lanyard + keys + laminate
Thanks for keeping up an awesome blog. It keeps me pumped about photography.
andyeclov.com
Instagram: Plasticbath
Twitter: Satansbarber
Thanks for sharing your bag with us Andy. Pretty badass. I love that medicine bag.
Check out the links and make sure you come and comment.
Keep them coming folks, we need more submissions, so get your bag on Japancamerahunter.com. Send me a hi resolution image of the bag (please make sure it is horizontal) and its contents, with some details about yourself and what you shoot. Oh and don't forget your contact details (twitter, flickr, tumbler et al). Send the bag shots here. Please understand that there is a long wait now as there is a backlog of submissions. Not all make the cut, so make sure yours is funny/interesting/quirky. And please make sure the shot is of good quality, as the ones that are not do not go up.
Cheers
Japancamerahunter