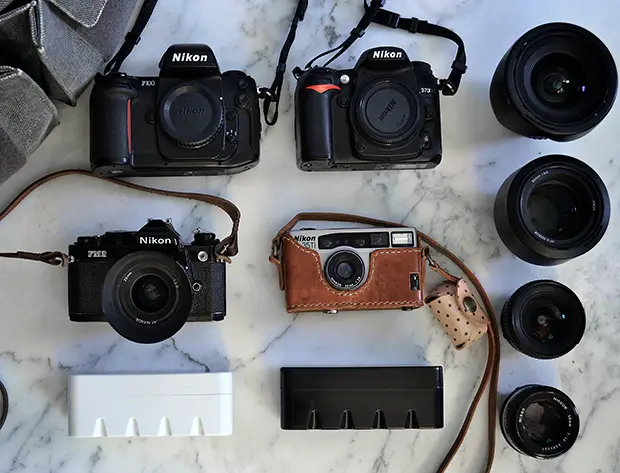 In your bag 983, Jacob Cecil
If you love Nikon then this bag is for you. Check out all of those cameras, what a haul!

My name is Jacob Cecil and I am a high school photography teacher in the US. After studying sculpture and going into teaching, photography has become my main area of instruction and my passion.
The first year and a half of photography courses in my county are all film, so I am introducing a new generation to analog processes and fostering a love of film. It is so exciting for me to transform the way my students see the world when taught photography through film rather than digital, I honestly believe it makes them better photographers.
I have great support in my county and know that traditional darkroom processes will be around in schools for awhile to come. With the many cameras I use for instruction and for my own work I thought I would start with my Nikon bag, so here it is:
The bag:
-ThinkTank Retrospective 30
Excellent for stuffing full of any combination of gear from 4×5 to 35mm and tons of film
The Cameras:
-Nikon D7000
Mostly used for demonstration or for when I need instant access to images
-Nikon F100
Excellent autofocus with flawless metering for using all of my lenses
-Nikon FM2N
I was craving a manual focus Nikon and this was the most barebones one that is fully mechanical yet also light
-Nikon 35Ti
My favorite little camera, beautifully crafted, flawless matrix metering. I was tired of the wrist strap and so I made the leather half-case along with the extra film roll holder. I make leather accessories as part of a business with my wife so I have access to all I needed.
The lenses:
-Nikon 35mm ƒ/2 AF-D
My favorite focal length and most used lens
-Nikon 20mm ƒ/2.8 AF-D
Wide angle that is a 30mm equivalent on my D7000
-Nikon 50mm ƒ/1.4 AI-S
Great low light lens
-Nikon 85mm ƒ1.8 AF-S
Beautifully sharp portrait lens
-Tokina 11-16mm DX
For when I need an ultra wide, 16mm works without vignetting on film
The Film:
-JapanCameraHunter Film Cases stocked with TriX, Portra, and a range of transparency film.
Not pictured: my Dad's old Nikon F and F2
Check out my personal work on Flickr here: https://www.flickr.com/photos/f8andbmore/
personal Instagram: http://instagram.com/aphototeacher
teaching Instagram: http://instagram.com/cecilrhhs
Jacob Cecil
Thanks for sharing your bag with us, Jacob. Great to hear that the students get to learn on film too. That is awesome.
Check out the links and make sure you come and comment.
Keep them coming folks, we need more submissions, so get your bag on Japancamerahunter.com. Send me a hi resolution image of the bag (please make sure it is horizontal) and its contents, with some details about yourself and what you shoot. Oh and don't forget your contact details (twitter, flickr, tumbler et al). Send the bag shots here. Please understand that there is a long wait now as there is a backlog of submissions. Not all make the cut, so make sure yours is funny/interesting/quirky. And please make sure the shot is of good quality, as the ones that are not do not go up.
Cheers
Japancamerahunter