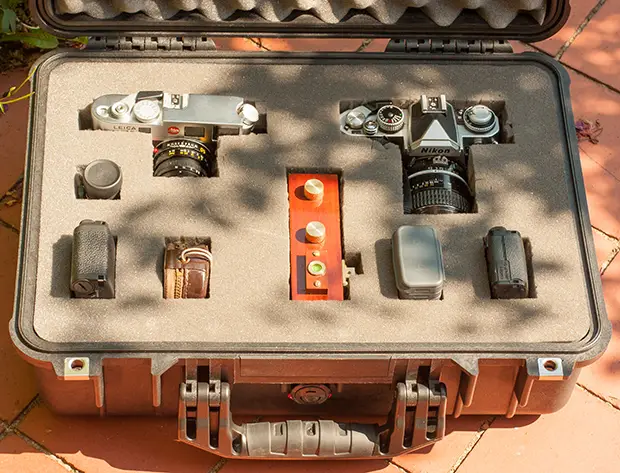 In your bag 980, Steve Hodgson
Steve has a case, not a bag. And a pretty awesome case it is too. Check it out.

My name is Steve Hodgson, I'm an amateur photographer living and working in Edinburgh and was previously featured in episode #207 of 'In Your Bag'. While the cameras I'm using have stayed unchanged, there have been some big changes to how I store and carry my equipment and that might be of interest.
My favourite camera is still my Leica rangefinder but I enjoy using all of them and I don't intend to make any changes. I've recently bought a used Nikon 105mm lens for shooting portrait photographs with my FM3A camera  and that's one of the biggest changes in my equipment over the last few years. Where I used to use a Ricoh GRD as the compact camera I could quickly throw into a pocket I'm now using its film predecessor. I'm lucky enough to have a great shop in Edinburgh selling used cameras and when they had this beautiful little 35mm classic available I was powerless to resist.
And so to the 'bag'… One of the problems I experienced in the last few years was that I had no way to store and carry all of my cameras together. I generally just use one camera at a time, and carry that in a messenger bag, but I had no easy way to transport my cameras for family holidays and they were generally scattered about my home.
I now store all my film cameras in a small Peli case which is pretty much indestructible. It took some time to pluck out all the little beads of foam around each item but it was also great fun. The benefit of this case is that I can just throw it in the boot of the car and pile any other luggage on top without worrying about damaging my equipment.
The contents of the case are:
1. Leica M6 TTL fitted with Summicron 50mm F2 lens.
2. Nikon FM3A fitted with 105mm F2.5 lens.
3. A small monoscope that's useful to spot things that might be of interest. It's small enough to throw in a coat pocket when walking.
4. Ricoh GR1s camera
5. Weston lightmeter
6. Zero Image 2000 camera
7. Film safe for storing films.
8. Ricoh GRD
I'm on Flickr at http://flickr.com/Craiglea
On the web at http://sulluzzu.com
Twitter at http://twitter.com/BestofTimes
Thanks for sharing your case with us Steve. That certainly is a change.
Check out the links and make sure you come and comment.
Keep them coming folks, we need more submissions, so get your bag on Japancamerahunter.com. Send me a hi resolution image of the bag (please make sure it is horizontal) and its contents, with some details about yourself and what you shoot. Oh and don't forget your contact details (twitter, flickr, tumbler et al). Send the bag shots here. Please understand that there is a long wait now as there is a backlog of submissions. Not all make the cut, so make sure yours is funny/interesting/quirky. And please make sure the shot is of good quality, as the ones that are not do not go up.
Cheers
Japancamerahunter