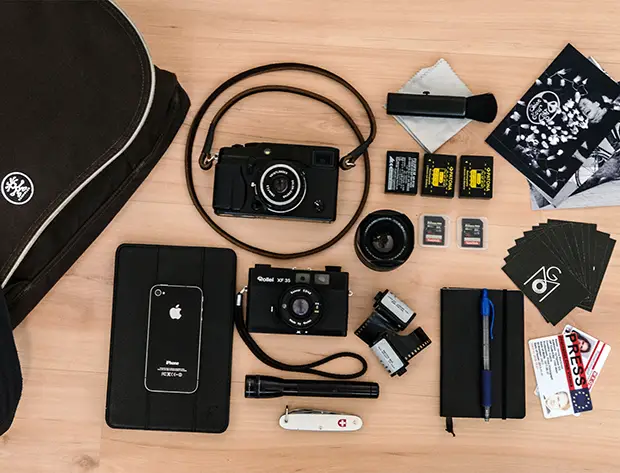 In your bag 965, Georg Marlovics
Now this is a lovely bag. Classic Crumpler and some lovely goodies in it too. Come and check it out.

Hi Bellamy,
I am enjoying your cool website for some time, now thanks for featuring my bag too!
I am a very passionate and until now second job photographer, living and mostly working in vienna.
My assignment work usually covers events, weddings or portrait work for which I love to take my Nikon DSLR Equipment.
It just goes fast and flawless. Maybe I'll feature that bag in another post.
My private work,I am very passionate about, consists of street- and documentary scenes, mostly in black and white.
The following gear is the one I am using when I am out on the streets:
– Well worn Brown Crumpler Messenger Bag modified with a Matin Camera Bag Insert
(Have different bags, but somehow always come back to this one)
– Fujifilm Xpro1 with Fuji M-Adapter & Voigtländer 35mm f2.5 pancake lens
(my currently favourite combo)
– attached is a Gordy's Strap – feels 'broken in'
– Fujinon 35mm f1.4 lens – nice for AF and lowlight tasks
– Rollei XF 35 with fixed Sonnar 40mm f2.3 lens
– Some Rolls of Film – whatever i can grab, currently Rollei Retro 80's
– 3 Akkus for the Xpro1
– 2 fast (95mb/s) 16 Gb Cards
– Moleskine Notebook & Pen for quick Notes
– Lens Cloth and Lens Brush
– Ipad Mini & Iphone 4 – my Mobile Office
– Maglite AA Led converted – for Lightgames and 1000 other occasions
– Swiss Army Knife
– Some 10×15 prints of my best candid work – to show around
– Press ID's
– Business Cards
Now to my weblinks:
– my professional work: http://www.georgmarlovics.com
– street documentary: http://georgmarlovics.tumblr.com
– mixed photostream: http://www.flickr.com/photos/gmarlo
Best regards from Austria,
Georg
Thanks for sharing your bag with us Georg. Nice to see you still shoot film, despite shooting digital for a living.
Check out the links and make sure you come and comment.
Keep them coming folks, we need more submissions, so get your bag on Japancamerahunter.com. Send me a hi resolution image of the bag (please make sure it is horizontal) and its contents, with some details about yourself and what you shoot. Oh and don't forget your contact details (twitter, flickr, tumbler et al). Send the bag shots here. Please understand that there is a long wait now as there is a backlog of submissions. Not all make the cut, so make sure yours is funny/interesting/quirky. And please make sure the shot is of good quality, as the ones that are not do not go up.
Cheers
Japancamerahunter