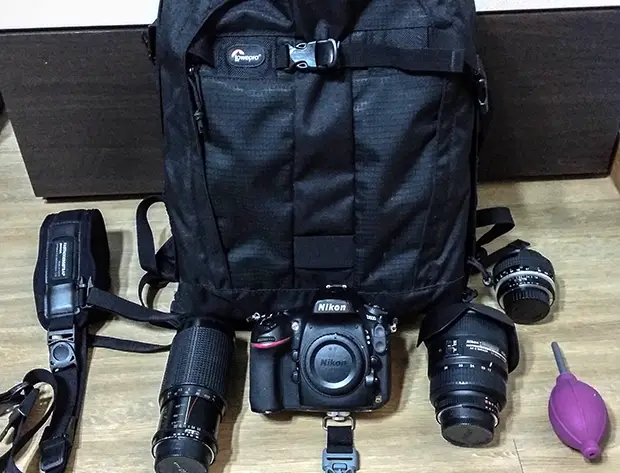 In your bag 961, Jackson Hung
Jackson shares with us a totally digital bag. But he swears he is going to go film soon. Check it out.

Hey JCH,
This is my first time sharing the contents of my bag. Although I only have a DSLR at the moment, I am planning to get a Nikon FM3A in the near future.My current bag is lowepro pro runner 350AW.
My gear consists (starting from the left)
– Matin Fast Access Strap 5
– RMC Tokina 70-210mm f/3.5
– Nikon D800
– Nikon 17-35mm f/2.8
– Nikon 50mm f/1.2
– Matin Blower
– Samsung Note 3 (using it to take the photo)
I used to shoot a lot of street photography when I lived in Hong Kong but now that I'm working in a small town on the west coast of Korea, my focus is now mostly landscape photography.
This is my personal website: http://www.jacksonhung.ca
Flickr: http://www.flickr.com/photos/jhung713/
I love spending time on your site and the more I read, the more I want to experiment with film get that FM3A.
Best Regards,
Jackson Hung
Thanks for sharing your bag with us Jackson. I hope you get the FM3a, it is an outstanding camera.
Check out the links and make sure you come and comment.
Keep them coming folks, we need more submissions, so get your bag on Japancamerahunter.com. Send me a hi resolution image of the bag (please make sure it is horizontal) and its contents, with some details about yourself and what you shoot. Oh and don't forget your contact details (twitter, flickr, tumbler et al). Send the bag shots here. Please understand that there is a long wait now as there is a backlog of submissions. Not all make the cut, so make sure yours is funny/interesting/quirky. And please make sure the shot is of good quality, as the ones that are not do not go up.
Cheers
Japancamerahunter