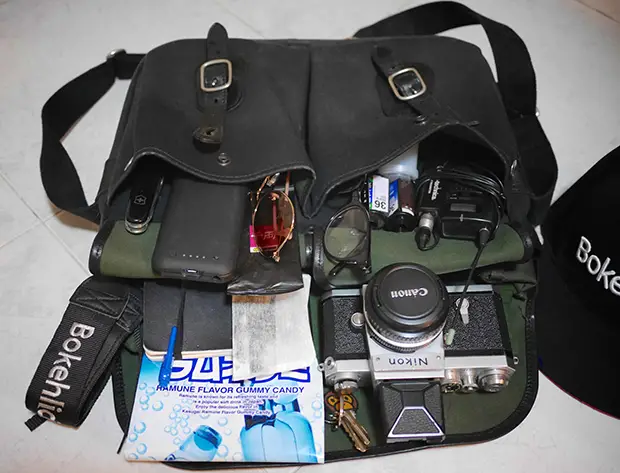 In your bag 888, Kai Man Wong
Some of you might recognise the name. Yes, today we get to peek inside the bag of Kai Man Wong, the presenter of DigitalRev TV, film fan and all round good egg. Come and check it out.

Kai doesn't really need an introduction, but if you are not familiar with his show then you should definitely go and check it out https://www.youtube.com/user/DigitalRevCom. I have asked Kai to share his bag in the past, but both being busy superstars with rockstar lifestyles it was hard to get it arranged. But we finally managed to get it together and have a rummage in his bag… Over to Kai:
– This is my work bag, it's the Billingham Hadley (discontinued now…it's basically the Hadley Pro without the handle). I bought it around seven years ago, and it's been dumped in the sand and through rainstorms. I keep thinking about getting a new camera bag but this has served me well for so long, so I'll probably keep using this until the strap falls off or gets damaged by fire.
– We've been shooting a number of AnalogRev videos recently, hence the film – Fuji Provia & Konica Centuria Super 400. I got to shoot with a Hasselblad Xpan recently, which is still on my list of must-have cameras. I've never had the chance to even touch one let alone use one before, so it was fantastic to finally shoot with it. It didn't disappoint. I used a roll of Rollei 400 film in that.
– Audio Technica lav mic – shocking build quality.
– Swiss Army Knife – you never know when you night encounter a bear.
– iPhone Battery Charger Case
– Aviator Sunnies – makes me act all silly.
– Alcohol Wet Wipe – nabbed from some restaurant.
– Bathing Ape keys – dunno why I got them especially as I don't particularly like Bathing Ape.
– Moleskine – this is where all the ideas for DigitalRev TV are.
– Ramune Flavour Gummy Candy – Japanese snacks are the best in the world.
– Earl Grey tea bag – just in case I feel like having some tea-bagging fun…can make myself a brew, chew on it or sniff it.
– Nikon F & 50mm f/1.8 – love this camera. For me, this is the classic and best-looking Nikon F ever made.
You can check out Kai's sites here:
https://www.flickr.com/photos/kaisphotos/
https://twitter.com/kaimanwong
And the latest AnalogRev https://www.youtube.com/watch?v=38plXCYCvKQ
Thanks Kai for being a good sport and sharing your bag with us. Lucky number 888. I concur, the X-Pan (TX-1) is one of my all time favourite cameras.
Check out the links and make sure you come and comment.
Keep them coming folks, we need more submissions, so get your bag on Japancamerahunter.com. Send me a hi resolution image of the bag (please make sure it is horizontal) and its contents, with some details about yourself and what you shoot. Oh and don't forget your contact details (twitter, flickr, tumbler et al). Send the bag shots here. Please understand that there is a long wait now as there is a backlog of submissions. Not all make the cut, so make sure yours is funny/interesting/quirky. And please make sure the shot is of good quality, as the ones that are not do not go up.
Cheers
Japancamerahunter