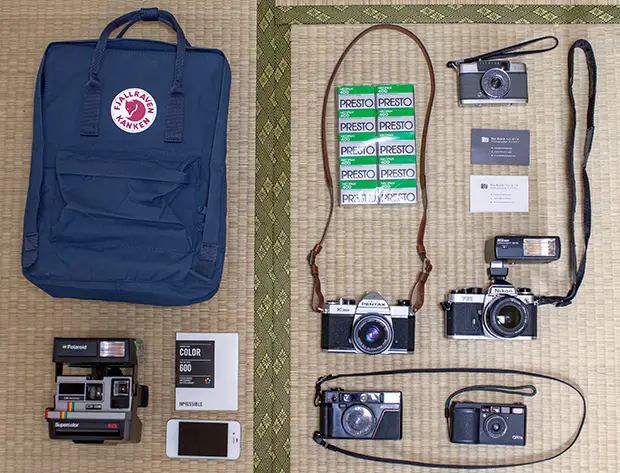 In your bag 862, Ben Beech
It is always nice to have a peek into the bag of someone you know, so I am happy to be able to share my mate Ben's bag with you all today. Ben has been on the site before too, with a couple of articles (link). Check it out.

I always enjoy reading this section on your website, so I thought I'd share my bag with you too! My name is Ben, an Englishman living and shooting in Tokyo, Japan.
I recently switched from an over shoulder 'f-stop' camera bag to a simple back pack worn on both shoulders as I was experiencing back problems with the former. My current bag is a Fjallraven Kanken back pack with a padded insert for my kit.  This bag is simple and comfortable.
The contents of the bag changes regularly, although I usually have two of the following cameras in there when I am out shooting. So, here is what you can find in my bag:
Nikon FE2 – I bought this camera at the Shibuya camera fair. It's a great camera which I am very fond of. I usually shoot it with a 28mm f3.5 lens and I often use a Speedlight SB-15 flash with it too. I tend to mainly shoot colour with this camera as it produces nice results. The following cameras I shoot with monochrome film.
Pentax k1000 – I got this from JCH contributor Jesse Freeman earlier this year – swapped it for an iMac no less! It's the camera I learnt to shoot on back in school, and I have been keen to pick one up ever since. I only have one lens for this at the moment, the 50mm f2 which produces great results. The light meter doesn't work which means I'm slowly getting better at calculating shutter speeds too. I'm happy to have this beast in my arsenal once again.
Ricoh GR1s – Thank you Bellamy (JCH) for sourcing this camera for me, it's probably the one I use most! I love the compactness of this camera and the 28mm f2.8 lens produces some great, really sharp images. Yeah, this camera is cool!
Nikon L35 AF 35mm f2.8 – My sister works in a charity shop back home and she plucked this one off the shelf for me a couple of years ago. The best £5 I spent that summer! I love the retro lines it has and the lens isn't half bad either. Only problem is the battery life sucks.
Olympus PEN EEs 28mm f3 – I picked this up near my house in Tokyo for just 1000 yen. It shoots half frame shots which means you get 72 shots per 36 exp film – nice. The focus system can be a little tricky to get used to at first but it's a fun little camera that produces interesting photos.
Polaroid 635 – I recently discovered IP film and have been enjoying shooting it on this camera. I also picked this up at a bargain price – 500 yen from a wheeler dealer in Nagano-ken.
Fuji Presto Neopan 400 film – I have a sizable stash of this soon-to-be obsolete film at home, it is my main go to film at the moment. I usually carry a few extra rolls in my bag.
Impossible Project Color Instant Film – I carry this around when I'm shooting with the Polaroid. The results are a bit hit and miss, although when it comes together it works well.
iPhone 4s – I use this as a light meter, for GPS navigation and to make Instagram snaps. Oh yeah check me out on Instagram (link below).
Business cards – Because they can help diffuse situations when you're shooting strangers on the street!
You can check out my photography here:
www.benjaminbeech.com
www.facebook.com/benbeechphoto
http://instagram.com/benjaminbeech
https://www.flickr.com/photos/benbeechey
Thanks for the feature Bellamy, and keep up the good work!
Thanks for sharing your bag, Ben. Nice to see that GR still ticking along.
Check out the links and make sure you come and comment.
Keep them coming folks, we need more submissions, so get your bag on Japancamerahunter.com. Send me a hi resolution image of the bag (please make sure it is horizontal) and its contents, with some details about yourself and what you shoot. Oh and don't forget your contact details (twitter, flickr, tumbler et al). Send the bag shots here. Please understand that there is a long wait now as there is a backlog of submissions. Not all make the cut, so make sure yours is funny/interesting/quirky. And please make sure the shot is of good quality, as the ones that are not do not go up.
Cheers
Japancamerahunter