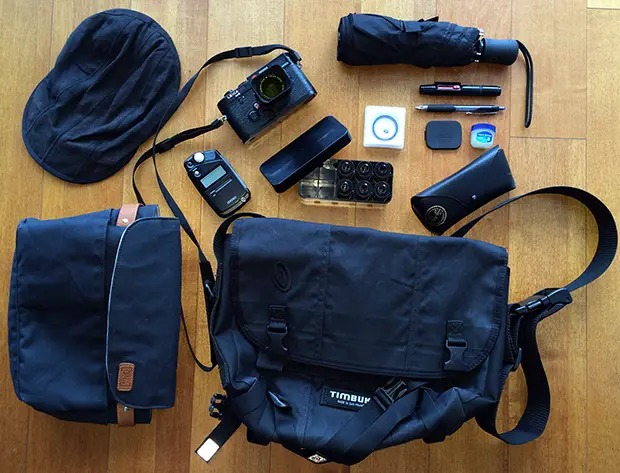 In your bag 857, Karl
Karl shares with us a very simple and stealthy street bag. Come and check out this beauty.

Hello from Toronto, Canada!
Love all the bags you post on your site so I thought it was high time that I posted my little kit. I like to keep everything on the down-low when I'm out shooting and I think I finally found a solution that works for me!
The outer bag is a 2013 Timbuk2 medium messenger in black oiled canvas – so it's reasonably water resistant without being super sweaty to wear around all day. It's a bike messenger style bag so it sits up high on my back and remains comfortable all day long. I keep an Ona Roma inside the Timbuk2 to keep my camera stuff organized and slightly padded.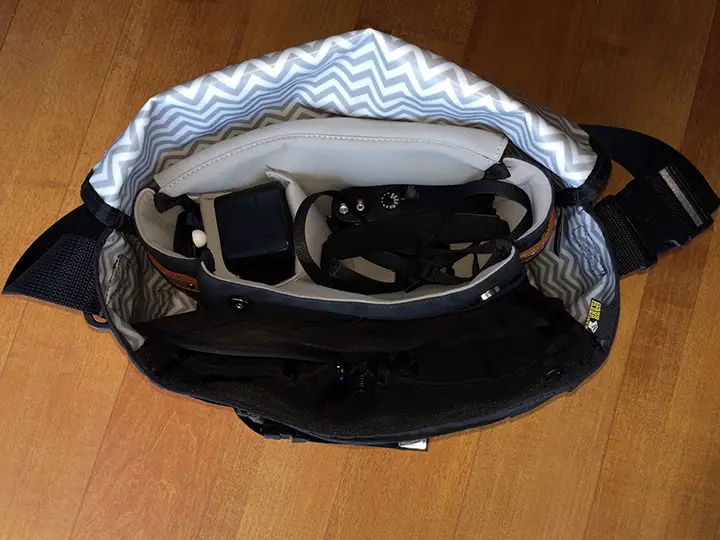 My camera is a black Leica M6 Classic with a 35mm Summicron lens. Sold all my digital stuff and this is my only camera. All I need and all I can imagine wanting – really love this thing! This being said, if i found a minty mp with vulcanite I could be tempted! :)
I shoot Tri-x through a yellow filter and keep my stash in one your most excellent film cases. Damn, this thing is so much better than lugging around all those film cannisters. Well done, there!
The rest of the bag is support stuff for when I'm out shooting:
Sekonic L-308 meter that I've had forever. Don't use it much anymore but once in a while it comes in handy!
B+W 010 UV filter (in case I ever shoot color again…)
Abrahamsson silver soft relase – I go back and forth on these things. Currently not being used but keep it in bag just in case.
Lens cap – never use it but somehow it's always in the bag. LOL!
Lens Pen – finger prints show up at the worst times!
Pilot G2 Gel Pen – great pen, never leaks.
Vaseline – Hey, I'm from Toronto – my lips get dry!
Sunglasses, linen cap and umbrella to keep the weather at bay.
Thanks for a great site!
You can check out some of my street work at the usual places:
Flickr: https://www.flickr.com/photos/gub65gub/
Personal Site/Tumblr: http://kespics.com
karl
Thanks for sharing your bag with us Karl. Very purposeful.
Check out the links and make sure you come and comment.
Keep them coming folks, we need more submissions, so get your bag on Japancamerahunter.com. Send me a hi resolution image of the bag (please make sure it is horizontal) and its contents, with some details about yourself and what you shoot. Oh and don't forget your contact details (twitter, flickr, tumbler et al). Send the bag shots here. Please understand that there is a long wait now as there is a backlog of submissions. Not all make the cut, so make sure yours is funny/interesting/quirky. And please make sure the shot is of good quality, as the ones that are not do not go up.
Cheers
Japancamerahunter