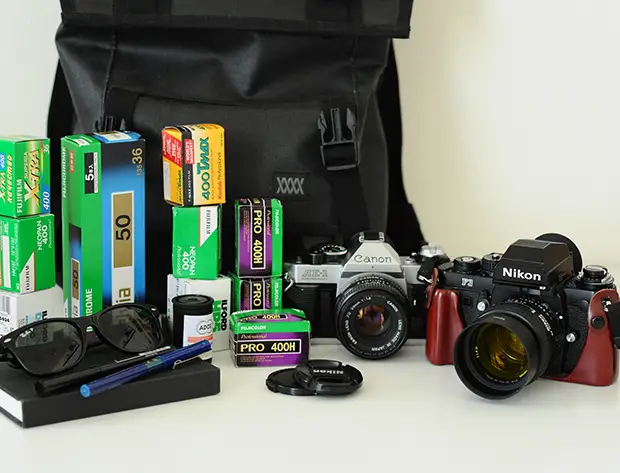 In your bag 855, Ronen Chernyak
Ronen shoots both Nikon and Canon together. Talk about acceptance. Come and check out this great setup from Israel.

My name is Ronen Chernyak, 23 years old from Israel, Tel Aviv. Currently studying to get accepted to University.
As many others in this segment, I'm a hobby photographer for the last past few years, with the last one mainly focused on the film medium exclusively, which I fell in love with! To the point where I sold all my digital gear and now only use my film bodies.
My interest in photography began about 5 years ago when I bought a Richo GR Digital II during a trip to the US, an amazing camera if you ask me, which I used to the fullest, but at a certain point I moved on to a DSLR, a Nikon D7000. At that time I accidentally stumbled upon JCH's blog through a link on reddit. And at that moment my interest in film photography was sparked – Much acknowledgement!
Shortly after some research and with a few bindings on ebay, I bought myself a Canon AE-1 Program a the end of 2012, I camera I still use.
At the beginning the results were not staggering, but bit by bit my familiarity with it grew and so with the workings of film.
Since then I become an avid film photographer, using only this medium.
A recent step for me was taking my analog gear to a trip in Italy which gave me my first experience with slide film, to be exact Velvia & Provia – amazing films.
And as of recent, current gear is:
Nikon F3HP – Nikkor 50mm 1:1.4D
Canon AE-1 Program – Canon 50mm 1:1.8 FD
At past I had a zorki 4 which I used, but after a short time it began to act a little funky for my taste – probably wasn't the best of quality.
My main camera is the Nikon F3, but now and then the Canon see's use as well.
The Nikon F3HP fells for me like the perfect 35mm camera, fits my hands perfectly and is my "all around" film body.
As to the bag, since my main commute is my bicycle, I use a dedicated bag for it, a Mission Workshop bag which withstood all I threw at it for the last year, from rain to falls and so forth with all the gear inside.
Likewise, I've been slowly accumulating film, especially the one which see the most use and my favorite – Acros 100.
And since I usually shot a roll a month, supply is of no shortage.
As to what is the next step? Hopefully saving enough money this year and getting a medium format camera!
Flickr link:
https://www.flickr.com/photos/rydeen/
Thanks for sharing your bag with us Ronen. I am glad to hear that JCH helped you get into film.
Check out the links and make sure you come and comment.
Keep them coming folks, we need more submissions, so get your bag on Japancamerahunter.com. Send me a hi resolution image of the bag (please make sure it is horizontal) and its contents, with some details about yourself and what you shoot. Oh and don't forget your contact details (twitter, flickr, tumbler et al). Send the bag shots here. Please understand that there is a long wait now as there is a backlog of submissions. Not all make the cut, so make sure yours is funny/interesting/quirky. And please make sure the shot is of good quality, as the ones that are not do not go up.
Cheers
Japancamerahunter