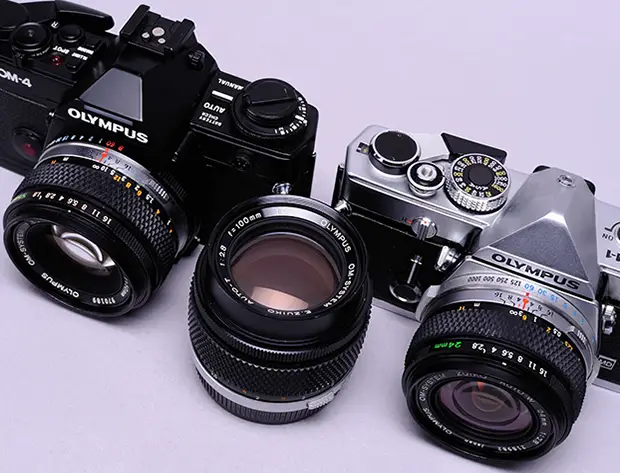 In your bag 847, John Lockwood
John has been with us before (link). And now he is back with a great bag which has changed quite a bit since we last saw it. Come and check this beauty out.

Due in part to the many excellent film camera blogs, I recently decided to dust off some of my Olympus OM collection. My very first SLR was the OM-1MD (pictured here), purchased new in 1978, with 50mm f/1.8 lens. It still works great and is downright diminutive by today's standards. At the time of their introduction, the OM series was sold on the notion of small, quiet and discreet. I had forgotten how amazing the view is through the prism with its oversized reflex mirror (designed to avoid vignetting on their 800mm lens) yielding a very bright 0.92X magnification image. One must find the correct batteries for the OM-1 series as the original 1.35v mercury batteries have been long discontinued.
The OM-4 was Olympus' top of the line camera with multi-spot metering and aperture priority. It was their most technologically advanced camera, followed by the OM-4Ti. It also is a pleasure to use with unparalleled ergonomics. I love the shutter speed ring at the lens mount position. In use, the left hand can rotate shutter speed, focus or aperture, while the right hand holds the camera and advances film and fires the shutter.
The lenses pictured are the original holy trinity (sorry Nikon/Canon). They are the 24, 50 and 100mm. By multiplying or dividing the "kit" 50mm, which was sold with all SLRs in the 70's, these three lenses can handle everything from landscapes to portraiture. As you can see, like the camera bodies, Zuiko lens are tiny. They feel like solid little jewels.
Currently without a specific bag for this tiny setup, I'm using a KODAK Portra waist pack to hold extra film, filters and a lens cleaning cloth. Once I have the workflow down, I will be able to share some images.
Thank you Bellamy for encouraging us to go out and shoot film!
John Lockwood
www.lockwoodphotography.com
Thanks for coming back to us David. It is cool to see how your bag has changed.
Check out the link and make sure you come and comment.
Keep them coming folks, we need more submissions, so get your bag on Japancamerahunter.com. Send me a hi resolution image of the bag (please make sure it is horizontal) and its contents, with some details about yourself and what you shoot. Oh and don't forget your contact details (twitter, flickr, tumbler et al). Send the bag shots here. Please understand that there is a long wait now as there is a backlog of submissions. Not all make the cut, so make sure yours is funny/interesting/quirky. And please make sure the shot is of good quality, as the ones that are not do not go up.
Cheers
Japancamerahunter