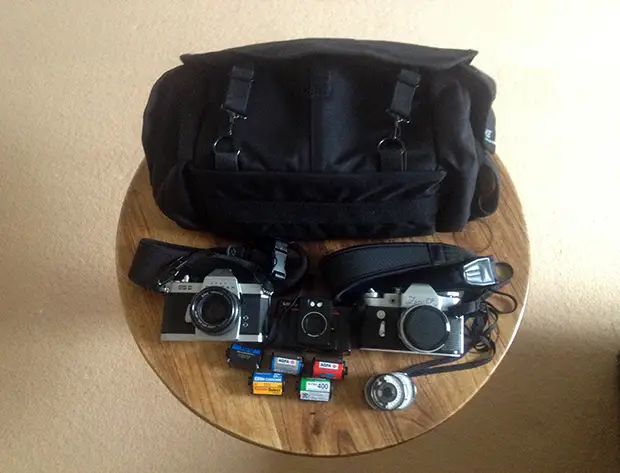 In your bag 840, Stephen Dowling
Stephen has been a big contributor to the site (here is his archive page), so it give me great pleasure to share his bag with you all. Full of lots of lovely film goodness.

This is a pretty typical bag for me if I'm heading out of the house on a weekend to go take pics somewhere in sunny weather – in winter I might choose similar cameras and replace the colour film with black and white.
Domke F2 Ballistic: The latest camera bag I've bought and the one I choose for short trips/city breaks away, or for a day spent on the hoof in London. It packs a surprising amount of kit inside and the strap is wide and comfortable. I can wholeheartedly recommend it. I might favour the Tamrac Pro 13 if I was going to be out on the road much more than a week or so, but for shorter trips the Domke is perfect.
Pentax ESII: When I got into film photography in 2000, the first proper manual camera I bought was a screw-mount East German Praktica MTL 5B. Nowdays, I have a whole bunch of screwmount bodies – from the Voigtlander Bessaflex to the Zenit E, Chinon Memotron to a Yashica TL Electro. But out of all of them, in fact out of every camera I own, the Pentax ESII is my favourite (read my review of it on my film photography blog). It's an aperture-priority SLR that chooses a shutter speed depending on the lens aperture chosen. This only works with the SMC Takumar range of lenses Pentax made for the ESII and the earlier ES, but thankfully they're pretty plentiful. It's a camera that just feels right in your hand – a satisfying weight and classic 70s lines. It's seen here with the 50/1.4 lens. This is the less-common chrome model; I also have three of the more common black models.
Zenit 3M: I've been collecting Soviet cameras for at least a decade; the USSR's camera industry was enormous, making millions of cameras from utilitarian tools to genuinely groundbreaking designs. The Zenit 3M was a simple SLR made by the giant KMZ plant in the 1960s, using a variation on the Leica screw mount, and with just a handful of speeds (read a review here). The Zenit 3M take a bit of getting used to as the lenses are preset – you compose with the aperture fully open, then close the aperture to the right setting for the correct exposure. The Helios-44 58mm lens is a cracker, and is especially nice with cross-processed slide or expired films. It's loaded with an old roll of Fuji Sensia 100 slide film.
Lomo LC-Wide: I've been shooting on Lomo cameras since 2000 – my first was a Soviet-era Lomo LC-A bought secondhand. The wide-angle LC-Wide is great for street-shooting – the lens is punchy and contrasty, and gives that characteristic tunnel vision vignetting. I've carried the LC-Wide with me everywhere I go. I'm back to shooting with my LC-A for a little bit – I want to see if the contrast of the original's lens is still suprior – but I'm really impressed with the LC-Wide.
Agfa Precisa CT100: The original; Agfa's consumer slide film that boost blues, blacks and shadows when cross-processed. This is the film that gives that fantastic 'Lomo look'. A few years of patient eBaying means I have a stash of about 90 rolls.
Lomography Chrome 100: Lomography's Xpro film – actually Kodak Elite Chrome 100. With Kodak's slide films gone, this is no more as well – a damn shame. Rich grain and eye-popping colours when you Xpro it, though it's also perfectly fine to shoot as an E6 film.
Kodak Elite Chrome 100: The professional range of Kodak's slide films, this is one of a bunch of expired rolls I got off eBay. They must have been cold stored as they're perfect, even a decade over their expiration date.
Fuji Superia X-Tra 400: One of Fuji's best colour print films left, 400 Superia has superbly punchy colours and lovely grain. It's great for accentuating red afternoon light too, especially in autumn and winter.
Agfa RSX II 100: Another retired slide film stock. I love shooting this one normally, especially in sunny weather, It highlights reddish tones really well. Hopefully I can find another stash soon as I'm down to my last five rolls.
Sekonic 208: I have a bunch of meterless cameras – mostly old Soviet stuff including a Zorki 6, an Iskra folding camera and old SLRs like the Start and the Zenit 3M. Having a decent meter to hand definitely makes you use this old stuff more often. The Sekonic 208 is perfect; it's small enough to slip in your pocket, or can even be mounted on a camera hotshoe. It may seem fragile compared to old metal Westons but I've had it for a couple of years and it's worked perfectly every time.
www.flickr.com/photos/stephendowling/
www.zorkiphoto.co.uk
http://zorkiphoto.co.uk/2013/09/29/pentax-esii-camera-review/
http://zorkiphoto.co.uk/2013/03/16/zenit-3m-camera-review/
Thanks for sharing your bag with us, Stephen. I am happy to finally be able to see what you shoot.
Check out the links and make sure you come and comment.
Keep them coming folks, we need more submissions, so get your bag on Japancamerahunter.com. Send me a hi resolution image of the bag (please make sure it is horizontal) and its contents, with some details about yourself and what you shoot. Oh and don't forget your contact details (twitter, flickr, tumbler et al). Send the bag shots here. Please understand that there is a long wait now as there is a backlog of submissions. Not all make the cut, so make sure yours is funny/interesting/quirky. And please make sure the shot is of good quality, as the ones that are not do not go up.
Cheers
Japancamerahunter