In your bag 835, Matt Erasmus
Today we have a sweet returnee bag today for your enjoyment. Matt has changed his bag a fair bit too. Come and check it out.

I was first featured on JCH a while back (https://www.japancamerahunter.com/2013/02/in-your-bag-no-437-matt-erasmus/)
but things have changed somewhat since then so I thought I'd submit again.
I've been following your blog and trimming down my daily carry which was definitely required. It's too easy to carry too much unnecessary gear these days. I'm currently based in Norway but will be migrating a little further south in the near future. Nomad for life it seems.
As you can see I've swapped out the Nikon D7000 for a Leica M8. I've kept the Leica M2 as it's a great little camera but have since managed to get my grubby little mitts on a very nice black M6 which has become my daily carry. I mostly shoot Tri-X 400, Acros 100 and Portra 400. I've been on a bit of a Neopan 400 trip lately but will be burning through the film in my Bikkuri 50/50 case. Variety being the spice of life and all that.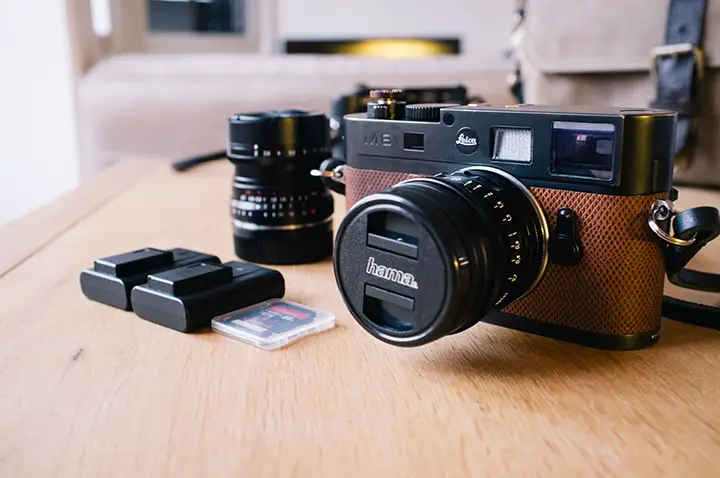 For lenses I generally shoot a combination of 50mm and 35mm. On the M8 I use a Voigtlander Nokton 50/1.5 and an Ultron 28/2. On the M6 I use a Voigtlander 35/2.5 and a 50/2 Carl Zeiss Planar.
All of this is stuffed into an Ona Bowery. This includes a couple of filters, my notebook, Gossen Digisix and a couple of rolls of film. There is little need for anything else.
I tend to shoot mostly street photography but am generally open to anything. I'll shoot a healthy mix of film and digital, although I tend to lean a little more towards film these days.

Thanks to you for providing loads of useful information and the occasional gift (I have both of your film cases as well as one of those gorgeous little Sakura film canisters). You site is a daily stop when I'm having a coffee and it never fails to provide something useful.
I also have to extend my thanks to Daniel, Carl and Hans. They've always been very helpful in fielding my random questions and helping me overcome a fairly serious case of GAS.
Linkables:
Flickr: http://flickr.com/photos/mattzn (mostly "serious" photography)
Tumblr: http://lifeloveimagery.tumblr.com (daily crap, mostly with the iPhone)
Thanks for sharing your bag with us Matt. Interesting to see the changes.
Check out the links and make sure you come and comment.
Keep them coming folks, we need more submissions, so get your bag on Japancamerahunter.com. Send me a hi resolution image of the bag (please make sure it is horizontal) and its contents, with some details about yourself and what you shoot. Oh and don't forget your contact details (twitter, flickr, tumbler et al). Send the bag shots here. Please understand that there is a long wait now as there is a backlog of submissions. Not all make the cut, so make sure yours is funny/interesting/quirky. And please make sure the shot is of good quality, as the ones that are not do not go up.
Cheers
Japancamerahunter