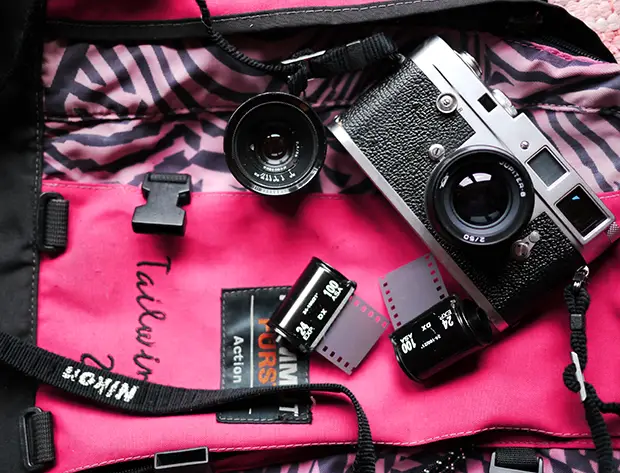 In your bag 828, Moritz St.
There have been some really strong bags lately, and this one is no exception. 17 years old, shooting film and named after a mountain…How could this one be any better?

Hey there! My name is Moritz St. and I am a 17 years old student living in a small village in Austria.
I got into photography a couple of years ago shooting one of my dads old point and shoots but soon discovered the love for film. Since about two years i pretty much only shoot film. I do my own development and also roll my own film (mainly because its just a lot of fun but also because its much cheaper and as a student my only regular incoming is pocket money).
As for subjects, I wouldn't say I have a fixed preference. I shoot a lot of environmental portraits, candids at events (like parties) , casual architecture, some street photography and even some landscape.
As you can see this is not a dedicated camera bag and i rarely use one. Usually the photo gear just goes besides the normal things i carry. This time my gear will share places with a sleeping bag and some clothes for a little city trip.
My main camera:
a pretty beat up leica m2
And two cheap russian lenses:
-jupiter 8 (50mm 2.0)
-jupiter 12 (35mm 2.8)
As i said I'm a student so no fancy leica glass for me but they do the trick just fine!
The 3 filmcanisters (another one in the cam) are loaded with fomapan 400 which will probably get pushed to 3200 course light's gonna be low.
Oh and here's my flickr:
www.flickr.com/photos/[email protected]/
(Dont be surprised when the exif says its shot on a lumix gh1 i just use it to digalize my negatives)
Hope you enjoyed and greetings from the alps
P.s.: thanx Bellamy for this awesome website!
Thanks for sharing your bag with us Moritz. I love the simplicity and purpose of this bag, great stuff.
Check out the links and make sure you come and comment.
Keep them coming folks, we need more submissions, so get your bag on Japancamerahunter.com. Send me a hi resolution image of the bag (please make sure it is horizontal) and its contents, with some details about yourself and what you shoot. Oh and don't forget your contact details (twitter, flickr, tumbler et al). Send the bag shots here. Please understand that there is a long wait now as there is a backlog of submissions. Not all make the cut, so make sure yours is funny/interesting/quirky. And please make sure the shot is of good quality, as the ones that are not do not go up.
Cheers
Japancamerahunter