In your bag 826, Svein Gunnar Kjøde
Not only a bag, but a film collection for you all today. Come and check out what J has in his bag and his fridge.

Thanks for growing camera and photo culture through your excellent site!
I just recently started packing for another long trip (you can see some of my other travels on www.blankscapes.com)- and realised that I've finally come to terms with my gear- I feel absolutely satisfied with what I have, which is truly great gear!
I used to own a gargantuan Nikon collection, but most of my travels include a lot of walking on foot- with everything carried on my back- so a few years ago I made the decision to sell it all and get the Leica M6TTL and a M9P- never looked back since.
So, my bag is a Lowepro Classified 160 AW, and it has served me well.
Mostly I leave it at the house/hotelroom and walk the streets ultralight- but it manages to hold a whole lot more than you would think!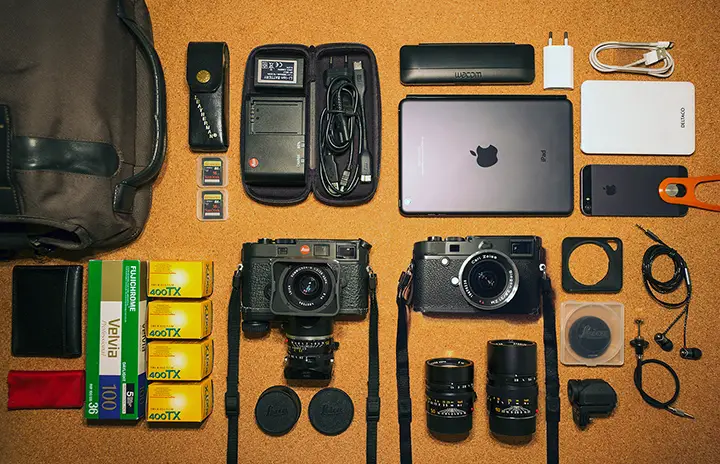 Camera and lenses:
– Leica M (240) Black
– Leica M6 TTL Black .72
– Leica 28mm Summicron ASPH
– Leica 35mm Summicron V4
– Leica 50mm Summilux ASPH
– Leica 90mm Elmarit
– Carl Zeiss 21mm f2.8 Biogon
Accessories:
– Leica Lens holder for M6TTL
– Electronic viewfinder for the M
– Cable release
– 3 stop ND filter
– Charger and batteries for Leica M
Image storage:
– 16GB Sandisk Extreme Pro SD cards
– Kodak TriX 400
– Fujifilm Velvia 400
– SSD 2.5″ external disk
Other "tools":
– Apple iPad Mini with Logitech Ultralight keyboard
– Apple iPhone 5 (with the excellent UNIKIA phone-leash)
– Wacom Creative stylus for iPad
– Soundmagic E10 earphones
– Leatherman multitool
– Wallet ;)
Hope you find this geekyness worthy of your site!
Thanks for sharing your bag with us Svein, it certainly is geeky enough.
Check out the links and make sure you come and comment.
Keep them coming folks, we need more submissions, so get your bag on Japancamerahunter.com. Send me a hi resolution image of the bag (please make sure it is horizontal) and its contents, with some details about yourself and what you shoot. Oh and don't forget your contact details (twitter, flickr, tumbler et al). Send the bag shots here. Please understand that there is a long wait now as there is a backlog of submissions. Not all make the cut, so make sure yours is funny/interesting/quirky. And please make sure the shot is of good quality, as the ones that are not do not go up.
Cheers
Japancamerahunter