In your bag 821, Tom Adams
Young Tom shares with us his cameras and his film. He is just about to go on a pretty epic and life changing journey, so this should be a great set to have with him. Check it out.

Hey all! I'm Tom and I'm a 19yo living in Canberra, Australia, although at this stage I am only 2 weeks from moving out of home and 3,800km across the country to Perth! My bag setup is relatively simple in regards to it keeping to one format, my beloved 35mm. Back in High school I needed to get rid of my woodshop class because well I sucked and was lazy, so I enrolled in the photography course which had the best looking cameras, which was Black and White (film) photography. Since then I've been hooked and ever since then I took photography through school and college and then finally getting selected to have a place for it at university.
In my bag, which is a dakine backpack designed for skateboarders and photographers, I have;
– My pimped out Nikon F5 with the DA-30 Action finder and MF-28 back. I have the larger finder because I ride around my city quite a bit on a bike so the larger finder means I don't clash finder with helmet, as I can look into it from further away. Also because it is a sexy piece of kit. I'd be lying if functionality alone swayed that purchase.
I use the MF-28 to help imprint copyright data inbetween frames as I have done some work for my city government and a few competitions so it is always nice to have the copyright burnt in – just incase. Also the live metering display on the back is great for when you can't look down the finder as the F5 lacks a meter on it's primary LCD screen.
I got the F5 because over my time shooting my needs have needed me to get an indestructible camera, as it does get thrown in the backpack pretty rough sometimes, and also something fast and precise, as although the majority of my work is now Fashion oriented and urban landscapes, I still sometimes have the odd fast moving subject, like fellow bikers.
– Extra lenses. The lens on the F5 in the picture is the toyota camry of Nikkor (a nice analogy I saw somewhere), it is a 50mm 1.8G. But also in the picture is the beautifully underrated manual Tokina 28-70mm 3.5 which I picked up online for $50. Also my pride and joy lens, the Tamron 70-200 2.8 VC. 40% of the price but way way way more than 40% of the value of the nikkor one.
– Nikon F. I also have an F2, but I like to use these cameras as backups to the F5. The F5 is supremely hungry and if I get caught off guard with batteries it is alway nice having a beautiful mechanical wonder right there. On it is the Nikkor-S 50mm 1.4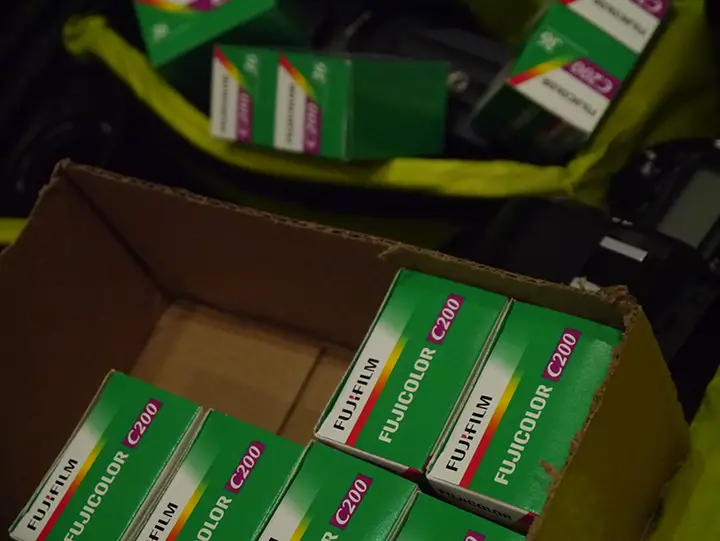 And film wise, I shoot a bit of everything. My current favourite for my main shooting is Fujifilm C200 as I am in love with the way it handles colour. I've tried kodak ones like Portra and Ektar but they just didn't seem right for me. Also due to the closure of supermarket minilabs due to fuji no longer servicing the machines, I have built up a home film lab in which I have been experimenting with Black and white and returning to my roots with films like HP5, 400TX and also experimenting with new ones like RPX 400 and Fomapan and also cross processing cheapo colour films like ultramax and gold.
Anyway thanks for giving this a look in and here are some links;
Portfolio site: tomadamsportfolio.weebly.com
Flickr: http://www.flickr.com/photos/morefunkthanyou/
Thanks for sharing your bag with us Tom, I hope the trip was not to tough and you are having a great time shooting in Perth.
Check out the links and make sure you come and comment.
Keep them coming folks, we need more submissions, so get your bag on Japancamerahunter.com. Send me a hi resolution image of the bag (please make sure it is horizontal) and its contents, with some details about yourself and what you shoot. Oh and don't forget your contact details (twitter, flickr, tumbler et al). Send the bag shots here. Please understand that there is a long wait now as there is a backlog of submissions. Not all make the cut, so make sure yours is funny/interesting/quirky. And please make sure the shot is of good quality, as the ones that are not do not go up.
Cheers
Japancamerahunter