In your bag 815, Patrick Lomabao
Lock and load folks, as today it is not a bag, but a weapons container. Today Patrick returns with a tin full of gear just built for shooting. Check it out.

Good day readers! I recently wrote "in your bag No: 651", There, I showed you what's in my bag for street photography. Now I am showing you what's in my bag (or rather CAN) when I'm shooting for advertising.
Let's start with the bag/can..
This can is an Inert Projectile canister normally used for RPGs or 40mm cartridges. This was a gift from my wedding God Father intended for my equipment. Me and my wife just got married so he gave this to us. It inspires me of a soldier battling for country and we as photographers battling for a living. Now having a little one in addition to me and my wife so I have to strive more to give them a not just wealthy but a normal life. Shooting for advertising ain't easy, you can follow your heart and your artistic mind, you can only follow your clients requests.
Here's how it looks when packed up.. The last slot is where I put my smallest camera. As you see I've cut some insulation material for temperature and padding then some silica bags to protect it from humidity.
So what's inside it?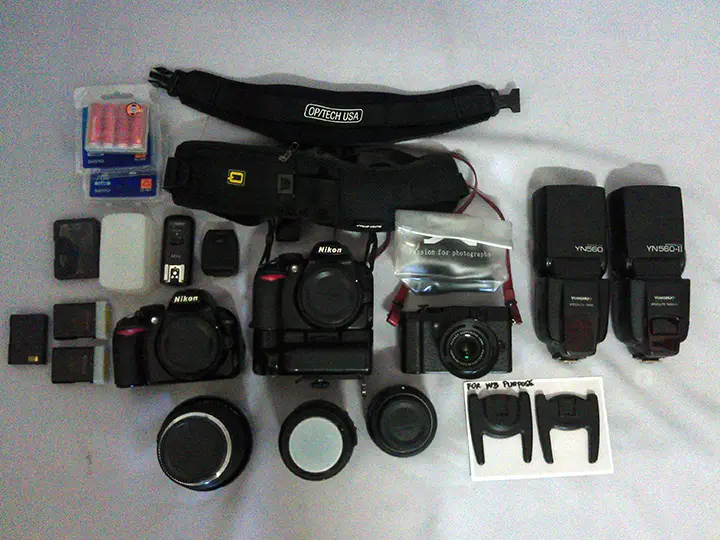 We'll start with the body
2 Nikon D3100 bodies one with battery grip one without
And I won't leave home without my Fujifilm X10 with a binocular strap
Nikkor 18-55mm Kit Lens (you'll never know if you need backup)
Nikkor 50mm 1.8g and,
Sigma 70-300mm APO DG Macro for that whole body shot in a totally creamy background
Extra batteries for my Nikons
Extra memory card
Q Strap Sling
OpTech USA neck strap
Yongnuo YN560 and YN560II
Yongnuo RF602
Flash Diffuser
Two flash stands for hard to reach places
Cleaning kit (consisting pen, cloth and a blower)
And a White Balance card (don't shoot without one)
Light stands, tripods and light modifiers go to another bag (really, it's a bag).
That's all! Thanks for taking time reading this. Keep it up! shoot more! and strive for better images!
https://www.facebook.com/BrilliantEye
https://www.facebook.com/BLACKOCTANE
http://500px.com/PatLomabao
http://www.flickr.com/photos/phatzlomabaophotography/
Thanks for sharing your Can with us Patrick. That is pretty cool, and very different from the norm.
Check out the links and make sure you come and comment.
Keep them coming folks, we need more submissions, so get your bag on Japancamerahunter.com. Send me a hi resolution image of the bag (please make sure it is horizontal) and its contents, with some details about yourself and what you shoot. Oh and don't forget your contact details (twitter, flickr, tumbler et al). Send the bag shots here. Please understand that there is a long wait now as there is a backlog of submissions. Not all make the cut, so make sure yours is funny/interesting/quirky. And please make sure the shot is of good quality, as the ones that are not do not go up.
Cheers
Japancamerahunter