In your bag 810. Zach Chudley
Zach has been following the site for a while, so I was wondering when I would see his bag on the site. And now he presents us with not one, but two bags. Check it out.

My name is Zach, I am a 25 year old Street/Documentary Photographer from England.
Love the "In your bag" section Bellamy. Never fails to entertain, so I thought I would give something back. I have just got back to London after spending the last year and a half in Sydney, Australia. Whilst in Sydney I was working for a great photography space, 10X8 Gallery. Specialising in reportage and documentary, and exhibiting some greats from Alex Webb to Raul Canibano. Please check us out – http://10x8gallery.com/
I really missed my little country, and forgot just how proud I am of it. Now back home and inspired I am working on a long term project studying English heritage. In September I start my BA(hons) in Photojournalism & Documentary photography, which I am really excited about.
Would love for you guys to check out my website, drop me an email so I can check yours out in return! Links at the bottom. On to the bags:
BAG 1:
This is my kit when travelling. Its all I need and fits into my hand luggage nicely. I would also have a book or two in there which is not pictured. My current favourite is American Colour 2 by Constantine Manos.
– Leica M6. 1985 Wetzlar classic.
– Leica 35mm F2 Summicron. The only lens I really need.
– Voigtlander 21mm F4 Color-skopar. This is a new purchase that I have not used yet, but I have something planned for it.
– Leica 21mm finder and leather case.
– x20 rolls of Ektachrome Vivid Saturation. This has been my go to film when shooting colour. Sadly it's now gone, and my stash has run out. I have a good 50 rolls just processed which I look forward to editing in a few months. With my slide film now gone I will be shooting Ektar 100 and Portra 400 (Portra @ 320 or 200 for extra saturation)
– Japan Camera Hunter film case. This is usually stocked with Tri-X 400, my choice for B&W. There is some Delta 3200 in there also at the moment.
– Negative folder. When travelling I get my film processed before moving on to the next destination. I like to keep my negs organised.
– Lens blow cleaner thing.
– Passport.
– Wallet. My Ex girlfriends father passed this on to me, He did some really great things for our world so I am honoured to have this.
– Iphone
– Note pad and pen.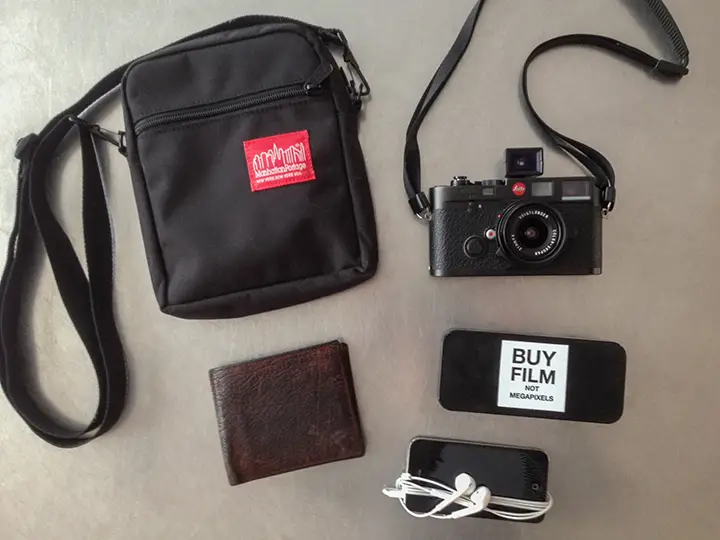 BAG 2:
I actually like to have as little on me as possible when out shooting, that being said this bag is tiny, and just fits what I need to work without feeling distracted or uncomfortable.
– Box of film. (Bellamy's great cases again)
– Wallet
– Phone
– The camera is in hand all the time.
Thanks for taking the time to check my gear out. Please check out my portfolio at:
www.zachchudleyphotography.com
Take care guys.
All the best,
Zach.
Thanks for sharing your bag with us Zach. Yea, I miss that Kodak VS too, what a lovely film it was.
Check out the links and make sure you come and comment.
Keep them coming folks, we need more submissions, so get your bag on Japancamerahunter.com. Send me a hi resolution image of the bag (please make sure it is horizontal) and its contents, with some details about yourself and what you shoot. Oh and don't forget your contact details (twitter, flickr, tumbler et al). Send the bag shots here. Please understand that there is a long wait now as there is a backlog of submissions. Not all make the cut, so make sure yours is funny/interesting/quirky. And please make sure the shot is of good quality, as the ones that are not do not go up.
Cheers
Japancamerahunter