In your bag 801, Chris Lopez
It looks like I have some pretty epic bags to beat recently. But Chris' bag seems to be up to the job. It is not often we have a seasoned pro sharing their gear, but today we do. Check out this massive bag.

Having been recently directed to your fantastic web site, please find attached image and below list of items.
Photographer – Chris Lopez
Professional photographer for the past 20years.  I shoot musicians and bands and held the position of staff photographer with Sony Music in London from 1998-2005.
I'm currently head of photography for a large commercial photographic and video production studio in London and also host the music photography seminars for Calumet Photographic in the UK.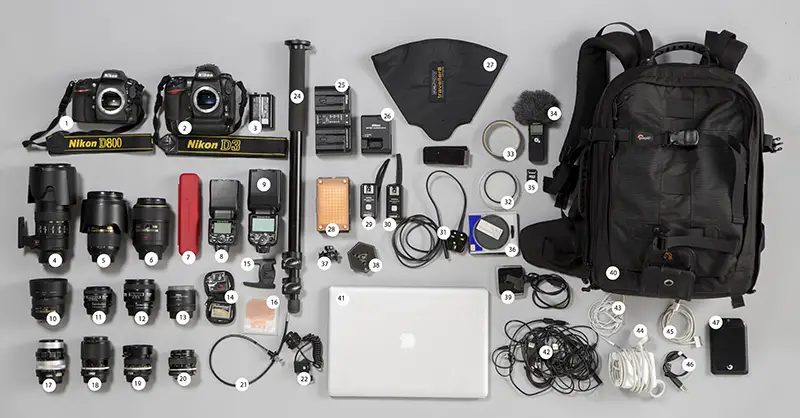 The below list is what I would usually take with me on music related assignments.
1. Nikon D800 camera body – I use the D800 for video and as a second body in emergencies.
2. Nikon D3 camera body – The most reliable and durable camera I've ever owned.
3. Nikon D3 spare battery – Don't get caught out without one.
4. Nikon 70-200mm f2.8 lens – The best lens available for shooting live music.
5. Nikon 24-70mm f2.8 lens – The next best lens available for shooting live music.
6. Nikon 100mm f macro – Perfect for those close ups.
7. Visible Dust – Cleaning brush
8. Nikon SB700 Speedlight
9. Nikon SB900 Speedlight
10.Nikon 50mm f1.4 lens
11.Nikon 35mm f1.2 lens
12. Nikon 85mm f1.8 lens
13. Nikon AF-S TC-20E – 2 x converter
14. Multiple CF & SD cards
15. Speedlight stand – Always useful when shooting with multiple speedlights.
16. Speedlight colour gels
17. Nikkor 105mm f2.5 lens – Old skool lens, amazing on the D800 when shooting video.
18. Nikkor 43-86mm f3.5 lens
19. Nikkor 50mm f1.4 lens – Another old lens which I have brought out of retirement to shoot video.
20 Nikkor 28mm f2.8 lens
21. Cable release
22. Extendable cable for the speedlights.
24. Manfotto monopod – Useful when shooting on a long lens.
25. Nikon D3 charger
26. Nikon D800 charger
27. HonlPhoto Mini Softbox
28. Calumet LED panel – Video light
29. Calumet remote trigger
30. Calumet remote trigger
31. Mains cable
32. UV Filter
33. Gaffa Tape – Don't leave home without it.
34. Zoom H1 Digital Microphone
35. Mini Micro SD Adapter – for H1 microphone
36. Polarizing Filter
37. Mini Light hotshoe adapter
38. Spare bush for a Manfotto tripod – I often carry a large manfrotto tripod with me so I always carry a spare bush in my bag just in case.
39. Lexar card reader.
40. LowPro 450W Camera Bag – Having used a Billingham bag for 15years before buying the LowPro, I've never looked back since – excellent bag!
41. 15″ Macbook Pro
42. Various cables – You never know when you may need to plug into another device so I always take a multitude of odd cables just in case.
43. Mac Headphones
44. Mac power cable for laptop, iphone & ipad
45. iphone cable
46. External Hard drive cable
47. External Seagate 500GB hard drive – backup!
You can check out my work at the below address.
Many thanks and I hope to see my listing on your site soon.
Kind regards,
Chris
Thanks for sharing this Chris. That is indeed a huge amount of gear. I would love to see the bag you started out with 20 years ago.
Check out the links and make sure you come and comment.
Keep them coming folks, we need more submissions, so get your bag on Japancamerahunter.com. Send me a hi resolution image of the bag (please make sure it is horizontal) and its contents, with some details about yourself and what you shoot. Oh and don't forget your contact details (twitter, flickr, tumbler et al). Send the bag shots here. Please understand that there is a long wait now as there is a backlog of submissions. Not all make the cut, so make sure yours is funny/interesting/quirky. And please make sure the shot is of good quality, as the ones that are not do not go up.
Cheers
Japancamerahunter