In your bag 799, Ceri Davies
The last bag in the 700's, and what a way to go out. This is a seriously hardcore working photographers kit bag. Ceri shares this immense set up to show what a pro has on the go. Though I think this is more of a 'what's in your car' bag. Check it out.

Recently discovered the site, LOVE what you've go going here.
For what it's worth, here's my gear and what I do..
My name is Ceri Davies,
born on the Gower Coast in South Wales. Living and working in London.
I work for Studio 4, we shoot for clients such as John Lewis, LG, M&S and Timex.
I can be shooting watches one day, and locations the next. The kit I use has to be reliable and give me the best quality image possible.
We use Phase One camera systems and Profoto lights.
Hope you like the bag [ case! ]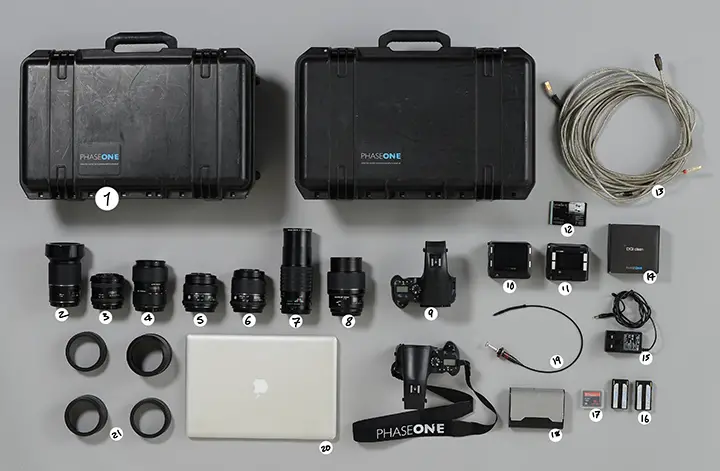 1. Phase One peli style cases  –  Carry it, wheel it, stand on it – robust and safe.
2. Phase One 28mm  –  Super wide, chunky build quality
3. Mamiya 35mm f3.5  –  A nice alternative to the 28. Short, compact lens, slightly outweighed by the camera.
4. Mamiya 55-110mm f4.5  –  Older lens, has its uses now and again. Has gotten me out of trouble a few times.
5. Schneider 80mm f2.8  –  The go to portrait lens. Solid as a rock.
6. Schneider 110mm f2.8  –  Like the 80mm for quality, supreme glass
7. Mamiya 120mm f4.0 macro  –  Old skool macro, stops down beautifully
8. Schneider 120mm f4.0 macro  –  Newest addition, fantastic build and glass
9. Phase One 645DF camera bodies  –  weighty powerhouses. A shutter noise like no other. Takes a beating and delivers the goods.
10. Phase One IQ160 digital back  –  New addition, stunning quality of image, fast transfer and the better display touch screen makes shooting to card much easier.
11. Phase One p65+ digital back  –  Lacks the screen quality of the IQ160, but still a joy to use.
12. Business cards  –
13. Firewire cables  –
14. Cleaning kit  –
15. Charger cable  –
16. Batteries for digital backs  –
17. CF cards  –
18. Charger unit  –
19. Cable release  –
20. Macbook Pro  –
21. Lens hoods  –
Regards,
Ceri Davies
Unfortunately the link for the site that I was sent doesn't work, so I have no linky to clicky. Ceri, help us out.
Please come and comment, despite the lack of link.
Keep them coming folks, we need more submissions, so get your bag on Japancamerahunter.com. Send me a hi resolution image of the bag (please make sure it is horizontal) and its contents, with some details about yourself and what you shoot. Oh and don't forget your contact details (twitter, flickr, tumbler et al). Send the bag shots here.
Cheers
Japancamerahunter