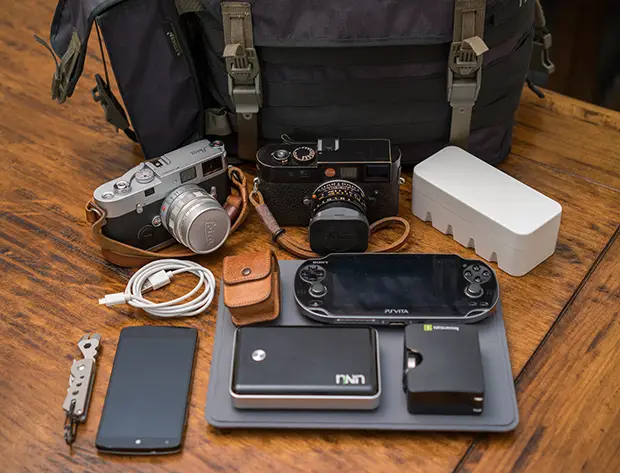 In your bag 795, Harry Teasley
Harry has a cool bag for beating Monday blues. This one has old and new, including all sorts of technological whatnots and gizmos. Check it out.

Hey, I'm Harry Teasley, and I live outside Boston, Massachusetts. I'm an Art Director at a video game company. It was for work that I initially got into photography, about 15 years ago: as computer graphics got better and better, the need for photo reference and high-quality images to generate textures for 3D objects became more and more necessary, so I began roaming the streets, taking photos of brick walls, dumpsters, tree bark, asphalt, concrete, anything that might be useful to help with my job.
The photography evolved from simple reference photos to photos for their own sake, and I began to want to do more and learn more about photo technique. I kept finding photo opportunities that required me to manually control some aspect of shooting, instead of just leaving things on AUTO, so I started turning feature after feature on my DSLR off, until I was shooting entirely manually. It was then that I discovered rangefinders, and knew they were for me.
It has been several years since then, and rangefinders are what I shoot. Most commonly, I'm out with my MP and M9. I always have a 50mm on one of the cameras, usually a 35mm on the other (as above, the 50mm Summilux v2 and the 35mm Summicron ASPH), but lately I've also been shooting the f3,8 24mm Elmar for landscapes fairly often. Black & white film, spare battery and cards for the M9, battery pack for my devices, combo wall/car charger and cables, iPad, PS Vita, phone, and multitool.
It goes everywhere with me. I take it to work every day, and try to find some shooting to do at lunch. Family life means a lot of my opportunities are of the kids… when that gets too much, out comes the Visoflex and the tripod and I start finding macro opportunities around the house.
You can find my work at http://www.flickr.com/photos/harryteasley/
Thanks for sharing your bag with us Harry. It has been a while since we had a gamer on the site.
Check out the links and make sure you come and comment.
Keep them coming folks, we need more submissions, so get your bag on Japancamerahunter.com. Send me a hi resolution image of the bag (please make sure it is horizontal) and its contents, with some details about yourself and what you shoot. Oh and don't forget your contact details (twitter, flickr, tumbler et al). Send the bag shots here. Please understand that there is a long wait now as there is a backlog of submissions. Not all make the cut, so make sure yours is funny/interesting/quirky. And please make sure the shot is of good quality, as the ones that are not do not go up.
Cheers
Japancamerahunter