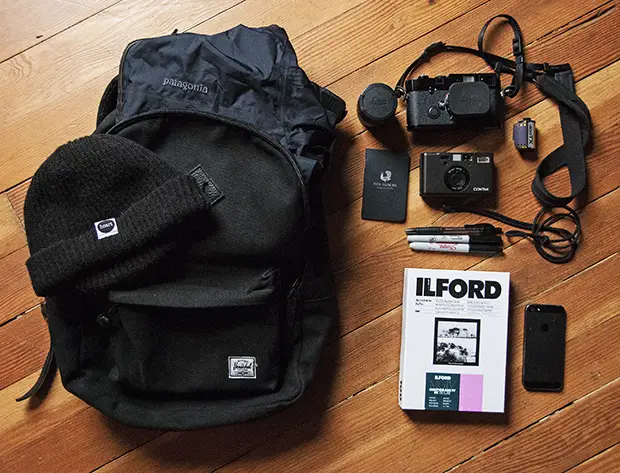 In your bag 787, TJ Nelson
A real film geek bag for you today. This is the sort of stuff you would see in my bag when I was studying photography at college (except replace the Leica with a Minolta). Check it out.

Long time lurker, first time sharer! My name is Tj Nelson, I reside in Portland OR.
On Sundays I go to a photo center called Newspace to make prints from the past week's shots and here's what I pack with me:
Heschel Heritage Backpack. Black, simple, big enough yet small enough.
Patagonia Super Cell. Black, Gore-Tex, packable, pricey but I believe in the company's mission and guarantee and I know it'll last forever.
Coal X Heart Coffee beanie. Black, simple and warm and, in my humble opinion, makers of the best coffee in Portland.
Leica MP .72 w/ 35mm Summicron v4. They don't call it "Mechanical Perfection" for nothing. Usually loaded with TriX. With the compactness of the body and lens, I can fit this thing in under my jacket or in a pocket.
50mm Summilux pre-ASPH. Classic look wide-open, sharp where it needs to be. After having just about every M-mount 50, this one fits me like a glove.
Contax T3. Black, simple, sharp, just enough control for a point-and-shoot, usually loaded with 3200 for quick snaps.
Extra roll of film. You never know.
Notebook. This one is from my friends at Red Clouds Collective. Always carry paper.
Assortment of writing devices. Pilot G-2, extra-fine point Sharpie and fine point Sharpie (this one is the "industrial" flavor)
Photo paper. 5×7 Ilford MGIV RC Deluxe in glossy. The glossy was initially a mistake. I usually go for pearl, but I figure might as well like it cause I've got 100 sheets – haha!
iPhone. Music / communication device. I don't treat these things nicely, but the 5 is the first one to last me though the generation change.
Happy New Year and thanks for helping keep film alive!
Tj Nelson
http://tjnelsonjr.com
@tjnelsonjr just about everywhere on the internet
Thanks for sharing your bag with us Tj. I love the notebook, I shall have to look them up.
Check out the links and make sure you come and comment.
Keep them coming folks, we need more submissions, so get your bag on Japancamerahunter.com. Send me a hi resolution image of the bag (please make sure it is horizontal) and its contents, with some details about yourself and what you shoot. Oh and don't forget your contact details (twitter, flickr, tumbler et al). Send the bag shots here. Please understand that there is a long wait now as there is a backlog of submissions. Not all make the cut, so make sure yours is funny/interesting/quirky. And please make sure the shot is of good quality, as the ones that are not do not go up.
Cheers
Japancamerahunter