In your bag 763, Osman
OK, the festive bags have finished now and we are back to regular seasonal bags. Todays setup comes from Turkey and it comes in a rather spiffy leather bag. Check it out.
This is Osman. I am a profesional photographer based in Istanbul, experted in commercial and architectural photography. I've been shooting since i was 6, so film is my expertise. Because i am in photography business, i am using a nickname in my personal projects. Latest project of mine, is called 'Osmans Modern Life'. It is about fashion, details and the photographer himself. Just the regular days of Osman, his observations and his point of fashion/details.
My gear is:
I generally use the most modern cameras in my professional shoots, i own a canon 5d mark III and most of the L lenses, but this is what i use for Osmans Modern Life project. Hope you enjoy it.
Canon 600D with Meyer-Optic Görlitz Oreston 50mm 1.8 lens (for detail shoots generally)
Leica CM (for fashion shoots)
Minox 35 GT (when i need to be quite)
Fuji Instax 210 and films (for archiving)
Minox DCC 5.1(for attention, mostly for kids)
And i bought this brown leather bag from a local dealer for 10$, its brand is 'sacar'.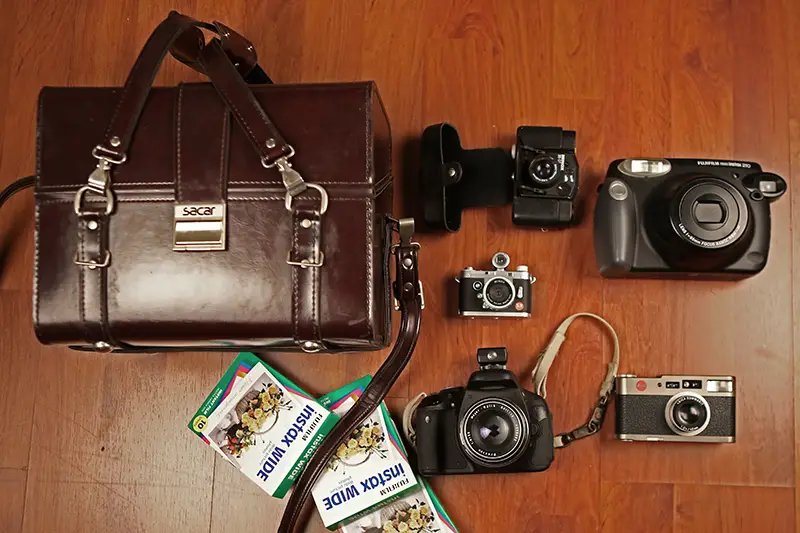 Because this project represents the modern life, it is on instagram and tumblr only. You can follow the project from the links below:
www.instagram.com/osmansmodernlife
Thank you!
Thanks for sharing your gear with us Osman. Not often you see someone shooting a Meyer lens.
Check out the links and make sure you come and comment.
Keep them coming folks, we need more submissions, so get your bag on Japancamerahunter.com. Send me a hi resolution image of the bag (please make sure it is horizontal) and its contents, with some details about yourself and what you shoot. Oh and don't forget your contact details (twitter, flickr, tumbler et al). Send the bag shots here. Please understand that there is a long wait now as there is a backlog of submissions. Not all make the cut, so make sure yours is funny/interesting/quirky. And please make sure the shot is of good quality, as the ones that are not do not go up.
Cheers
Japancamerahunter