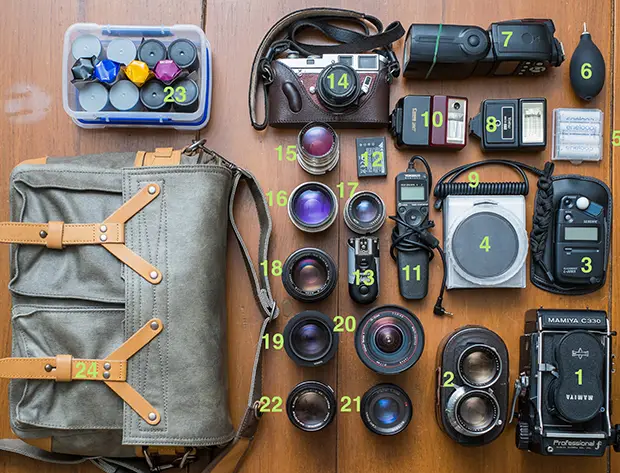 In your bag 752, Gabriel Feng
Gabriel has been very thoughtful and has numbered and labelled all of the stuff in his bag….and it is a lot. Come and have a look.

Hi my name is Gabriel Feng and I'm a 24 "photographer" from Perth, Western Australia. I've only just this year tried to get more paid gigs. Hopefully next year will be better! So in Dec 2013 I'll be going to Japan for 2.5 weeks! And here is the list of camera equipment going to Japan on our trip. Taken with a Fuji XE-1 and its Fuji 35mm f/1.4, which is also going. All this is going into a Thinktank Street Walker Pro on the way there. A couple lenses and 2 bodies will be on my person in my Scout Wotancraft bag.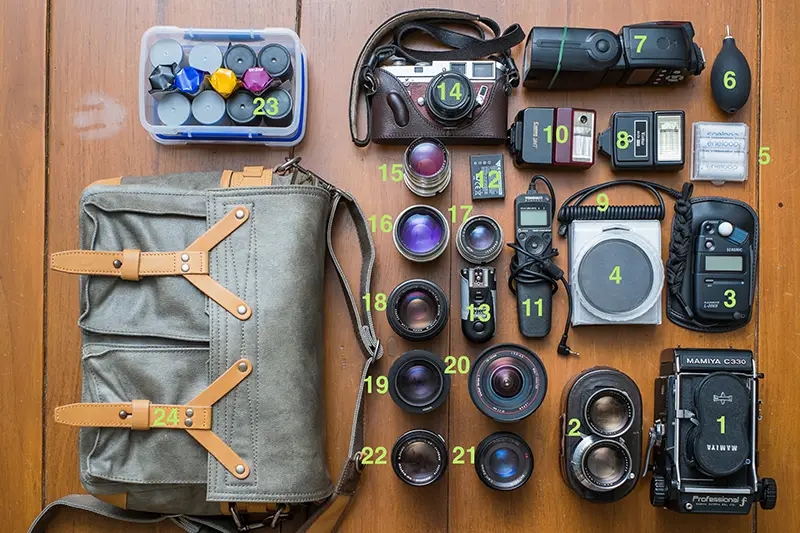 1. Mamiya C330 Professional f – TLR Medium format, from a collection of an uncle who had passed away. Attached with a Sekor 80mm f/2.8 lens.
2. Sekor 135mm f/4.5 lens
3. Sekonic L-308s Lightmeter
4. Filters: Polariser, Variable ND, 10stop ND and a 3-stop grad filter.
5. Batteries for flashes
6. Blower
7. YN-565- Just incase more control is needed for any strobist stuff. A Lumiquest softbox will probably come along.
8. Vivitar 215- auto flash for the Leica.
9. Sync cable for the Vivitar
10. Canon 244T- Auto flash for the Fuji XE-1
11. Yongnuo Remote Timer for Fuji
12. Spare Battery for Fuji
13. Transceiver for Fuji for some off camera flash work.
14. Leica M4 releathered with a Mr.Zhuo case- attached with a 35mm Summicron.
15. Jupiter-11 135mm f/4 – attached with a M mount adapter, there is also a M-FX adapter not shown to be used with the Fuji.
16. Jupiter-9 85mm f/2
17. Jupiter-8 50mm f/2
18. Olympus Zuiko 50mm f/1.2 – attached with a FX-adapter.
19. Tamron 90mm f/2.5 macro OM mount
20. Vivitar 19-35mm f/3.5-4.5 – C/Y mount – hopefully my adapter will come in time!
21. Carl Zeiss Plana 50mm f/1.7 – C/Y mount
22. Olympus Zuiko 135mm f/3.5
23. Kodak Portra 135, Ilford HP5+ 135, Fuji Acros 120, Kodak Ektar 120, Fuji Pro 400H 120, Fuji Velvia 50 120
24. Scout Wotancraft
https://www.facebook.com/gabfengphotography
http://www.flickr.com/photos/gabfeng/
Gabriel Feng
Thanks for sharing your bag with us Gabriel. That Wotancraft bag is rather nice. I quite fancy one of those.
Check out the links and make sure you come and comment.
Keep them coming folks, we need more submissions, so get your bag on Japancamerahunter.com. Send me a hi resolution image of the bag (please make sure it is horizontal) and its contents, with some details about yourself and what you shoot. Oh and don't forget your contact details (twitter, flickr, tumbler et al). Send the bag shots here. Please understand that there is a long wait now as there is a backlog of submissions. Not all make the cut, so make sure yours is funny/interesting/quirky. And please make sure the shot is of good quality, as the ones that are not do not go up.
Cheers
Japancamerahunter