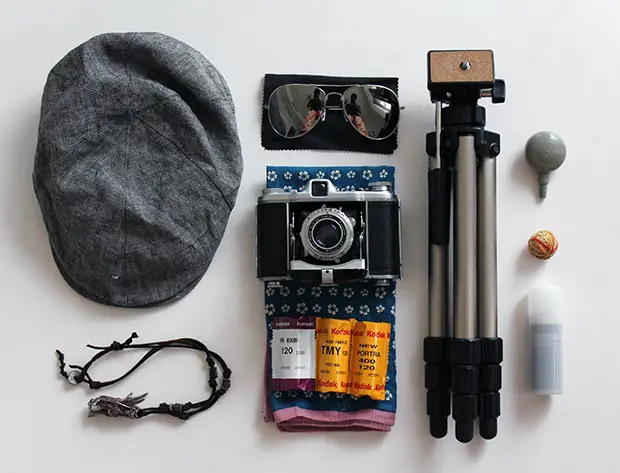 In your bag 741, Takahiro Kurihara
It is not often that I get a Japanese bag on the site, despite being a website based in Japan. Takahiro has a really cool bag to end the year with. Happy New Year everyone!

My name is Takahiro Kurihara, I live in Hong Kong but I am from Japan.
I do not shoot much portraits, for people but I often take still life images and sceneries.
I don't have a proper back pack as I choose my bag depending on where I'm going and what I'm doing, but I use a small SNIPER camera bag or a HELLOLULU Bag.
In my backpack I have…
· FUJICA SIX Film Camera (my first and only film camera, spring loaded camera made back in the 1960's)
· 120 color and BnW Film (mostly cheap Kodak film or the good Fuji Film)
· Camera Blower and Cloth (keeping the camera in good shape)
· Film case (where I put my film roll)
· Grey Hunting Hat (Saves me from the tropical heat in the wet climate of Hong Kong)
· 30HKD Sunglasses (cheap ones I got in the market of Mong Kok to keep the sun out of my eyes)
· Steel Framed compact tripod (got these SLIK tripod for free! They're heavier than plastic ones but they are more durable, stable and they don't rust )
· Silver Dragon Necklace (a Japanese Shinto Charm)
· Rubber Band Ball (just had it in my pocket at the time)
It was this April, during Easter holiday when I bought this Second hand "FUJICA SIX" (for 8000 JPY) in a small film camera shop in Shibuya, Tokyo. Before that I have been using my DSLR camera, which is a Canon 600D which I bought two years ago. Nowadays I bring my FUJICA with me wherever I go. Though it is heavy, the spring fold camera is very compact in size in comparison with my DSLR. I have bought many kinds of film to experiment on and I now recently shoot many photo's with the Kodak 120 black and white film.
I am looking forward to go to Dot-Well Photo Workshop , which I have found in an article entry https://japancamerahunter.com/2012/06/hong-kong-camera-hunter-pt-1-film-in-hk/ . (this is the site – http://www.dotwellphoto.com/site/)
You could check out the work I have done in…
Flickr – http://www.flickr.com/photos/japphotography1/
Facebook – http://www.facebook.com/TaksPhotography?ref=ts&fref=ts
Behance – http://www.behance.net/Tokohiro
Thank you for checking out my entry and goodies in my bag!!!
P.s if anyone has any good recommendation for 120films and good suppliers in Hong Kong with a fine variety of film and camera, please comment or send me some information.
Thanks for sharing your bag with us Takahiro. It is great to hear about your experiments with film.
Check out the links and make sure you come and comment.
Keep them coming folks, we need more submissions, so get your bag on Japancamerahunter.com. Send me a hi resolution image of the bag (please make sure it is horizontal) and its contents, with some details about yourself and what you shoot. Oh and don't forget your contact details (twitter, flickr, tumbler et al). Send the bag shots here. Please understand that there is a long wait now as there is a backlog of submissions. Not all make the cut, so make sure yours is funny/interesting/quirky. And please make sure the shot is of good quality, as the ones that are not do not go up.
Cheers
Japancamerahunter