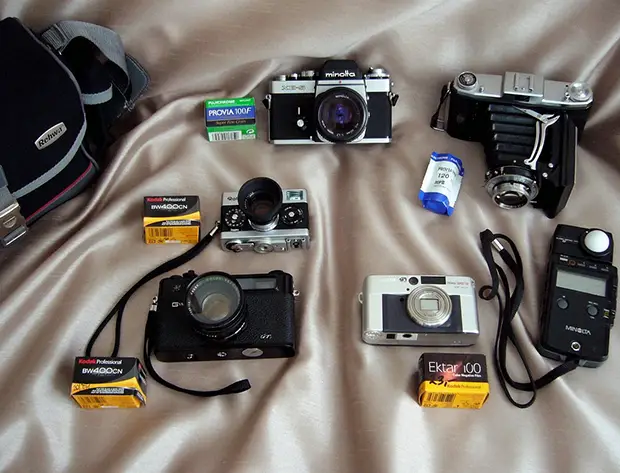 In your bag 736, Maciej Stankiewicz
Christmas may be over, but the presents keep on coming. This is a bumper bag of goodies for you too all have a peek at. Come and check it out.

Hi Everybody,
My name is Maciej Stankiewicz. I'm 35 years old. Now I live in Warsaw, Poland.
At the beginning I'd like to say that I enjoy "In Your Bag" articles a lot. It's very interesting to see what gear people are choosing and, at the end, see their results in the galleries.
What interest me the most is a "Street Photography" – to capture an interesting scene before it goes. Be invisible and fast enough.
I'm using film cameras exclusively. For two reasons: Beautiful (and heavy) cameras and the "look" of film…
I decided to show few of my cameras selected from quite a collection.
Presented cameras are the few I would need for any project. There is much more beautiful cameras that I enjoy using as Voigtlander Vitomatic IIa, Minolta Hi-Matic 7s or Hi-Matic E but these are my favorite and most important to me.
It would be Impossible for me to choose only one camera for the rest of my life… It's also impossible to say which type is the best…
My favorite type of camera would be a good SLR… but for what I'm doing (street/people/candid) a black quiet rangefinder or other quiet camera is a must.
Then there are 6×9 (or other medium format) folding cameras… Outstanding quality from these huge frames…
Whats in my bag?…
My everyday camera is YASHICA ELECTRO 35 GT or little ROLLEI 35SE, loaded with fast B&W film (Kodak 400CN or Ilford Delta 400).
YASHICA ELECTRO 35 GT – Wonderful camera, excellent 45mm f1.7 lens…
GT is a black model. 45mm is my favorite focal length (anything between 40 and 50mm)
I'm not the big fan of battery-dependent cameras – using less and less of AF or battery-dependent ones but GT is a pleasure to use and always ( if I don't screw anything) delivers good pictures. Never had battery related problems…
The most important thing is the switch on the lens – not too many people know that switching GT from AUTO to flash mode gives you not 1/125 or 1/60s but nice solid 1/30s ant that is what I need for low light, to freeze what's going on. (1/15 would be nice too).
So GT with ISO400 film f1.7 lens and 1/30s shutter mode does the job. That's why Olympus Stylus Epic (Mju II) is nowhere close…
My second choice for an Everyday camera is ROLLEI 35 SE.
Beautiful camera, very solid, heavy, all-mechanical camera with excellent 40mm f2.8 Sonnar HFT (High Fidelity Transfer) lens. Very sharp and contrasty lens.
Marvel of German engineering (Heinz Waaske). Rollei 35 is the camera that you love or hate from day one.  I Love it. Because of the quality.
As a backup for the cameras mentioned above there is always small AF camera with flash and ISO100 film. (here: Canon Sure Shot Classic 120, sometimes Olympus Mju 1) Just for the flash and pictures where I need contrast and actually can shoot without risking injury..
MINOLTA XE-5 I Love this camera.
My first choice for vacation and other "non-street" pictures.
Beautiful camera, engineered during a Minolta-Leitz collaboration (see Leica R3)
So smooth, wonderful, specially designed Copal shutter. All the knobs and adjustments are where they should be. Classic elegant design. Very heavy and solid what I like.
Without batteries you still have B and 1/90s which will save you most of the time.
I'm using it with many MD lenses mostly 28mm, 50mm f1.7 or 35-70 f3.5 zoom.
A workhorse. And it's on the top of the picture for the reason.
Then comes the 6×9 Zeiss Ikon….
As my other medium format cameras (mostly Zeiss Ikon or High-end Agfa) it's just Next level of quality… These post-war 6×9 cameras (with coated lenses) delivers…
Properly adjusted, clean lens with hood and 6×9 surface of modern emulsion gives excellent quality, sharpness (when stopped down) and smoothness. Micro contrast makes pictures to really pop-up. Seeing 6×9 slides is also an amazing experience and lot of fun.
Minolta Lightmeter is here for the reason.  I use it when shooting medium format slides.
By the camera you can see my favorite film that I use for that particular camera.
My bag is a small Rehwa bag. Really nice.
You cand find some of my favorite pictures on Flickr:
www.flickr.com/photos/harlemshuffle/
Thank You. Enjoy. Keep Shooting on Film!
Maciej Stankiewicz
Thanks for sharing your gear with us Maciej. Keep on shooting film and enjoy that Zeiss Ikon, it is a stunner.
Check out the links and make sure you come and comment.
Keep them coming folks, we need more submissions, so get your bag on Japancamerahunter.com. Send me a hi resolution image of the bag (please make sure it is horizontal) and its contents, with some details about yourself and what you shoot. Oh and don't forget your contact details (twitter, flickr, tumbler et al). Send the bag shots here. Please understand that there is a long wait now as there is a backlog of submissions. Not all make the cut, so make sure yours is funny/interesting/quirky. And please make sure the shot is of good quality, as the ones that are not do not go up.
Cheers
Japancamerahunter