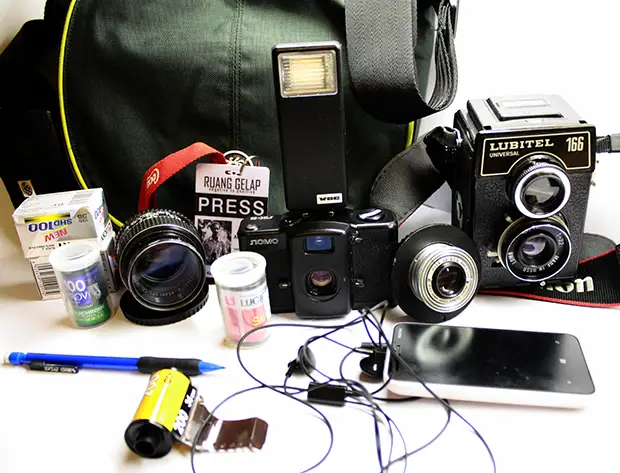 In your bag 735, Alva Christo
Merry Xmas all, I hope you have a good day, whatever it is you are doing. Alva shares with us a very lomo inspired bag for your enjoyment. Check it out.

I'm Alva Christo from Jogjakarta, Indonesia, I'm 17 years old (almost 18). I studied and live in UWC USA, New Mexico, USA now. I started photography since about 4 or 5 years ago, and I really love analog photography. I joined a local analog camera community in my city called Kamera Analog Jogjakarta (KAJ). I'm still learning and exploring analog cameras right now, which is very interesting for me. Since I moved to USA, I just brought my Canon EOS 1000D and Zenit ET with SMC Takumar 50mm f/1.4 and Jupiter 37AM 135mm f/3.5, and some films. After 3 months I collected some cameras, I got Argus cameras, Lubitel 166 Universal and LC-A. I made my own pinhole too (but untested).
So, inside my bag :
– Lubitel 166 Universal
– LC-A with flash
– Films (135mm BW – Color)
– Canon EOS 1000D kit (not in the picture)
– SMC Takumar 50mm f/1.4 + adapter to EOS
– Argus Coated Cintar 50mm f/3.5 + adapter to EOS
– Pencil and notes
– Name Tag
– Wallet
– Phone with earphone
I made my own adapter for Argus Coated Cintar 50mm f/3.5, I really like this lens because of the small body and great bokeh, also this lens is great for BW and color.
For films, I used both color and BW, all 135mm films. For BW I use lucky, cheap but very great films, and for color I prefer use kodak 200 (for redscale and normal color). Also I use a lot of expired and slide films too, which produce unique color rendering and grains.
I wish I can get large format, which is still expensive here. I already exploring thrift store in nearest city (Las Vegas, NM), but I still want to explore Santa Fe. I hope I can find cameras there.
So, that's all inside my bag…
Also don't forget visit my :
– Facebook Page : https://www.facebook.com/AlliancePhotography
– Twitter : https://twitter.com/AlvChrist
– Pinterest : http://www.pinterest.com/alvchrist/
– My Website : http://christo1096.wix.com/photography#!home/mainPage
– My Facebook : https://www.facebook.com/alva.christo
Thank you!!!
Thanks for sharing your bag with us Alva. I love your enthusiasm for the craft. Keep it up.
Check out the links and make sure you come and comment.
Keep them coming folks, we need more submissions, so get your bag on Japancamerahunter.com. Send me a hi resolution image of the bag (please make sure it is horizontal) and its contents, with some details about yourself and what you shoot. Oh and don't forget your contact details (twitter, flickr, tumbler et al). Send the bag shots here. Please understand that there is a long wait now as there is a backlog of submissions. Not all make the cut, so make sure yours is funny/interesting/quirky. And please make sure the shot is of good quality, as the ones that are not do not go up.
Cheers
Japancamerahunter