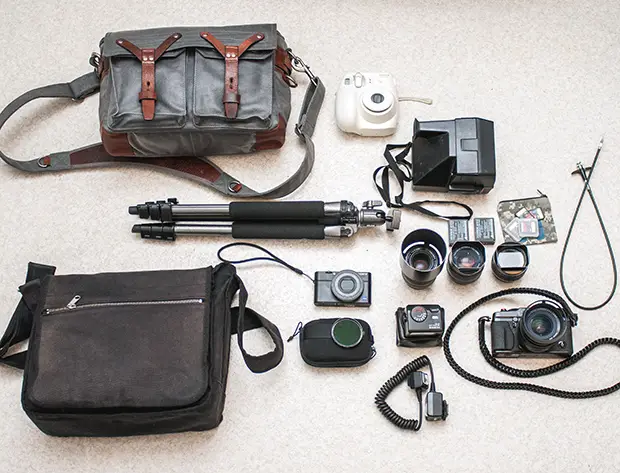 In your bag 729, Jani Penttinen
Jani has a pretty cool setup for us, all the way from Finland. This one has it all. Including a story about photography changing ones life. Come and check it out.

My name is Jani Penttinen, I am 26 years old and I live in Tampere, Finland.
I've been taking photographs actively for the past decade. I have also studied photography, but it never became my profession. I want to keep on shooting just for me because I feel I get the most out of it that way.
I've suffered from panic attacks for a long time and photographing has been one of the things that have helped me overcome them. I organize my surroundings to photographs. I consider myself a documenting photographer. However, some people say I shoot just walls and sky.
I used to prefer Nikon DSLR's but ever since Fujifilm X100 and X-Pro1 I started using only Fujifilm. I've never regretted that decision.
Gear:
– Sony RX100
– Fujifilm X-Pro1
– Fujinon 18mm f2
– Fujinon 23mm f1.4
– Fujinon 35mm f1.4
– Fujinon 60mm f2.4
– Shutter release cable
– Fujifilm EF-X20 flash
– Fujifilm Instax mini 7s
– Polaroid 670AF
– Tripod
– Batteries, ND-filter and memory cards.
– Marimekko Olkalaukku bag ( http://www.marimekko.com/ )
– Wotancraft City Explorer 006
Jani Penttinen
Photoblog: http://www.valontuoja.net/
Flickr: http://flickr.com/photos/dommend/
Thanks for sharing your bag with us Jani. It is good to hear how you have been able to overcome panic attacks through photography. I used to suffer from them terribly, so I know it takes a lot to get through them.
Check out the links and make sure you come and comment.
Keep them coming folks, we need more submissions, so get your bag on Japancamerahunter.com. Send me a hi resolution image of the bag (please make sure it is horizontal) and its contents, with some details about yourself and what you shoot. Oh and don't forget your contact details (twitter, flickr, tumbler et al). Send the bag shots here. Please understand that there is a long wait now as there is a backlog of submissions. Not all make the cut, so make sure yours is funny/interesting/quirky. And please make sure the shot is of good quality, as the ones that are not do not go up.
Cheers
Japancamerahunter