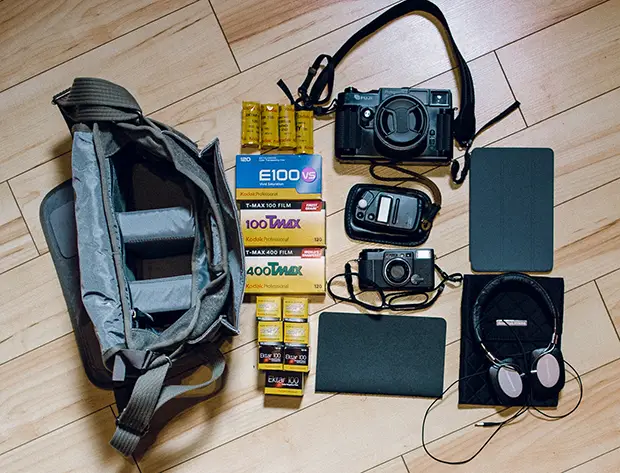 In your bag 713, Jean-Michel Lavoie
Today, carrying on with the theme, we have a total film bag for you all. Jean-Michel shares with us his bag from French Canada. Enjoy.

My name is Jean-Michel, and I'm a portrait photographer based in Québec City, Canada. I mostly shoot film.
This here is my travel kit, or at least, what I decided to bring along (after much soul-searching) with me to Istanbul last month for some long overdue vacations…
My bag is a Think Thank Retrospective 7. It looks good, is very well made, and has enough space to comfortably carry all I need.
I went all Fuji as far as cameras are concerned. A huge, slow one, and a tiny, nimble one. Yin and yang, so to speak.
The big camera is a 6×9 medium format Fuji GW690 Mark II. A wonderful camera indeed, and one that is uniquely suited for high quality reportage-style images. It is a harsh mistress – delivering fantastic quality, but only to those patient or crazy enough to learn to tame it. And at 8 exposures per roll, you have to learn fast if you do not want to burn all your film! A hardcroe camera to say the least.
The small camera in the picture is the latest addition to my camera collection: a Fuji Klasse S film point-and-shoot, which I bought to serve as a take-anywhere camera… and as a companion to its much bigger cousin. Even if it shares some of the DNA with the 690, the Klasse enrcourages a whole different shooting philosophy – don't think, just shoot – which not only felt liberating, but represents a nice change of pace compared to my usual way of doing things. It served me well, tough I can't say that I bonded with it as much as I thought I would (small viewfinder, noisy and slow-ish operation, inaccurate framing, lack of visual feedback in the viewfinder)
I brought an odd match of film, I must admit.  Normally I do color (Portra 160 or 800) in medium format and black and white in 35mm, but for this trip, I was mostly concerned about using some expired or short dated film left in my fridge. In retrospect, 100 speed film in the 690 was quite tricky, so next time I'll bring what I need to get the images I want, expiration dates be damned.
Indeed, this bag configuration was very much a test run for future travel/reportage assignments. If all goes well, I should be going to Iran next year (my 4th time there) to prepare a long term photography projet on the country. I'll be bringing the 690 for sure. The Klasse? Not so sure.
Also on the picture, you can see that I'm bringing my iPad mini, a Moleskine journal for the odd sketch/note, my Sekonic lightmeter, as well as my Bowers & Wilkins P5 headphones.
You can have a look at some of the images I took on that trip on my personal website: http://www.jmlphotographe.com/turquie.  Can you guess which images are from which camera? The site is in French (and still a work in progress), but hey, photography is a universal language, right?
Happy shooting!
Jean-Michel
Thanks for sharing your bag with us JM, I really like the contrast between the large and small Fuji cameras.
Check out the links and make sure you come and comment.
Keep them coming folks, we need more submissions, so get your bag on Japancamerahunter.com. Send me a hi resolution image of the bag (please make sure it is horizontal) and its contents, with some details about yourself and what you shoot. Oh and don't forget your contact details (twitter, flickr, tumbler et al). Send the bag shots here. Please understand that there is a long wait now as there is a backlog of submissions. Not all make the cut, so make sure yours is funny/interesting/quirky. And please make sure the shot is of good quality, as the ones that are not do not go up.
Cheers
Japancamerahunter