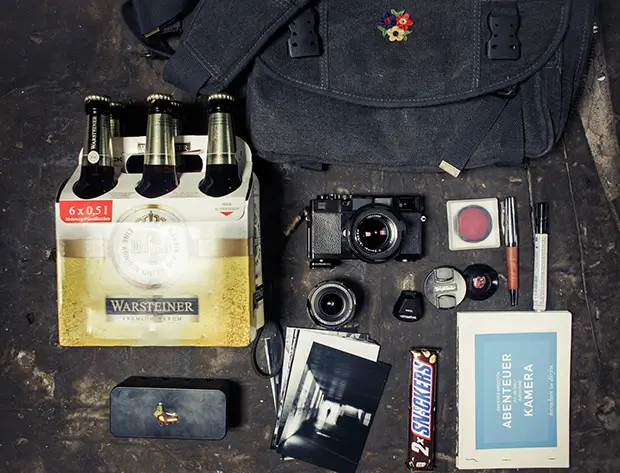 In your bag No: 697, Armin Oehmke
Armins has not one, but two bags for us. And they are crackers. Especially the one full of beer, that is my kind of bag. Check it out.

Hello, my name is Armin, I'm 24 and I'm from Mannheim, Germany. I'm a Photographer and I study communication design.
My bags are kind of stereotypes, I know :D But when I photograph the night away, it's better to have some beer with me. A classic camera and a good beer goes very well together, you will find new friends and new places to shoot, easily. I carry my camera always with me, daytimes in the university, and at night, in the pubs and streets. I love to shoot at pubs and partys.
Big Bag:
The bag is a black kalahari K-35, a very big and rugged bag. Most times I use it for weddings or business shootings, but if I have to carry beer (a "mans handbag" :D )I use it also for street shootings.
My beloved Zeiss Ikon ZM. It's the only camera I use for private photography, it was love at first sight. She is the perfect camera for me, light, fast and nearly invisible and indestructible. For my job I use a Canon 6D with a few lenses and stuff, but I try to use my ZM as often as possibly.
The Zeiss Ikon C* Sonnar 50mm 1.5. It's fast and very compact, I love the Bokeh and the change from sharp to non-sharp, the "glaze". I use it for 95% of my pictures.
Voigtländer Super Wide Heliar 15mm 4.5. It isn't really fast, but it's wide. Very wide! It's not easy to use, but it makes a hell of fun. I'm learning to use this focal length properly.
BEER! God ol' Warsteiner. Six little friends for the night.
Film Case, mostly filled with Tri-X and some cheap color film, I develop both by my self, and I try to push both between 1600 and 3200 ASA. Pushing C41 isn't really easy….
Filters (red and yellow, sometimes ND), Pens, self made Notebook, some photos to show people my work and last but not least a Snickers, for the really long nights ;)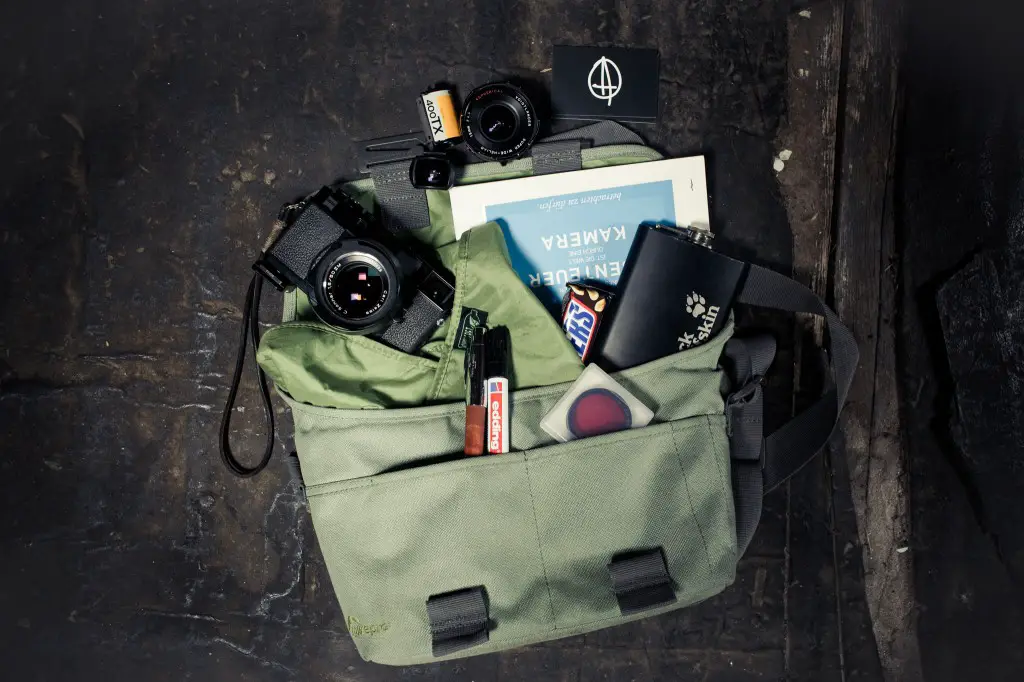 Small Bag:
It's a Lowepro Terraclime 100, a really small and flabby bag, but everything I need will fit in and it's really easy to hide. The perfect pub/party bag, no one expects an expensive camera in it. It's made of recycled plastic bottles.
And again I've carry around my ZM, the Sonnar, some times the Super Wide Heliar, some Film, some business cards, notebook, snickers etc.
In this bag, there is no space for beer :D But for my flask, mostly filled with scotch. A present from my mum a few years ago.
Some of my Work:
http://www.eskalationsfotografie.de/
And a projekt i started recently, for all the Pictures who won't fit anywhere else:
http://arminoehmke.tumblr.com/
Think positive,
make negatives ;)
Greetings
Armin Oehmke
Thanks for sharing your bag with us Armin. I love that "think positive, make negatives", very nice.
Check out the links and make sure you come and comment.
Keep them coming folks, we need more submissions, so get your bag on Japancamerahunter.com. Send me a hi resolution image of the bag (please make sure it is horizontal) and its contents, with some details about yourself and what you shoot. Oh and don't forget your contact details (twitter, flickr, tumbler et al). Send the bag shots here. Please understand that there is a long wait now as there is a backlog of submissions. Not all make the cut, so make sure yours is funny/interesting/quirky. And please make sure the shot is of good quality, as the ones that are not do not go up.
Cheers
Japancamerahunter